Skip the press release. Make your content more shareable instead. Get Shareaholic for your blog or site now. It's free, so whaddya waiting for?
We've stopped using press releases — entirely — at Shareaholic.
That's not actually because we're short on news. In fact, we make announcements regularly about our products, new hires and data we release. Worth noting is that we still receive frequent press mentions, despite the fact that we haven't pushed out a release on the traditional wires — Business Wire, PRWeb, etc. — since what seems like an eternity.
Though the jury is still out on whether or not the press release is alive or going the way of the Dodo, we've decided to share announcements exclusively as blog posts on our site.
Here are 15 surprising reasons why we axed the press release in favor of the blog post:
To Boost SEO
You generate unique content for your site. You own it and reap the full benefits of the indexed page in search engines — not Reuters, Bloomberg or anyone else that would publish your distributed press release. There are better ways to distribute your content anyways.
You create a linkworthy entity. The media and other blogs in your space will reference your post and you'll get all the links and SEO goodness.
To Reap the Inbound Traffic
You get all the traffic. Each time your announcement is mentioned (either across the social web or in the news), readers will come straight to your site.
Your loyal readers will organically find the news. And they'll even look forward to more announcements on the blog. They'll especially love hearing the news from you first.
Your post actually gets seen. As mentioned above, your readers will catch the story; none of the journalists I've encountered over the 5 years of my professional existence on the web actively scan press release wires.
For More Effective Storytelling
You control the look and feel of it all. You pick your own fonts, design and theme. Format it any way you please. Ultimately, you make it a story that's easy on the eyes and well worth reading.
You use your own voice. Finally, you can abandon rigid language and speak in a manner that will appropriately engage your audience.
You choose the length. You're not confined to fit everything in one page, or to fill up a half-empty page with even emptier words. Make your announcement as long or short as it needs to be.
You can include more than just text. Use audio, images, infographics, video, or gifs — whatever it takes to impart your message in an impactful manner. Just remember, visuals are where it's at.
For Better Community Engagement
You let the comments flow in. What a press release doesn't offer is simplified two-way conversation. Sure, most press releases include your PR rep's contact information, but that makes the author and other team members harder to reach.
You can add more resources and follow up points after-the-fact. In the comments or below your post, you can direct readers to other things they might want to reference or read.
For Full Content Management
You can edit it. As a blog post, you can edit your announcement in case you misspelled something, wanted to tack something on, or wanted to optimize the headline for more oomph.
You drive better leads. You have freedom to input CTAs that drive subscribers, users and sales (and you may test those CTAs too).
You may retract your announcement. No one is perfect. Companies certainly aren't. But if it's a PR blunder of you're doing, you'll want full control over the message. On the other hand, when you work with distribution services such as Business Wire, your release is already on 70+ sites before you realize there is a problem (and none of the editors will bother to do you the favor of removing the post from their site).
Because It's Simple
You never have to attach unsolicited materials ever again. When you pitch the media, you can just link to the announcement. People, especially writers, are more likely to click a link rather than download your release. Some email filters might even funnel your pitch (with attachments) to spam.
Bonus: Because It's Free!
Lastly, did I remind you that posting to your own blog is free? Though there are plenty of free press release distribution sites, you'd be hard pressed to find people that actually read distributed releases. Premium services charge for vanity distribution on top-tier media outlets but the only tangible benefit is a backlink (which will be discredited in search engines anyways).
As a bonus for reading through this far, here is our step-by-step process for getting exposure for news announcements.
Our 6-Step Process
First, I develop an outline of what the story would be. In 3-5 points, I note what the most compelling points are.
Next, I pitch the media. Before the story even goes live, I offer journalists either an exclusive or an embargo on the news.
Then I write up the post. As I wait for a reply from writers I pitched in step #2, I use the outline from step #1 to produce a draft of the announcement.
When I get someone to say "yes", I coordinate an exact time for the story to go live. This allows me to be respectful to the writer's schedule and ensure I'd have optimal time to prepare for the next step.
Before the news goes public, I prepare a full media list. I develop a targeted list of journalists and bloggers to pitch as soon as the story goes live.
The Results
Every announcement we publish garners positive media coverage and generates a significant number of hits, backlinks and leads. For example, here are performance stats from the first data report I published when I joined Shareaholic:
It drove more than 14,000 pageviews-to-date.
It received coverage on Mashable, Marketing Land, Media Bistro, Business Insider, Inc., and several other prominent news sites.
It inbounded 365 quality backlinks (even Facebook blogged about it).
It has been shared nearly 600 times.
It brought in 234 new email subscribers.
It helped us develop new relationships with members of the press who contacted us about the report.
For us, announcing something in the form of a blog post is the best way for us to ensure our message gets appropriately shared and spread. Even Coke does it. But if you're insistent that press releases work (and they just might for your business), here are things you should know to make the most of your release. We also recommend creating an awesome media kit.
Do press releases still work for you? Let us know in the comments! p.s. Sign up for our newsletter to get more stories like this delivered straight to your inbox.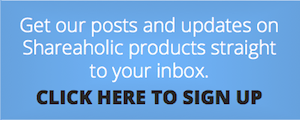 Oh, and in case you didn't get the memo, we're hiring :)