We've all been there—you've stumbled on someone's awesome blog post and actually remembered to share it with your social networks, when all of a sudden you realize there aren't any share buttons. Serious bummer. Unless you are somehow related to the blogger, want to really impress them, or are a social media saint, you probably aren't going to pull up another tab in your browser to manually share their link.
Enter your Shareaholic Browser Extension. Sitting in the corner of your browser, it's incredibly easy to use whenever you want to share or save an article from a blog that doesn't have share buttons. Also, you can choose your favorite social network from our huge directory of supported services to appear in your extension's drop-down menu so you can always share to that off-the-beaten-path social network.
Ultimately, having our browser extension installed will help you embody the motto "sharing is caring" no matter which blog or website you're on without taking valuable time out of your day.
Like "Quick Tips" like this? Stay tuned for next week's tip. Better yet, subscribe below so you never miss a post from us.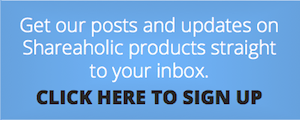 p.s. Want to join the Shareaholic team? See our openings here.