I'll admit it… promoting your content on social media can get really frustrating. Sometimes, you work to craft the perfect blog post that you think will engage your readers, go to promote your post on social networks and then somehow your post falls flat. Other times, your one-off tweet gets picked up immediately and goes viral. There's no definitive formula of X type of content + 120 characters + 1 bit.ly link = wild social media success.
While there is no set formula, there are general guidelines to help people rock at promoting their own content on social media. From our publisher network of 200,00 websites and blogs, I found some great examples of publishers succeeding at a self-promotion strategy on social media to share with you. Each platform has its own intricacies—so let's take a look at each social network more closely to figure out how to best promote your own content.
Facebook: Include Branded Photos with Links
One of our top fitness and healthy living publishers, Julie from Peanut Butter Fingers, does a tremendous job of promoting her content on Facebook by primarily posting photos. Though she mainly posts photos, she switches up the type of image with each post–sometimes it's a high-definition picture of her adorable dog and other times it's her latest PicMonkey creation. She definitely has cracked the Facebook code–each of her posts get a ton of engagement from her fans.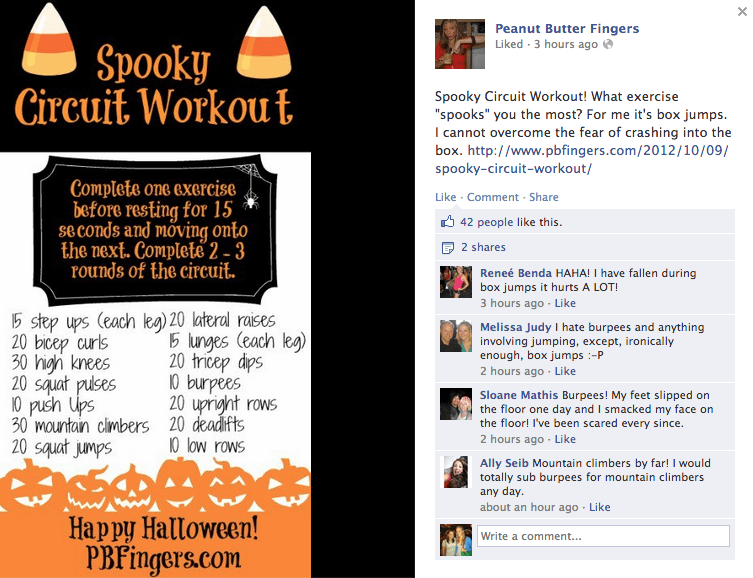 As visuals have been shown to have the most engagement on Facebook, you should make sure to include them when possible in your posts. Whether you're posting your own DSLR photography, Instagram snapshots, or PicMonkey creations, make sure that you've branded your content with your website's URL. If you plan on including a link in the text of you post, use a tool like bit.ly to track the number of clicks on your blog post.
Julie always includes her URL directly on her workout photos along with a link in the text of her post. This way, her brand is present no matter how it is shared through Facecbook and people can easily access her posts through the link.
Twitter: Follow up on Conversations and Promote Old Posts
As a social media marketer, Peg Fitzpatrick's blog is key to her personal brand. She not only creates engaging social media content that people want to read, but Peg also is a perfect example of how to promote your own content successfully on Twitter.
@predsicker As promised, info on how to use Storify pegfitzpatrick.com/2012/10/08/how… Hope is it helpful. :)

— Peg Fitzpatrick(@PegFitzpatrick) October 8, 2012
Peg uses her Twitter stream as a source of blog post inspirations—her followers conversations with others are fodder for her blog post material. For example, she wrote a whole post about using Storify after getting questions about Twitter about it. To promote the post, she individually reached out to those people who asked her questions and gave them a link to the post. This is a classic marketing tactic with a social media spin–people who ask questions will be much more likely to promote your post because you were able to solve their problem.
Trolls in the 'Hood is.gd/JSyJQl

— Peg Fitzpatrick(@PegFitzpatrick) October 5, 2012
She also continues to promote old posts when they can continue to solve current problems. Notice the above post was tweeted out last week, yet links to a post that is still relevant from last year. We've talked about the value of evergreen content on the blog before—it's a consistent way to get eyeballs on your page because it's not time-dependent.
YouTube: Embed Links Within Videos
Promoting your content on YouTube is an entirely different beast than Facebook and Twitter as the social network revolves entirely around video. One of our top fitness publishers who uses YouTube effectively is Cassey Ho from Blogilates, the second-most influential fitness blogger in America. Besides being the platform where she hosts most of her content, YouTube is also the home to Cassey's awesome promotion strategy.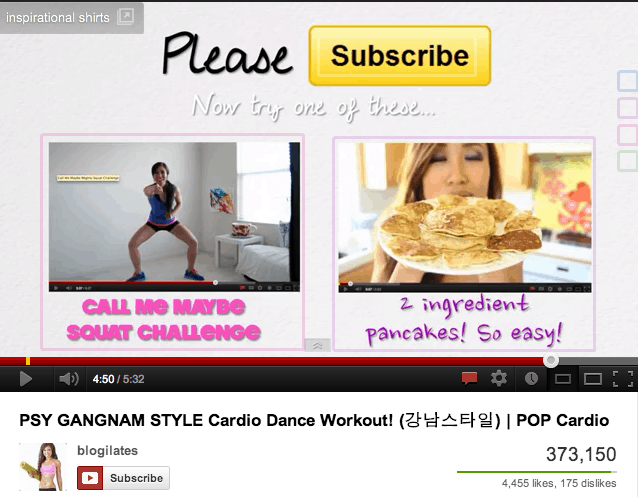 One of the coolest functionalities of YouTube videos is the ability to link to other websites and videos directly in the original video. Cassey does a great job of linking up her videos—she always include a 10-15 second ending on each video where she'll prompt you to check out other videos you may like. Like a related content tool for blogs, linking to other videos directly in the YouTube video is a great way to help people discover more of your content.
Pinterest: Create a Board for Your Blog and Join Group Boards
One of Shareaholic top publishers on Pinterest is Lauren Brennan, a very successful food blogger. With over 17,000 followers on Pinterest, Lauren does a great job of promoting both her own and other people's content through her Pinterest page. After you've gotten a handle on content marketing for Pinterest, here are other tips to follow when promoting your content.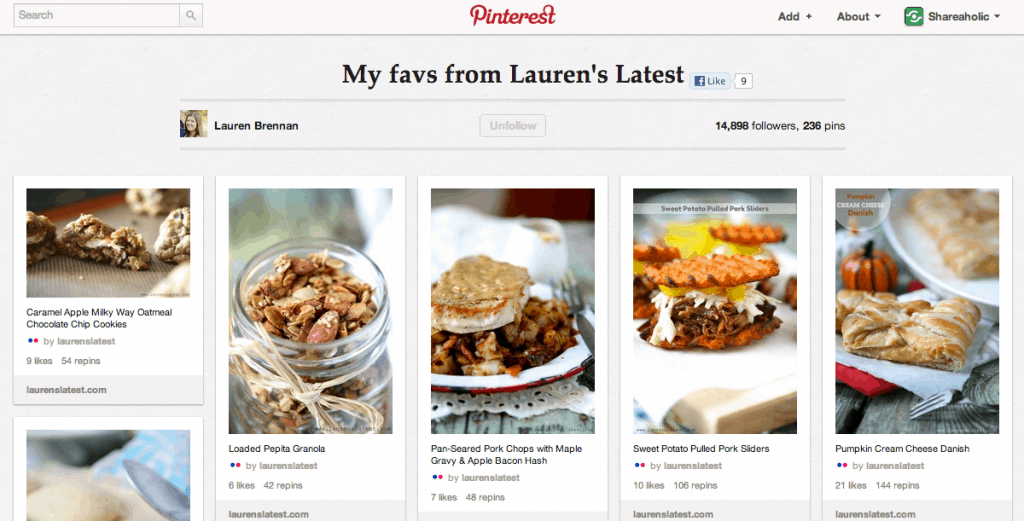 Lauren does a wonderful job of providing a variety of boards to help promote herself including a board featuring her blog content. This is a great way to still promote your posts to Pinterest without overwhelming all of your followers—they can follow your blog board specifically if they want to get updates. This way, you still have an designated space on Pinterest to post your content while not spamming your followers.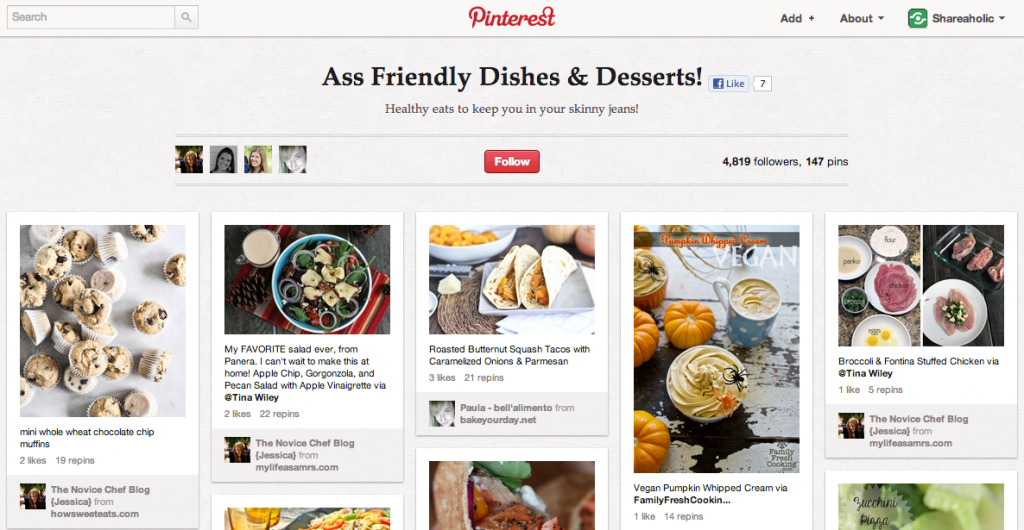 She also is a member of several community boards where her content is featured. On these boards, other group admins have posted links to Lauren's blog posts and she has a chance to post links to theirs. Group boards are a great way to embody the motto of "sharing is caring"—if you share other people's content from the group, they'll naturally share yours. These group boards will also open your content up to new audiences through the fellow contributors' profiles, giving you a much wider available audience for your content.
These are just a few tips for promoting your own content to your social networks without being a jerk. What have you learned by promoting your own content via social media? Share your thoughts with us below.