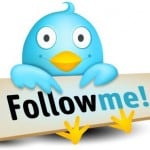 Dharmesh Shah, one of our investors, has built a following of over 20,000 on Twitter! Here are some of his tactical tips on building a (relevant) twitter following:
1. Make sure you complete your profile (bio, website link, location). Of the 7 million twitter accounts we've looked at, 76% of users fail to include their bio/description.

2. Optimize for the "retweet" (i.e. tweeting things that will likely be forwarded). Tips for that: i) Don't use up all 140 characters or it forces user to "edit" your tweet when they retweet it. ii) Don't "self reference" (say "I", "me", etc.) — those tweets tend to get retweeted less. iii) Include a link in your tweets. Tweets that include links tend to get retweeted more.

3. Make it easy for people to find you and follow you. If you have a website, put a "Follow Me On Twitter" button. Include it in your newsletter. Add it to your blog.
(via Read Scott's E-Mail)