As you know, Twitter decided to drop support for Share Counts on November 20th, 2015. Twitter share buttons still works, but they no longer have share counters.

We were curious as to whether this change would lead to a decline in sharing activity and share of voice* for Twitter, so we pulled together and analyzed sharing activity data generated across 300,000+ sites that are powered by Shareaholic's Content Amplification Platform. These sites collectively reach over 450 million unique visitors each month.
* Share of voice is the percentage of Twitter shares, relative to other sharing destinations available such as Facebook, Pinterest, LinkedIn, etc.
Did share counts influence Twitter sharing activity?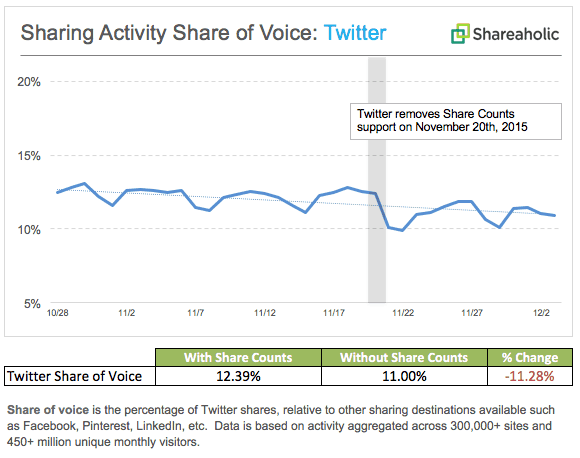 It appears so. Sharing activity to Twitter has declined by 11.28% since November 20th.
What does this mean for site owners?
Over the past few days, quite a few of you reached out wondering whether you should still keep the Twitter share button active on your site. Although early data suggests that there has been a decline in Twitter sharing activity, Twitter remains one of the most popular destinations for sharing content with over 320 million active users. For now we recommend keeping the Twitter Share Button active.