Drive more traffic, encourage social sharing and let your readers discover the best content you have to offer. Unlock Shareaholic now.
Welcome to Shareaholic's Search Engine Traffic Report. For this report, we analyzed data collected over the last 13 months (October 2012-13) that aggregates organic search traffic numbers from over 200k publishers that reach more than 250MM unique monthly visitors.
Here, we tracked the top 5 US search engines (Google, Yahoo, Bing, Ask.com, and AOL) and observed trends in the traffic they sent to publishers.
Let's dive into the numbers (click to enlarge):

First, in order to read the data, it's important to note that the numbers are presented as percentages of overall visits publishers received. The full data set includes direct traffic, social referrals, paid traffic, and more. (note: we've excluded those numbers for now, but will publish a new report if we discover any noteworthy trends).
Now that we've clarified how the numbers work, here are three of the biggest takeaways:
Google is still king. Last month, the dominant search engine made up 40.01% of the overall traffic publishers received; its share of visits experienced modest single-digit growth (5.68%) year-over-year (comparing numbers from October 2012 to October 2013).
Ask.com and Yahoo are the fastest growing sources of organic search traffic. Of the 5 search engines we tracked, share of visits from Ask.com grew the most (43.62%), followed by Yahoo (21.23%). It's tough to speculate on what's happening with Ask.com, so we won't. Yahoo, on the other hand, has been making a lot of noise with its startup buying spree (LookFlow was the latest startup to get snatched up by Yahoo. The company's most notable acquisition this year was big-ticket Tumblr). Perhaps old users are returning and maybe there's hope yet for the legendary web portal.
The only search engine that drove fewer visits to publishers was AOL. Despite a reported increase in global search revenue, publishers received less organic traffic from searches done on AOL (down 12.29%).
Here's an image that charts all of the data.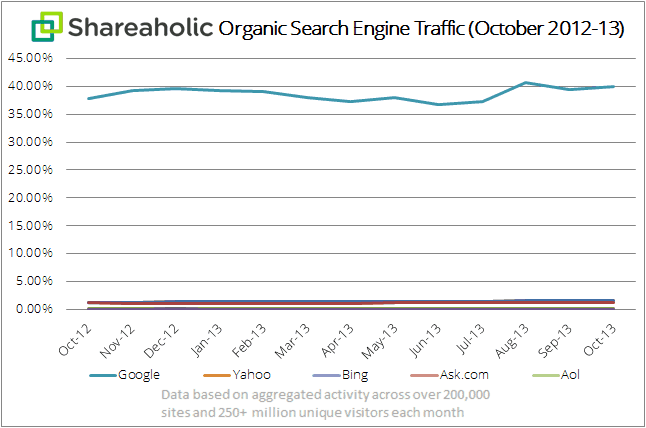 Google is the clear leader among the top US search engines sending traffic to publishers (Google drove nearly 13 times the amount of visits Yahoo, Bing, Ask.com, and AOL sent to publishers, combined!). The following chart excludes Google's data in order to show a close up of the trend lines for the remaining search engines.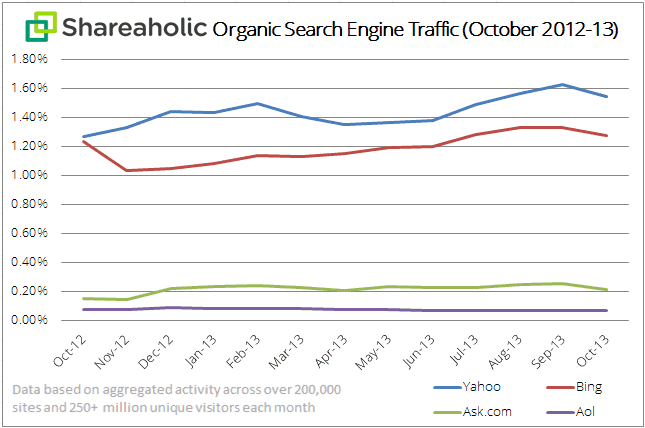 Recognizing that Google powers AOL and presumably Ask.com, and that Bing powers Yahoo, we thought it would be interesting to analyze trends in how much traffic Google and "powered by Google" sites drove to publishers vs. the combined numbers of Bing and "powered by Bing" sites.

(Click the above image to enlarge)
Here are two additional points to note:
Publishers saw their organic search traffic from Google and "powered by Google" sites increase nearly 6% (5.79% to be exact).
Bing and Bing-powered search drove 12.48% more traffic to publishers (comparing the numbers year-over-year).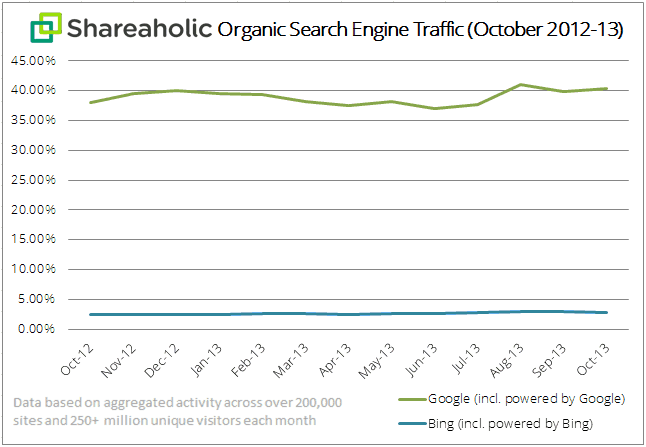 What does all of this mean for websites?
There are two main search algorithms you need to optimize your site for: one by Bing and the other by Google. Understand how the algorithms rank pages, but don't get overwhelmed with all of the technical details. Nail down SEO basics (301 redirects, keyword friendly titles and content, site structure, etc.), then focus on killer content marketing. Create content your readers will love, share and link to, and, in due time, you'll see your organic search traffic grow.
Don't expect AOL to send any more traffic your way. Our publishers received more traffic from all of the search engines we tracked with the exception of AOL. That means either the top four US search engines gained more users and/or were used more often than in the past OR sites, overtime, discovered ways to optimize for SEO and realized gains in organic search traffic. AOL, the outlier, is likely serving up less searches (or is pushing searchers to click sponsored results) and probably has fewer users than before.
What's your take on all of this? How much more (or less) traffic has your site received from the big search portals in the last year?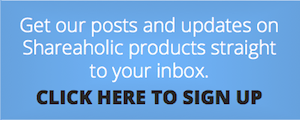 This report outdated? See our most recent Shareaholic studies for the latest update here. Questions? Email us: press@shareaholic.com