Have a blog of your own? Get more traffic to your content with Shareaholic for your blog.
Welcome to Shareaholic's Monthly Traffic Report. Each month, we look at our findings based on aggregated data from more than 200,000 publishers that reach more than 270 million unique monthly visitors each month. Here are the results for this month:
For the last two months, we've discovered that Pinterest had remarkable growth – exceeding Google+, YouTube and LinkedIn combined for referral traffic in January and then in February surpassing Twitter. It looks like Pinterest took a slight dip below Twitter's share of referral traffic in March, falling behind again. It will be intriguing to see what April brings!
Another interesting angle from which to consider this data is in the context of Facebook's anticipated search product. Many say that Facebook Search would actually help Google's antitrust issues, as it has long dominated 60-70 percent of the search market. According to ComScore, in February Facebook fielded 336 million search queries – many fewer than Google and its closest competitors.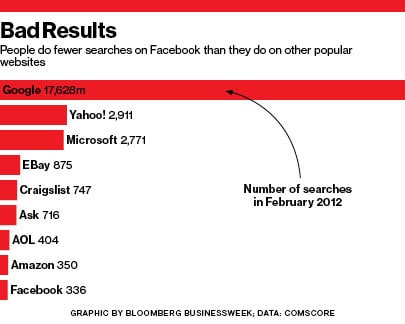 Source: http://buswk.co/HI5pzq
But when it comes to actually driving click-throughs and traffic to websites, our findings affirm that Google continues to dominate market share, but Facebook rises as the number two traffic driver. And although Bing and Yahoo may have more searches per month, Facebook's referral traffic actually beats out the organic traffic sent by Bing and Yahoo, sending more traffic than both of them combined. That's a huge untapped opportunity for Facebook if they can get search right. In addition, with yesterday's acquisition of Instagram, some are anticipating that this could possibly set the foundation for Facebook's foray into China, essentially extending its reach to 1 billion more potential users.
(For clarity, please note that in this chart, Google referral traffic and organic traffic are combined and Facebook also accounts for Facebook mobile traffic.)
Suffice it to say, Facebook could be well positioned to have a powerful search product that drives major traffic for publishers, and this space should be very interesting to watch.
In Google Analytics under Traffic Sources and All Traffic, you can learn about traffic trends for your own blog. What have you noticed? Let us know in the comments.
Is this study outdated? Scan our more recent Shareaholic Reports. Want to know more about this or other reports? Email press@shareaholic.com.