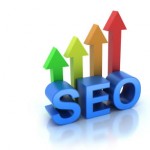 Not all content was created equal. Besides grammar, creative writing, poetry and other forms of writing have few rules to follow. But when it comes to blogging, especially for your business, taking a technical approach and optimizing your content for search engines will pay dividends. Being attentive to keywords and formatting will drive more traffic – and qualified traffic – to your blog by leveraging the search terms used by your target audience.
What is SEO?
SEO stands for search engine optimization. It's the practice of improving internal and external elements of your website in order to increase the visits you get from search engines. These internal and external elements are known as on-page and off-page SEO:
On-Page SEO: The content and structure of your blog post. This includes your keywords, URLS, meta tags, meta descriptions, page titles and more. We cover on-page SEO in this post.
Off-Page SEO: How search engines rank your site according to how other sites link to it.
Optimized content is shareable content. When optimized properly, search engines will reveal your content in the results for relevant search queries from your target audience. And because it's relevant and useful, your readers will pass it along to others.
It's All About Keywords
Most of on-page SEO has to do with including keywords on the various elements of your blog – things that can be seen by your readers and those crawled by search engines. SEOmoz provides a good example of where you include these keywords in your blog post. But choosing what keywords you want to include is the first step.
Using Google's free keyword research tool, you can look up variations of the search phrases you want to rank for. In addition, research what keywords your competition targets. Check out this SEO tip from Dino Dogan in Social Media Examiner to learn how find competitor keywords by looking at page sources.
How to Optimize
WordPress makes it particularly easy for bloggers to make their posts SEO-friendly. Using a plugin like the All in One SEO Pack, you will have most of the areas you should enhance for on-page SEO all in area of your WordPress dashboard.

So if you haven't done so already, install an SEO plugin like the All in One SEO pack and follow this checklist to ensure your content has all the right pieces in place.
1. Headline
Do you want to appeal to search engines or people? For maximum impact, you want to attract both, and tailoring your headline and your page title is how you'll get there.
To appeal to readers, our blog post headline, or H1 text, is arguably the most important part of your post for because it's your first impression. Ideally, your headline will be accurate, descriptive and include the keyword you are targeting. Shareaholic's guide to blog post headlines should give you some ideas. Most of all, your headline should be catchy. The headline and a link to the blog post are usually all people see when it's shared on Twitter, Facebook and other social networks. So you've got to make it count.
But when it comes to headlines and search engines, you've got to remember that Google doesn't laugh. A witty headline with rhymes, puns and a lack of an emphasis on keywords could go unrecognized by search engines and be a detriment to your posts' rankings. This is why you've got to optimize your page title.
See how the Wall Street Journal optimizes their headlines and page titles for SEO. "Video Killed the Radio Czar" is a fun play on words for readers, but the much more literal page title "NPR CEO Resigns Over Hidden Video" appeals to search engines.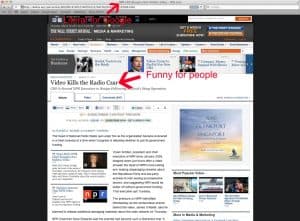 2. Page Title
Your headline may be the most important aspect of on-page SEO for humans, but the most important keyword element for search engines is your page title. Position your target keyword as the first word or early on in the page title for maximum impact.
3. Meta Description
The meta description is the phrase your potential readers under your page title in search results.

Make the most of this real estate by including the keywords in your description of your content.
4. Image File Name
Image search traffic can be a significant source of visits. Image filenames are closely considered in these rankings, so be sure to incorporate your keyword term or phrase in your image file name.
6. Alt Attributes
Include keywords in your image alt attributes to enhance your rankings for image search. You can easily do this in WordPress' media upload interface.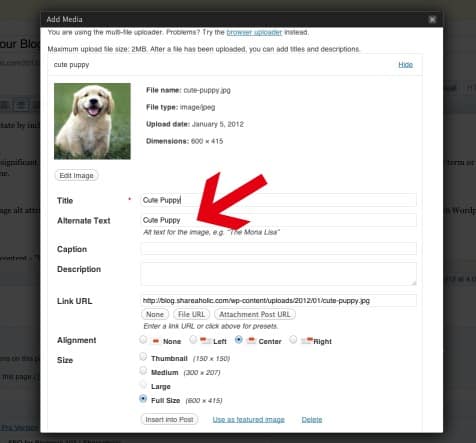 7. Link Back to Old Posts
Familiarize your audience with your posts by referring to your past content often. Maybe a reader missed your blog post before, but you can gain pageviews for that content now with an internal link. Internal linking also lets search engines know you are linking to a page about a specific top, enhancing the relationship between your page and the right keyword.
8. Customize Your URLs
 Your URL is yet another place you can include your keywords. If you're using the default permalink setting in WordPress, your URLs will look something like this: http://mysite.com/blog/?p=42 But that garbage won't help your rankings!
In your WordPress dashboard, go to Settings -> Permalinks and select the structure that allows you to include your keywords in the URL.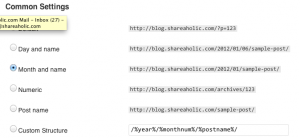 Before you hit publish on your next post, tailor the URL so it uses your keywords.

­While it may seem tedious to go through all these details for every single blog post, well-optimized content is the gift that keeps on giving. The SEO effort you put in now will attract qualified traffic to your posts for months – even years – to come.
How do you make sure your content is optimized for SEO? Let us know in the comments!