We're halfway through National Blog Posting Month! Can you believe it? It's flown by so fast, we can't hardly believe it either. It turns out that along the way, lots of folks have had questions for us about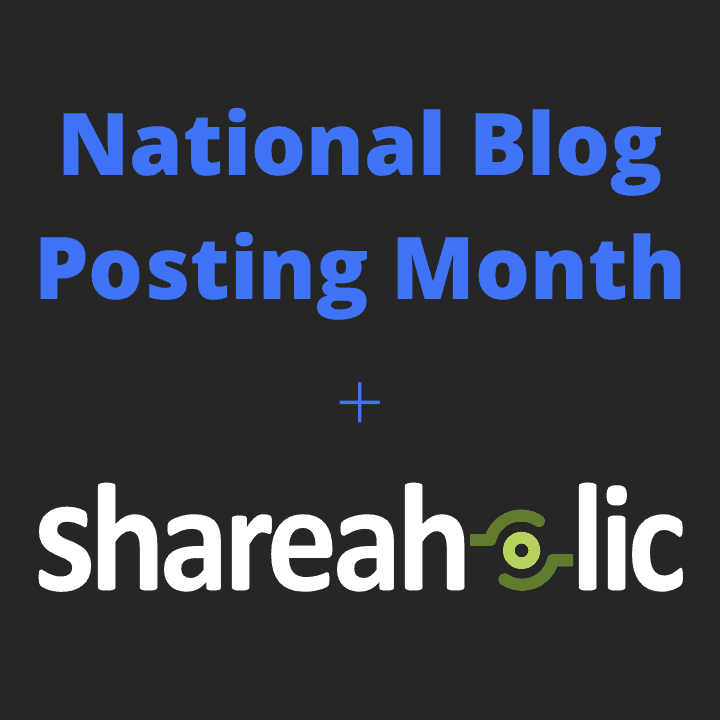 what this is all about. And we want to answer them. Why? Well, because we want you to join us for National Blog Posting Month! It's not too late! If you've ever thought about launching a blog, if you're coming back after a hiatus or if you just want to crank your content up a notch – there's no time like now to get helpful tips and motivation towards achieving your blogging goals by joining Shareaholic for National Blog Posting Month.
So if you're curious about what this is all about, here are the answers you're looking for:
1. What IS NaBloPoMo?
NaBloPoMo is the acronym of sorts for National Blog Posting Month. It's all about writing a blog post each day for the month of November. It's also happening at the same time as National Novel Writing Month, which we think is particularly hardcore.
2. It's November 14th…is it too late to join NaBloPoMo?
Nope! Join any time. Sign up with us HERE and we'll catch you up with the blogging tips you need and motivational emails about three times a week. You'll also get access to your free Shareaholic Analytics dashboard so you can keep track of your blog's progress as your traffic grows this month. Plus, we are holding a Twitter chat 2 times this month where you can connect with other bloggers and ask us any questions you might have. In fact, one is this Friday! Add a reminder to your cal here:
3. Do I have to post every single day?
No, not really! Some bloggers make their own rules and blog every other day while others are very strict about getting up content each day. This is for you and your goals, not for anyone else. Don't be intimidated!
4. How will I think of something to write about every single day?
We just launched a new content discovery engine, Shareaholic Channels. Channels are topic-based collections of content that will surely inspire you through examples of popular posts from around our network. See what others are writing about and fuel your inspiration with Shareaholic Channels.
5. I don't have time to post today…what should I do?
Our friends at BlogHer have a ton of writing prompts for you. That's a great way to get up a quick post. Also, this is what Instagram is perfect for. A photo makes great content!
6. You didn't answer my question…where do I go from here?
We're hosting a twitter chat this friday from 3-4 pm on #SHRnbpm to talk about how NaBloPoMo is going. Join in on the fun!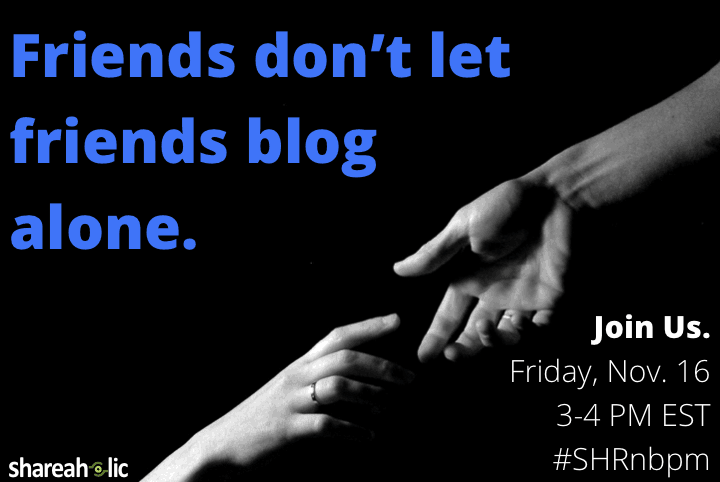 Photo credit: http://www.flickr.com/photos/30235101@N06/3344044448/
If you haven't joined us already for National Blog Posting Month, sign up for our emails through the form below and join us on Twitter at #SHRnbpm.