Planning ahead is a great way to re-ignite your enthusiasm for blogging with the start of a new month. But that editorial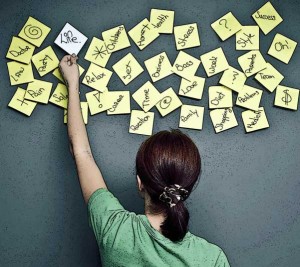 calendar won't fill itself with shareable blog post ideas. We're here to help you brainstorm. Here are 20 blog post ideas to try this month.
20 Blog Post Ideas
Teach Your Readers
1. Show your readers how to do something with step by step instructions.
2. Point out common mistakes for your industry and compile them in a list of things to avoid.
3. Relate your how-to content to a current event or a celebrity. Example: "What the 2012 Election Teaches Us About ____" or "5 _____ Lessons from Kim Kardashian."
4. Write an in-depth how-to article and refer to it as the "Beginner's Guide to ____".
Use Your Data
5. Let keyword research inspire you. Check out your top referring keywords for traffic in Google Analytics. Enhance your success with a blog post that targets that search term. Also dig in with Google's free Keyword Research Tool to find new keywords you want to rank for. Use that search term as a starting point for your content.
6. Your products, customers and services generate an amazing amount of data. What trends or findings can you derive from your data? Share it on your blog.
Multi-media and Visuals
7. Use screenshots or photos to illustrate each step of a "how-to" article. You can also use a video or screencast to demonstrate each step. For free screencasts, try Screenr.
8. Share a cartoon or create an original one. This type of visual content is particularly shareable on Google+ or Pinterest.
9. Illustrate tips or common mistakes with slides. Again, visual content is very "shareable."
Pull From Existing Content
10.  Take a stand. Find an industry-relevant article or study that you agree or disagree with. Introduce your blog post by stating what you agree or disagree with, and support your argument with a few concise points throughout the blog post copy.
11. Create a round-up of links from other resources in your industry. It provides great content to your readers while making a connection with others in your space by linking to their blogs.
12. Share conference, panel or event takeaways. Let your readers who couldn't be there in person benefit from your takeaways.
Research
13. Do a survey and reveal the findings on your blog. You can use Twtpoll for a Twitter survey, or share a Survey Monkey questionnaire with your audience.
14. Offer examples of how to do things the right way. Do an in-depth case study on one company, or create a round-up of 5 or more companies to use as a positive example.
Be a Thought Leader
15. Leverage the knowledge of others and feature a guest post from someone in your industry.
16. Show off your knowledge and submit a guest post to an industry blog. Create your own PR and enhance your link-building efforts.
17. Do a Q&A with an industry expert. Get experts to offer a tip and do a round-up of their recommendations.
18. Compare and contrast: Different products, different approaches, different companies, different people, different places, etc.
19. De-bunk common myths.
Have Fun!
20. Incorporate the current holiday or season. February includes several fun holidays: Groundhog's day, Valentine's Day, Single's Awareness Day (supposedly the day after Valentine's Day), President's Day and (for this year) Leap Day! There's tons of inspiration from these special occasions.
Time to get writing!
Don't forget to track the impact of your efforts by checking out your social shares on your Shareaholic website profile.
What blog posts do you plan on publishing this month? Let us know in the comments!
Make your blog posts extra shareable with a great headline. Get 10 great blog post headline ideas here.