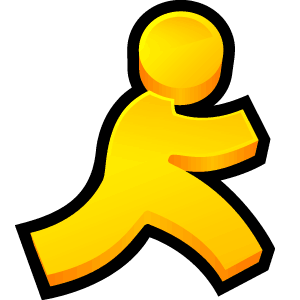 Two weeks ago, the internet unanimously barely blinked its eyes with the news that AOL had chosen to kill off AIM, the once-prominent instant messaging service. Outside of maintainence, the application's 40 employees in charge of development have been let go. So while AOL will still exist, no further growth or development will be made.
That's sad though. What if AIM actually went away? I mean, really: AIM was kind of like our first social network. I'm sure it's what Mark Zuckerburg was logged into as he crushed code growing up as merely a boy nerd. I'd go so far as to say this – the activity of AIM helped groom a generation of digital kids, multi-taskers who did homework with multiple chat windows open plus a textbook plus music playing. Homework wasn't so bad after all – and we expected or hoped for the same from our real jobs. It prepared, or prompted, or inspired us to work for the internet as community managers and developers, with our multiple monitors and browsers and dubstep and all. I suppose I see a lot of myself in that.
Top 10 Things We'll Miss About AIM
Appropriately, I posed this question to my Facebook friends: "What are the top things you miss about AIM?"
Here are the top 10:
1. Finding the best lyrics for your away message.
YES! This was such a huge decision. I mean do we go for the passive aggressive Avril Lavigne chorus line or really-not-as-obscure-as-you-were-hoping-it'd-be Mae reference that absolutely no one would get. Big decisions you guys, important stuff.
2. Away messages in general.
Sorry Twitter. AIM was the first to ask "What are you doing?" And sometimes they got the most literal answer – "Away"… "Brb"… When you finally got broadband, you were always signed in, and always had an away message up.
3. Choosing the right order of initials of your best friends to feature in your buddy profile.
Remember doing that? Listing all of your friends in your buddy profile? And then if you left someone out they'd be sooooo mad.
4. ASL?
Age, sex, location. My dear friend Ryan appropriately pointed out that Rapportive completely defeats this now that they show you social profiles right alongside emails. We're all too internet famous these days. We've lost our mystery.
5. Decorating your buddy profile!
I think the AIM buddy profile is really where that MySpace-esque, poor man's HTML, Comic Sans marquee text in this color pink… just the general bastardization of the interwebs… first began. It's the inception of personal branding, really.
I can go no further on this other than to leave you with these much more eloquent and much more fully formed thoughts from Gizmodo:
"AIM was also a sliver of who you were. In many ways, it was the internet's first mainstream social network. AIM profiles were a cocktail of all MySpace's tacky, inane juices squeezed out, but again, they were personal and public. Blank slates. White boxes. You could make them whatever you wanted—grating, bleeding pink text on black backgrounds, sprawling links, Odyssey-length inside jokes—anything that fit within the 1024 character limit. It was primitive but pioneering. And if you needed to say more, you could sign up for services that would trick your profile window into loading expanded profiles…As a teenager on AIM, your online persona had to be as carefully manicured as your real life one."
6. Not having to worry about choosing a professional screen name.
Ah the carefree days before potential employers made you login to Facebook during interviews or suspended you from school for Tweets…amiright?
7. Categorizing your friends in your buddy lists and giving the buddy lists funny names.
These were Facebook lists and Google+ circles that people actually used.
8. Finding the best custom login and logout sounds for your friends.
It was all the joy of ringtones… ON YOUR PARENTS' DESKTOP COMPUTER.
9. Its simplicity.
Product geekout here – I remember AIM being very straighforward. When you were away, you were away. When you were signed in, you were signed in. If someone signed out, you got that loud door shut noise. Someone actually needed to ask you for your screenname to add you to their buddy list, and it was probably some gawdawful combination of your favorite band and your birthday or graduation year – they couldn't just guess it like now. Maybe it's because that was before the social logins and integrations we have now.
Nowadays, with most chat systems, it's like…was I signed in? Was I signed out? How did that message get pushed to my phone – did I sign up for that? How can I sign up for that?
10. Having a crush on someone and waiting for him to sign in.
This is cheesy, yes, but you know what I mean. Even the most cynical can relate to that entire exciting, disappointing, awkward, confusing and fun thing of conversing with someone you like online. For many people, AIM was the first digital platform for this experience.
What do you miss about AIM? Let us know in the comments!