Want to share your favorite content the easy way? Use Shareaholic for your browser.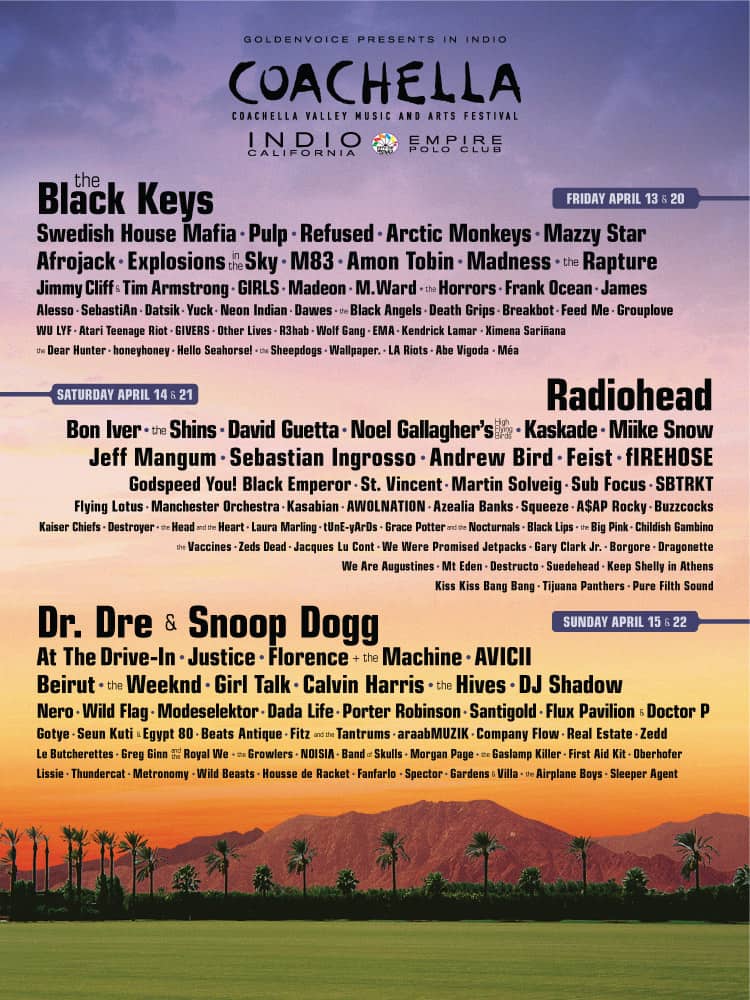 On a scale of 1 to awesome, April's pretty awesome. It's got a little something for everyone. The weather doesn't suck so bad, possibly even reaching flip flop temperatures. There's Easter and Passover, which are clearly amazing. There's Opening Day for baseball, which is obviously great. And for the next two weekends in sunny Indio, California, there's music festival Coachella. Music's a subjective thing, but I have a feeling that at least some of – if not a ton of –  the Shareaholic crowd will be into the 2012 Coachella lineup.
So whether you're getting pumped for the festival, wish you were going, or simply need new music for your headphones for this week at the office, check out these Spotify playlists featuring this year's Coachella artists. (You'll need a Spotify account to enjoy the music.) Have a great week!
Yes, I made you guys a playlist. I heart you that much. Not trying to boil the ocean here – just picked some favorites.
This is a fluid playlist with a great pace for getting stuff done. Nice selections!
This is another fluid playlist but with some different songs and a different pace then the one above.
Judging by the rest of this guy's playlists… he'll generally show you the way.
5. Digster Coachella 2012 Electronic Essentials
This would make decent workout music too.
6. Coachella 2012 Friday Day 1
First day line-up: Black Keys, Swedish House Mafia and more.
7. Coachella 2012 Saturday Day 2
Second Day line-up: Radiohead, Bon Iver, Miike Snow, David Guetta and more.
8. Coachella 2012 Sunday Day 3
Third Day line-up: Dr. Dre, Snoop Dogg, Florence + The Machine, Justice and more.
I feel like this person's excited, and I don't blame her. The selections are pretty great.
10. Coachella 2012 Complete Lineup
This is literally four day's worth of music, and I'm not complaining.
What do you listen to at the office? Let us know in the comments.
Like this article? Share it with your friends the easy way. Get Shareaholic for your browser.