Running a giveaway on your blog? Make it easier than ever for your readers to share your content with Shareaholic's social media buttons.
Running giveaways online has become increasingly popular over the last several years. Like… really popular. From big brands to SMBs and from large online media properties to niche bloggers, everyone can benefit from running a giveaway.
And why not – they are a lot of fun to conduct and participate in, and they're a great way to engage with and give back to your readers (and c'mon…sending that coveted 'You Won!' email you one of your readers is always fun).
Are you familiar with the 4 'P's of marketing? You know… price, product, place, promotion. Yeah… #yawn. Today, we're going to talk about the 4 'P's of running a successful giveaway on your blog with the hopes that you'll maximize the effectiveness of your next giveaway promotion.
Prize Selection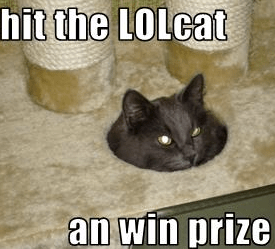 First, a fundamental rule: the awesomeness of the prize being given away can make or break your promotion. Ask yourself 'what's the worth of the prize?' No, not to you. Empathize with your audience and identify the value of this prize to an individual from each segment of your community. If you have a prize in mind, ask yourself "what percentage of my readers would find value in this prize if they were to win this item?".
Choose a prize that's versatile so any of your readers could use and enjoy it if they won. This is why gift cards are such a popular item to give away. Everyone can use them. Other items that tend to do really well are popular electronics (an iPad, Kindle Fire, etc). Most would enjoy winning such items, even if they already own them.
You have a unique prize? Even better. While everyone loves gift cards, a unique prize trumps all. If you have the opportunity to give away a prize that's a real head turner, take advantage of it. Have you ever seen a life-sized coffee table that looks like and functions like a Nintendo controller? We hadn't either until the folks at DudeIWantThat.com offered one up for a giveaway (yes, it can actually plug into an NES and function like a regular controller).
Finally, try to run your giveaway with a collective prize value of at least $50. Whether that be five $10 items, or one $50 item, $50 is a good starting price. There must be some value for your readers to be motivated to enter.
Purpose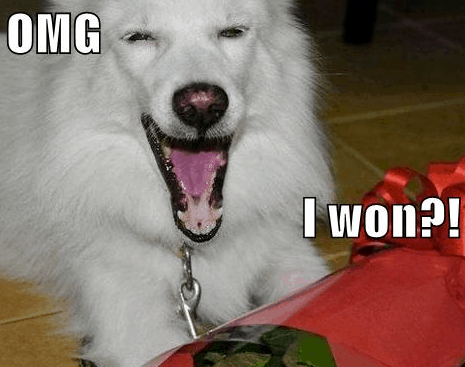 Next giveaway you run, ask yourself: "Why am I running this giveaway and what are my goals?" Is it to promote a launch of a product? Is it to get your readers excited around an event you're running or maybe an upcoming holiday? Or is it simply to give back to your readers?
Whatever the reason might be, giveaways tend to perform better when they are associated with a piece of content that you're looking to promote. That could be anything from a blog post you've written recently that you want to get visibility for, or a specific event, like tickets to a new blog conference or a rock concert.
In the case of Tracky, a social collaboration software startup based in Las Vegas, they decided to partner with Sarah's Faves, a PR/Social Media blogger, to run a giveaway specifically promoting the launch of their new product. The goal was simple: bring awareness to their new, awesome tool that was almost ready to be released. Tracky was able to chalk up a win by spreading the word to thousands of like-minded individuals by sharing content related to their product launch along with an iPad giveaway.
Promotion
Giveaways work on two levels – it's a great way to give back to your fans as well as attract new visitors. But how can you promote the giveaway?
If you're reading this, it's a safe assumption that you're on Facebook. Probably Twitter. If you're a step beyond, you have an email list too. Let these social channels be your friend. If your giveaway is planned to run for a week, promote it with a status update and tweet, and even better, a blurb in an email newsletter. You might be surprised how people respond.
Relatively new to the scene? Don't have a large FB or Twitter following? No problem – we've all been there. A great strategy to help promote a giveaway when you don't have a large following would be to partner up with other like-minded bloggers.
Reach out to a small handful of bloggers whom you follow or look up to. Tell them that you're running a promotion, why you're running it, and how you think it will benefit their readers. Maybe even offer a guest blog post around the same time you're looking to promote your giveaway.
When the giveaway is winding down, let folks know they have less than a day to enter, less than 2 hours, or less than 10 minutes *hurry!*. There's always an uptick in giveaway entries on the final day.
Picking A Winner & More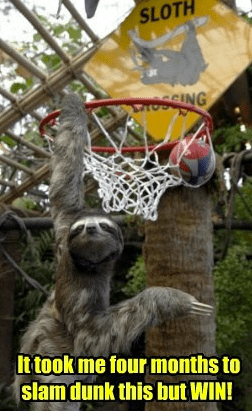 When the giveaway ends, your work doesn't stop! Calling it a day when the giveaway is over is like excusing yourself from a dinner party after they serve the appetizer. If you drop out here, you're leaving a lot of food on the table.
Keeping your readers in mind, try to have a winner selected to your giveaway within 24 to 48 hours of when it closes. Remember waiting and waiting to get your SAT results? Ever participate in an event where results were posted weeks after you stopped caring? Don't be that guy. Everyone likes when results are announced quickly and consistently.
After you've chosen the winner, ask the winner if they'll allow you to post their name on your site, or maybe tweet about them. Even better, ask if when they receive the prize if they can take a picture of themselves with it. It adds a personal touch to the giveaway as well as legitimacy (holy cow! you're telling me that normal people are winning these prizes?!).
Finally, try to give something of value to those that didn't win so they an extra reason to stick around. This could be anything from a discount code for a product you're promoting, a link to another giveaway that you might be running, or a link to a new post on your blog that they might find relevant. If the giveaway was run well and you have a lot of new eyeballs on your site, you want them to stick around, right?
Let's Run A Giveaway in 3, 2, 1…
To close out this post, the Shareaholic and Rafflecopter teams have partnered up to run a giveaway for some hot-off-the-press Shareaholic swag. 10 lucky winners will win a Shareaholic t-shirt. And we've got four colors you can choose from: indigo blue, mint green, grey, and light blue.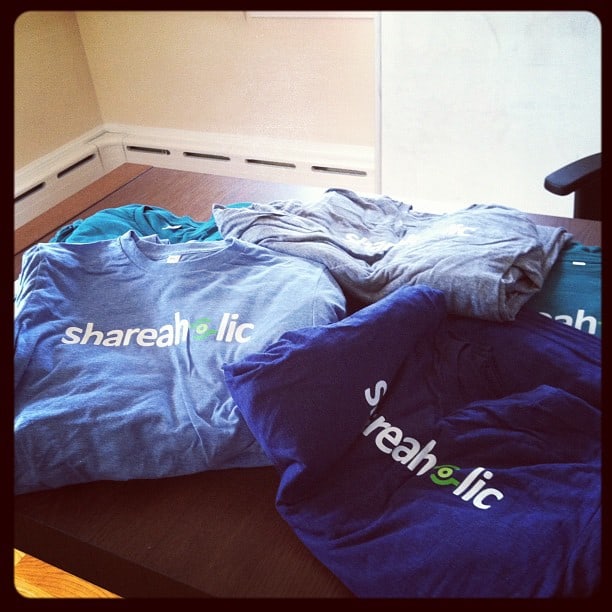 Enter using the Rafflecopter widget below: tell us what color you'd choose if you're picked as a winner. Here's a video that describes how to enter if you're new to Rafflecopter. The giveaway is open to those in the continental US (sorry to our international friends!) and will end on 5/16 at 12:01am. Winners will be chosen randomly and notified within 48 hours of the giveaway's close.
Enter Here – Good Luck!
a Rafflecopter giveaway

a Rafflecopter giveaway
___________________________________
Greg Goodson is the cofounder of Rafflecopter.com, an app that makes it crazy simple to run and manage giveaways on your site. Since Rafflecopter's public launch in December 2011, he's watched over 100k giveaways launch through their platform.