Shareaholic powers 350,000+ sites with our content enhancement suite. Are you ready?
---
LinkedIn, the largest social network for professionals, now boasts 300 million members around the world, with 100 million members in the U.S.
In an effort to engage — and retain — users who, like myself, checked into LinkedIn no more than once a month, LinkedIn developed the Influencer program, which invited ~500 high-profile professionals to contribute regular columns on topics LinkedIn users cared about — and it worked.
For LinkedIn users, it was an opportunity to learn from the best and brightest professionals in the world. For those select professionals, it was a channel that allowed them to reach a highly targeted audience of millions — for free. Dharmesh Shah, Co-founder and CTO of HubSpot and a LinkedIn Influencer (as well as an investor in Shareaholic), penned a post describing the brilliance of the initiative.
With access to LinkedIn's publishing platform, influencers had free reign to publish anything their hearts desired. LinkedIn would then distribute those posts to users across the platform using the Pulse app.
Shah's description of the experience can easily be interpreted as the #1 easiest way to go viral:
Within 48 hours your post has received over 1 million page views – and from that one article, over 500k people decide to follow you so they can read subsequent posts. Sound like a fantasy? It's not a fantasy if you're Bill Gates, you wrote this post, and you're a LinkedIn Influencer.
To many users' delight, in February 2014, LinkedIn announced it would open up its publishing platform to all other users, non-Influencers. Upon hearing the news, I, on the other hand, was not as bright-eyed and optimistic.
Within the publishing platform, Influencers indeed had a first-mover advantage. The spotlight shined on them as they were part of a privileged group with access to publish their thoughts on a platform that offered free and limitless distribution. LinkedIn's move to grant publishing access to all of its users would inevitably overwhelm the network with loads of new content — for better and for worse — and would dilute its value proposition for new content crafters.
Skeptical, but curious, I sought to gain access to LinkedIn's publishing platform, and within a month, I had published my first post. To my disappointment, the article didn't generate 100,000 views, nor did it propel me to LinkedIn superstardom. Twenty-four hours later, what did happen was the post received several thousand views and dozens of encouraging comments. Although I was right in my assumption that the publishing platform held less opportunity for new users than it did for Influncers, I realized it didn't have to.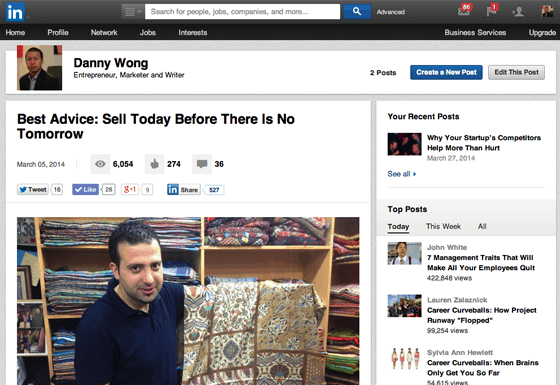 In fact, for many businesses, 6,000+ readers and 30+ commenters can really help move the needle, especially when the audience is an engaged group of professionals. But don't trust my word alone. I queried 8 business owners and members of the Young Entrepreneur Council (YEC) for their responses on the following question:
How do you utilize LinkedIn's publishing tool to grow your company?
---
The YEC is an invite-only organization comprised of the world's most promising entrepreneurs. In partnership with Citi, YEC launched StartupCollective, a free virtual mentorship program that helps millions of entrepreneurs start and grow businesses.
---
1. Expanding Our Reach
Brett Farmiloe of digital marketing firm Markitors says, "Business blogs often have trouble reaching their target audience. Utilizing LinkedIn's new publishing tool as a blogging platform can help you push relevant content to a built-in audience of your business connections. We plan on publishing more content on LinkedIn to expand our reach and increase our ability to attract the right readers."
2. Building Brand Awareness
Eric Siu, CEO of Single Grain, shares, "LinkedIn's publishing tool is just another channel to increase your reach. LinkedIn can easily help you reach the top-tier readers you want to talk to."
3. Adding Credibility
John Rampton, president of marketing agency Adogy, suggests LinkedIn's advantage is it "is a great place to gain credibility. If you're a main author on a site such as LinkedIn, people will listen and follow you because of the trust you've gained."
4. Amplifying Our Content
With more ambitious plans, Thursday Bram, owner of Hyper Modern Consulting, notes, "We've already bet big on content marketing, but having a new channel is useful for us to amplify our content further. After we've had time to test out LinkedIn in more depth, I expect us to create custom content for LinkedIn and drive traffic back to our own sites."
5. Driving Engagement
"LinkedIn already helps us generate significant website traffic, but the publishing tool has the potential to help us establish an ongoing conversation with our LinkedIn audience," says Heather Lopes of EarlyShares. "We hope the new features will help us get more feedback on the content we share and drive more insight from our networks."
6. Increasing Quality Content Distribution
Brewster Stanislaw knows, "LinkedIn is a tremendous platform to distribute company content, have perspective and build your credibility in a single space."
As the CEO of Inside Social, Stanislaw uses LinkedIn to "publish our blog posts, white papers and other thought pieces. LinkedIn also allows you to target the folks who should be hearing your message. It's a great way to improve the quality of your distribution instead of just increasing quantity."
7. Building Thought Leadership
Jason Grill of JGrill Media believes, "Building your thought leadership credentials is the best way to grow your brand or business. LinkedIn's publishing tool allows individuals to do this in a way that has never been done before — on a high-level business professional networking website. Content marketing is king these days, and this is a great avenue to build credibility directly with individuals in your industry or business."
8. Creating a Blog People Will Read
The greatest advantage to LinkedIn's publishing platform is the instant audience you generate through your network of connections and LinkedIn Pulse recommendations.
Andy Karuza of social media marketing firm Brandbuddee suggests, "With this tool you can express your ideas and expertise without trying to get people to go to another website. In today's society, using fewer clicks is better. People want to spend less time browsing and go to the place that has it all. Because there is already a lot of attention and engagement on LinkedIn, you can now put your content front and center to encourage more views."
What has LinkedIn's publishing platform done (or what do you suspect it could do) for your business?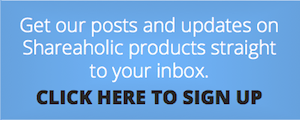 Let's build better content marketing tools together. Join the Shareaholic team.