Being a freelancer, is both rewarding and challenging. Having a digital portfolio as a photographer, designer, writer or anyone who considers himself or herself  a freelancer "artiste," is expected.  There are so many WordPress themes for freelancer portfolios. The WordPress themes below are a collection of some of the best I've found. What do you look for when choosing a WordPress theme for YOUR portfolio? Let us know in the comments below!
1. The First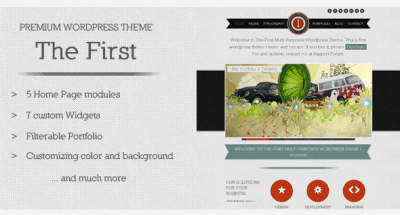 Beginning with "The First," enjoy this premium WordPress Theme that has five page modules and a "filterable" portfolio, making it suitable for almost any kind of freelance work that needs to be showcased.
Get The First here | Price: $35
2. Woop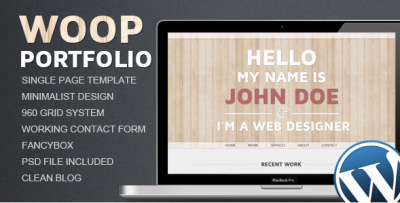 You can change the background and colors of your portfolio using Woop for your portfolio.  This simple design is best for a presentation-style portfolio.
Get Woop here | Price: $30
3. Primento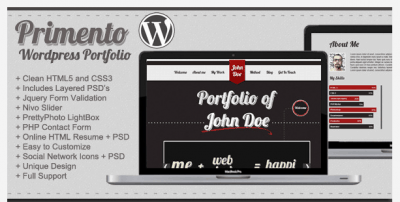 Primento supports a multimedia portfolio in which you can highlight your work via video, pictures and of course written content.
Get Primento here | Price: $30
4. MetroPress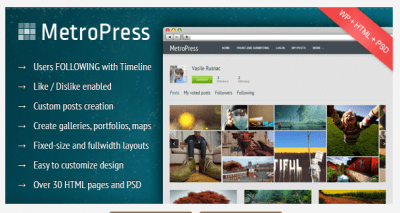 This is one of the many themes that is ideal for freelance photographers or graphic designers. Use this theme to organize your images into galleries and even turn your portfolio into a slide show!
Get MetroPress here | Price: $35
5. Monotone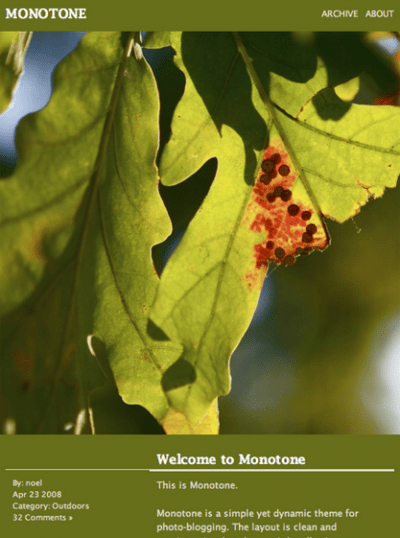 Monotone is perfect for the graphic designer or photographer who believes background is just as important as the image created. This theme automatically complements your images with the perfect background.
Get Monotone here | Price: $30
6. Studeo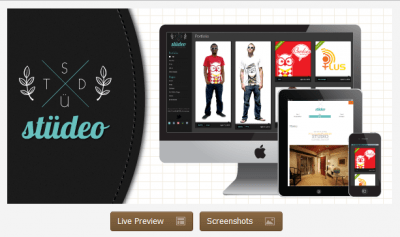 This theme combines simplicity with the option of (what seems like) unlimited color choices. The Studeo WordPress theme also supports voice and audio formats for the freelancer who may need to share media clips, interviews or just wants to add a more personal touch for prospects.
Get Studeo here | Price: $35
7. Idea 3D
The Idea 3D theme is part of the "Themeforest" family – which is one of my favorite places to get the best WordPress themes. Idea 3D boasts quick 30-second installation, houses all modules within the theme so that no plug-ins are required, supports HTML5 and CSS3 too!  I love the clean and modern feel of this portfolio theme!
Get Idea 3D here | Price: $35
8. CreativeLife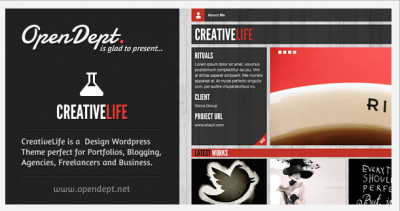 This easily customizable theme contains custom jQuery panels, supports HTML5, CSS3 and is SEO-friendly. "CreativeLife" WordPress theme is perfect for the artistically inclined freelancer who wants "all the other stuff" taken care of in a theme.
Get CreativeLife  here | Price: $35
9. MultiPress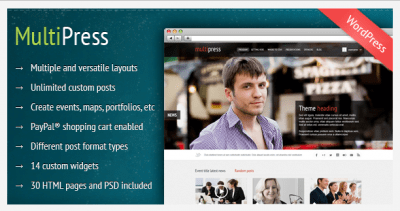 Included in this theme are fourteen custom widgets to make your portfolio stand out. If you're a freelance that does anything with events, you might especially enjoy this theme.
Get MultiPress here | Price: $35
10. Videographer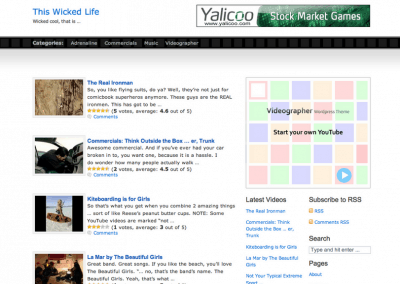 Judging by the name, this theme is the cream of the crop for vloggers or freelancers that work with video. If you're looking to showcase your portfolio in a YouTube-style video, this is your match.
Get Videographer here | Price: FREE
11. Jupither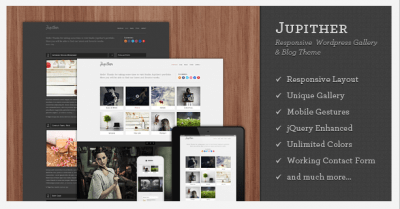 If you're a photographer, you definitely want to consider Jupither. The coolest feature of this theme is the gallery script with mobile features – perfect for showcasing multiple images in an organized and clean way.
Get Jupither here | Price: $35
12. Firebug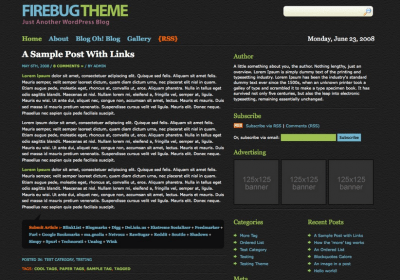 This FREE WordPress theme has a hip and cool digital-feel about it with its dark background and colorful text.  Enjoy widget-ready sidebars that are ready for 125 x 125 buttons, social tagging, Gravatar-ready comments at the bottom of each post.  Firebug is CSS/XHTML validated and has been tested with Firefox, Internet Explorer 6/7 and Safari to ensure favorable viewing on all fronts.
Get Firebug here | Price: FREE
13. Bee Bee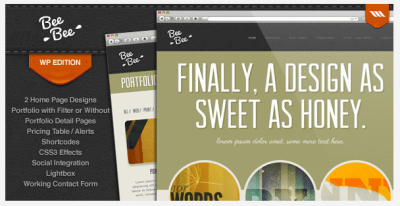 I LOVE the look of the "Bee Bee" WordPress theme!  The creators of "Bee Bee" made it with selling your creative services in mind.  Setup this clean and modern WordPress theme in either one column, two column or three column layouts.  Also, organize your portfolio into fabulous-looking albums.  I especially love the bar across the top of the homepage that looks like it's stitched leather.  In my opinion, this theme is well worth the money!
Get Bee Bee here | Price: $25-79
14. Rawa
The Rawa WordPress theme is perfect for the content-focused freelancer. The script used for this theme known as isotope, which will arrange your work in masonry style, making it simple yet delightful for your viewer.
Get Rawa here | Price: $30
15. Squared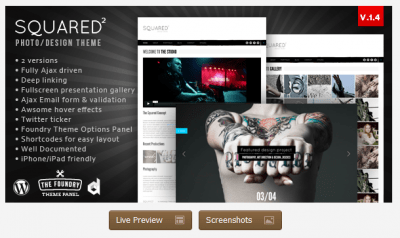 Finally, this fully Ajax-driven WordPress theme provides the user with a sophisticated yet simple theme that is best suited for graphic designers as well as photographers.
Get Squared here | Price: $30