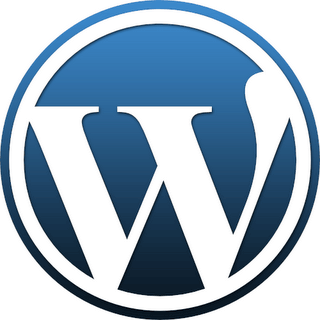 Are you a WordPress blogger? Get the most compatible and functional social media buttons. Use Shareaholic for WordPress.
Mobile web browsing and blog reading has become ubiquitous in our digital age.  As more and more people access the internet solely via their mobile devices, having a mobile-friendly version of your blog is an expectation from your audience and may even grow your traffic. Below is a list of some of the best mobile-friendly WordPress themes with different features to fit your needs.  What do you need from your mobile WordPress theme? Let us know in the comments below!
1. WPtouch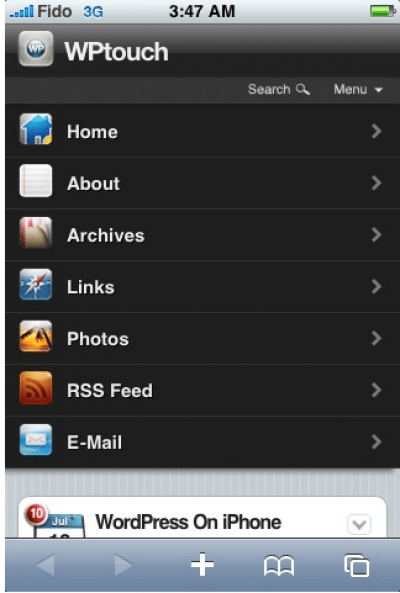 WPTouch is one of the simplest and yet most elegant mobile theme and is a definite favorite among Mobile WordPress users. The automatically transforms your WordPress site into an application-like theme and contains AJAX  loading articles and effects when viewed from an iPhone, Android, Palm Pre or BlackBerry OS6.
Download WPtouch here | Price: FREE
2. jQuery Mobile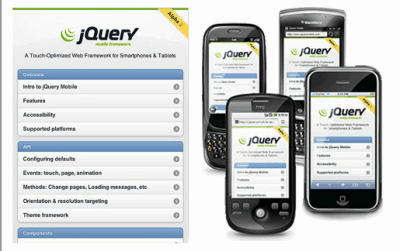 jQuery theme is perfect for all jQuery snytax enthusiasts and is compatible with almost all major mobile platforms including Windows 7 and Symbian. It has HTML5-driven configuration for laying out pages with minimal scripting and users can enjoy UI widgets that are touch-optimized and platform-agnostic.
Download jQuery Mobile here | Price: FREE
3. WP Mobile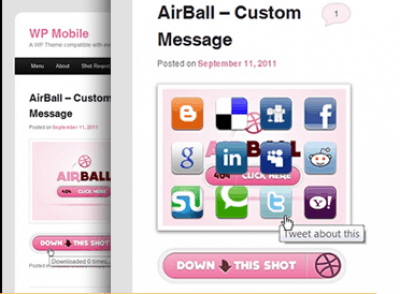 If it's important to you and your audience that your site looks the same, the WP Mobile theme is for you. It contains SEO friendly URLs which should help drive your traffic and also contains a custom 404 area. The WP Mobile theme is also built and tested for the HTC Evo 4G.
Download WP Mobile here  | Price: $32
4. Möbius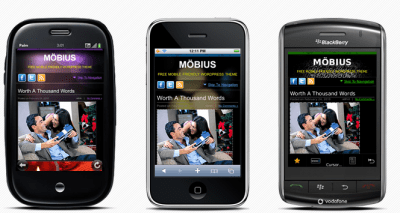 Möbius is compatible with just about every smart phone and web browser out there. It is W3C valid, hand-made, table-less,  and SEO and mark-up friendly. It also uses jQuery scripting and comes with three different skins as shown above.
Download Mobius here | Price: FREE
5. NewsPress
NewsPress is one of my favorite themes for it's iPhone-friendly features. It contains iPhone or iPod touch native post e-mail support and native RSS subscription support. These theme also has AJAX, jQuery and effects in only 50kb.
Download NewsPress here | Price: FREE
6. WordPress Mobile Theme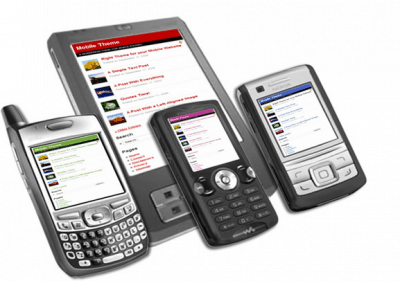 WordPress Mobile Theme supports just about any site and user with it's minimalistic approach that is set to specifically target mobile phone users. In addition to choosing your own color and defining the width for your theme, the best feature is the lightweight nature of  the theme, reduces load time. As a Shareaholic publisher, I definitely recommend it for all sites.
Download WordPress Mobile here | Price: FREE
7. HandHeld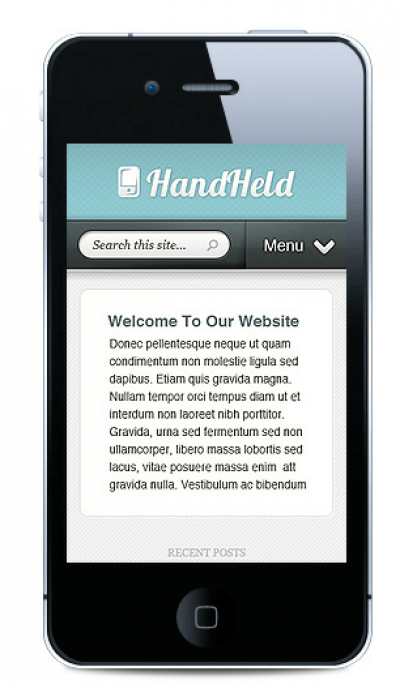 Handheld is another one of my favorites because it works with the theme that you already have. It is coded for HTML5 and has AJAX loaded posts. It also includes PSD files which makes it great for photographers and designers blogs that contain a lot of pictures.
Download HandHeld here | Price: $39 for access to all Elegant Themes
8. Tap News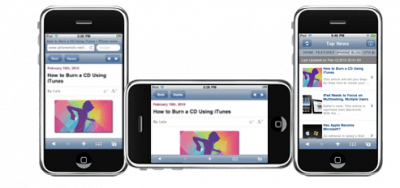 TapNews is designed specifically for Android, iPhone and Blackberry devices. Users can enjoy the ability to turn javascript effects and AJAX on or off. The theme also has complete WordPress search, pages, archives and support. As the name suggests, if you're a news blogger, then you will want to check this theme out.
Download Tap News here| Price: $49.99
9. WPtouch Pro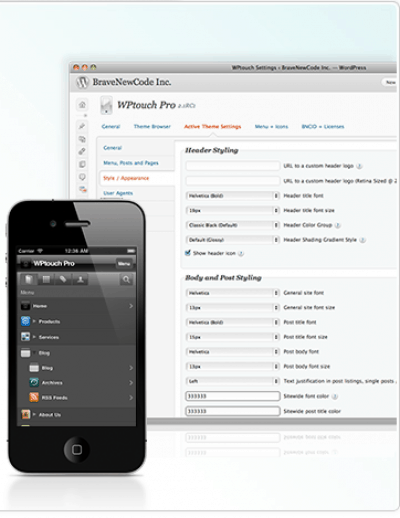 The Pro version of the WPtouch contains over 200 new features including free customer support and upgrades which is why you might need to spend a little for this theme.  Depending on which Pro version you choose, your features could include a statistics code, template PSDs and resources as well as options for nine languages including Spanish, Japanese and even Norwegian.
Download WPtouch Pro here | Price: $49-$199
10. Video Elements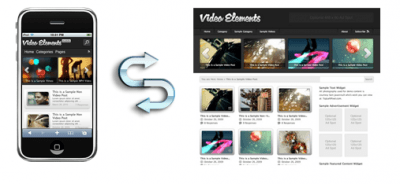 If you're a vlogger or video blogger, then you definitely will want Video Elements for your site. It is HTML5 optimized and  fully supports M4V, Vimeo and Youtube embedded videos on iPhones, Androids and touch-based Blackberry and Nokia Phones.
Download Video Elements here | Price: $49.99
11. iWorld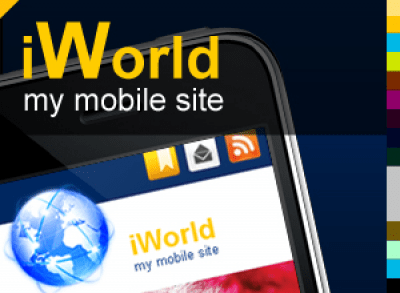 This theme was designed exclusively for, well, Apple enthusiasts. As the name indicates, it is for iPhone and iPod touch users. It does come with ten great color schemes, is jQuery powered, has a slider plug-in and contains a built-in working contact form.
Download iWorld here | Price: $25
12. Mobile Pro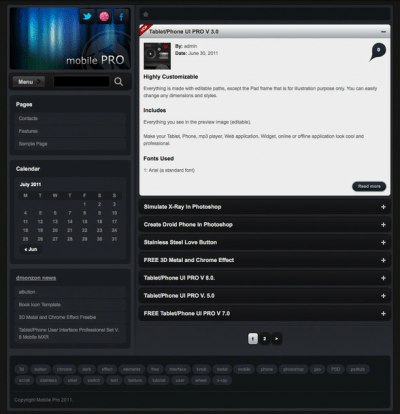 This theme has a spectacular view for mobile devices as well as regular computer screens. The theme has an intuitive, user-friendly admin panel and actually detects the mobile device so it can adapt to it to give the viewer the best experience. It also has SEO friendly code and optimized CSS code. For only $20, it's a steal!
Download Mobile Pro here | Price: $20
13. Vidley Mobile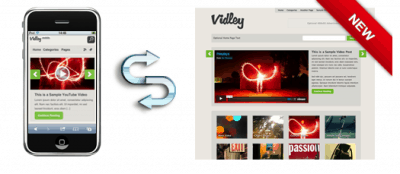 This is another great theme for vloggers and especially the innovative blogger who keeps up with the latest trends. It supports self-hosted MP4 videos on the main touch-based smartphones. You can customize your site logo and the site icon for iPhone home screens. It also fully supports Press75's Simple Video Embedder plugin.
Download Vidley Mobile here | Price: $39.99
14. News Gallery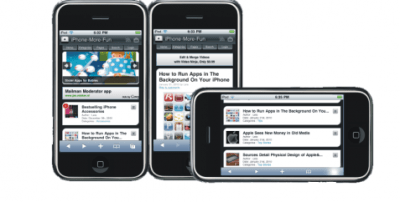 News Gallery was created with the photographer blogger in mind. It contains auto image re-sizing  for best  appearance on the iPhone. Choose from six elegant skins and enjoy the mobile detector integration feature which allows it to adapt it to the smartphone it is being viewed from.
Download News Gallery here | Price: $49.99
15. Breathe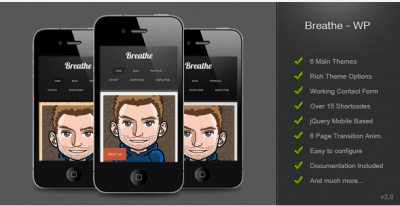 I love this theme for it's versatile features that are compatible with almost any kind of blog. Breathe has over fifteen shortcodes including Youtube and also contains video post format support. With it's liquid layout, is a great theme for a portfolio as well and contains over ten social icons to choose from.
Download Breathe here | Price: $20
16. 1st Giant Leap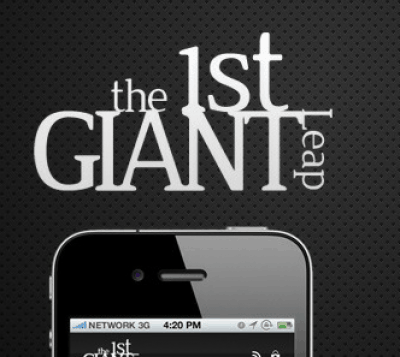 1st Giant Leap theme has a markup that is device orientation sensitive, which means the layout  is perfect whether it's viewed in landscape or portrait. The features also include PHP powered forms, 7 WordPress templates and has lightening fast javascript. Highly recommended for magazine-style sites.
Download 1st Giant Leap here | Price: $15
17. SOFA iBloggr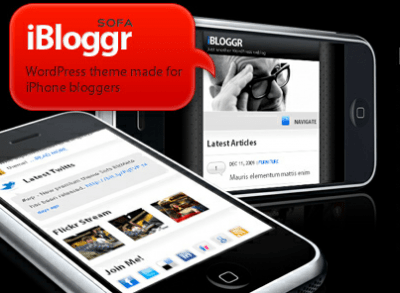 SOFA iBloggr is another theme made exclusively iPhones and iPod touches. It  has built-in pagination, a ready-made contact form and is HTML 5 compliant. If you install WordPress for the iPhone, it will also give you access to the WordPress admin which makes publishing content from your iPhone easier than ever before.
Download SOFA iBloggr here | Price: $15
18. On Demand Mobile

If your blog is monetized through ads,  enjoy On Demand's easy mobile insert feature which fully supports Google ads as well as AdMob mobile ads. On Demand is designed in On Demand style and optimized for UI and also provides full support for embedded videos.
Download On Demand Mobile here | Price: $49.99
19. DotMobi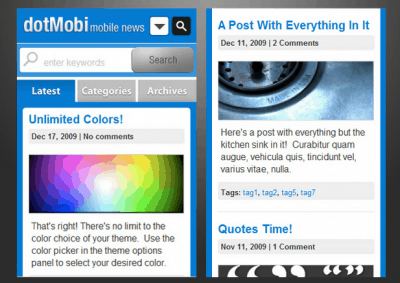 dotMobi can be a standalone theme as well as supports the theme you already use for your site. What I like about this theme is that you don't need to install plugins to get it running and has a built-in "recent posts" widget as well as a built-in Twitter feed which you can enable or disable. If social networking for your blog is an everyday activity, this theme is a must.
Download dotMobi here | Price: $15
20. WPtap Pages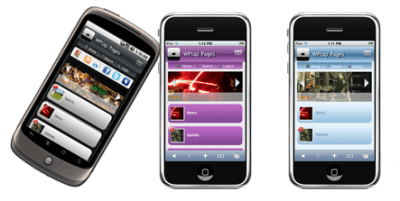 WPtap pages is a great theme for directory listings and product showcases. This mobile theme contains an elegant slideshow and easy thumbnail insertion. It also allows you to reorder pages on the homepage and only features pages on homepage.
Download WPtap Pages here | Price: $49.99
What do you need from your mobile WordPress theme? Let us know in the comments below!