Want to get readers to share your content and engage with more of your blog posts? Shareaholic can help.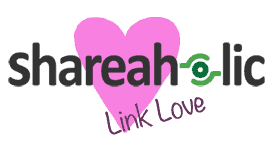 Welcome to our second installment of our Link Love posts! With over 200,000 publishers, our community publishes a ridiculous amount of quality content every week and we want to make sure everyone gets to see it. Click through the slideshow to see the blogs of this week's publishers and read the descriptions of our favorite posts below!
True Blood.net
Last week, I mentioned how much I love True Blood, so I couldn't resist including it for the second week. This site is awesome if you are an ultimate fan–it has recaps of recent episodes, book reviews and even recipes. This post has some sneak peeks for tonight's episode, so definitely watch them to get excited!
Click here to see the post.
Hairdresser on Fire
If you're looking for a very easy hairstyle to wear in the summer, Reagan has some awesome pictures of her Hippie Princess Hair in this post for inspiration! The hairstyle seems to channel some Blake Lively, and I can't get enough of it.
Click here to see the post.
The Art of Doing Stuff
I love seeing people make creative decorations for their home. Her post is about making glass candle "shades" that amplify the candlelight on your dining table while keeping them out of a child or pet's reach. Definitely a creative and gorgeous use of glass for a classy design!
Click here to see the post.
Ecokaren
Karen has an awesome blog dedicated to healthy and sustainable living tips. If you are considering eating organic or already do, definitely check out her post on which products to buy organic.
Click here to see the post.
Legend of Bill
I absolutely love this website! David created a comic called "The Legend of Bill" about Bill the barbarian. His artwork is gorgeous and his comics are very clever.
Since you can't just jump into the storyline, here is the original comic.
Stubby Dog
Pit bulls have had a terrible reputation in the media for being vicious, but Lauren's account of adopting and raising a pit bull puppy is truly eye-opening. This is a great post that might show you another side to a notorious breed.
Click here to read the story.
Pinoy Tech Blog
Though most of the hype around Microsoft's announcement last week was around its new tablet, Microsoft also is releasing a huge update to the Windows Phone 8. Check out this post to get the full run-down on the new features.
Click here to read the blog post.
The Crafting Chicks
After making the glass shades for your candles from "The Art of Doing Stuff," you can continue with your interior design kick with guidance from Jamie on creating a photo wall layout with a monogram. She has some great photos of her layout and it definitely inspired me to get decorating in my own apartment!
Click here to read the post.
Logofury
If you're a creative person, sometimes you just need some inspiration. Look no further than Logofury, as users submit their designs as inspiration for you.
Check out one of the latest designs here.
UDubstep
This blog is for all of my dubstep lovers out there! Not only can you read a quick review of each song featured on the blog, but you can also listen to the track right on the post.
Check out Kayne West remix here.

What were some of your favorite blog posts of the week?