Amplify your content with Shareaholic. See what our tools can do for your marketing.
---
Ever wonder how you could drive more pageviews to your content? Are you strapped for cash and want to inbound more organic traffic?
For content creators, SEO and Social Media are excellent traffic sources, but these are only two ways to gain traffic. From blog syndication to social bookmarking to manual reposting, there are plenty of tactics you can use to promote your existing content for free across the web.
Here are simple ways YOU can distribute and syndicate your blog posts to get the eyeballs your content deserves.
Reputable Content Aggregators
#1 Business 2 Community
Unlike many content aggregators, Business 2 Community manually vets contributors. With strict guidelines, B2C ensures the contributors it accepts and the content it syndicates is of the utmost quality.
The site's high quality standard means a large number of readers flock to Business 2 Community to digest great content and accepted contributors have the special privilege of reaching the B2C audience with syndicated posts.
In order to become a contributor, follow these instructions first.
If the B2C team likes what they see, they request three things from you:
The site owner's permission to syndicate (via email response is fine).
The names and email addresses for all regular contributors.
The RSS feed link, set to display the full text of the post.
After those materials are accepted, you are provided with a username and temporary password (which you should change after your first login).
Fill out your profile so your author bio is complete and readers know who you are and where the content originated.

Two advantages in syndicating your blog to B2C are:
Your posts usually go live on Business2Community.com within hours after you hit 'publish' on your blog.
Posts get further syndicated to 3rd parties such as Yahoo! Small Business Advisor and Google News.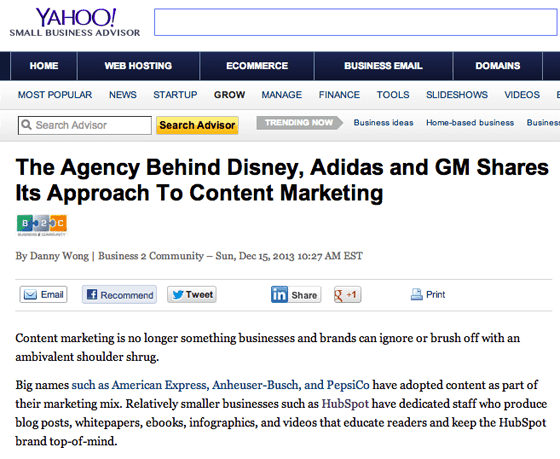 In case you're worried search engines such as Google may penalize you for duplicate content, Nick Steeves at Wishpond has a unique solution for overcoming this issue.
#2 Social Media Today
Another business-related site that syndicates blog feeds is Social Media Today.
New users need to sign up and fill out their profile. Afterwards, you'll need to apply to become a contributor through them. You can learn about the approval and application process here.
After receiving approval, you may add your blog's RSS feed. As a courtesy, Social Media Today alerts you via email when your posts go live on their site. Of course, syndication will only works if your posts are social media related.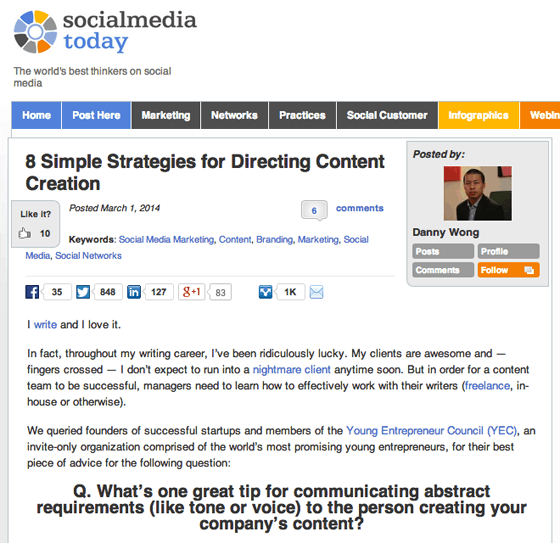 Social Content Sites
#3 BizSugar
BizSugar can be easily understood as a niche social bookmarking site. But unlike sites such as Reddit, which is filled with predatory trolls, BizSugar has a positive and supportive community that is excited to read the articles you submit.
But before you submit an article, be sure to read the submission guidelines.
After creating an account, you are limited to one article submission every 24 hours. You're only allowed to submit more articles more frequently once your submissions have generated enough votes to qualify you as a strong contributor who submits useful articles to the community.
Within your account, you can view your submitted articles and see how many votes they've generated.
Note: It may take a few days before your submissions start getting more than a handful of votes. In some cases, your submissions are "Made Hot" by other users.
Only small business related articles are accepted as submissions and those that are most useful to entrepreneurs tend to get the most votes.
In case you're interested in other business related social bookmarking communities, you should also check out:
#4 Growth Hackers
Part social bookmarking site, part forum, Growth Hackers is the premier destination for content related to growing businesses. If your submissions meet their guidelines, you'll reach a highly targeted audience of entrepreneurs, growth hackers and marketers who visit GH to learn from the best and brightest.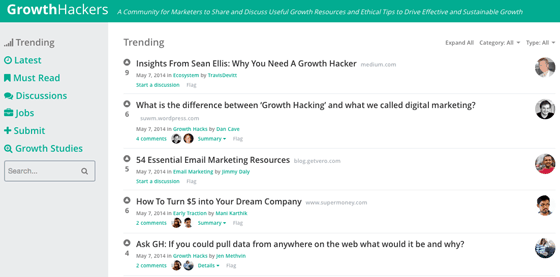 #5 Inbound.org
A passion project founded and funded by Rand Fishkin and Dharmesh Shah (an investor in Shareaholic), Inbound.org's goal "is to enable great content and people from the world of inbound marketing to get noticed."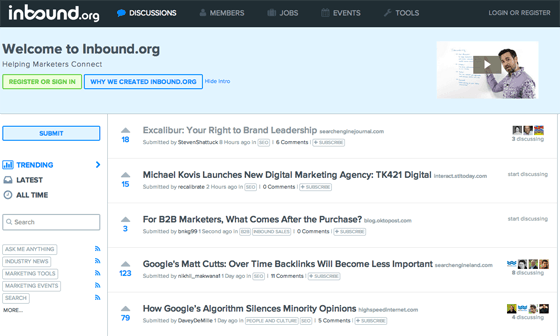 Before submitting your articles, be sure to check out their community guidelines.
#6 Hacker News
As the Digg of the startup and business world, Hacker News provides a go-to destination for tech enthusiasts. A coveted front-page placement can drive tens of thousands of visits in a day, so be sure to rack up plenty of karma points and post only if it meets their guidelines.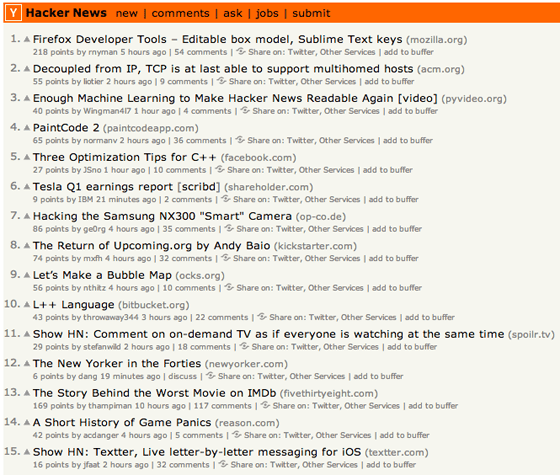 #7 Quora
A more generalist site, Quora appeals to every kind of reader and boasts a userbase filled with smart and influential individuals from every imaginable industry. Since Quora is a Q&A site, submitting your content isn't as easy as posting a link and hoping people will read it.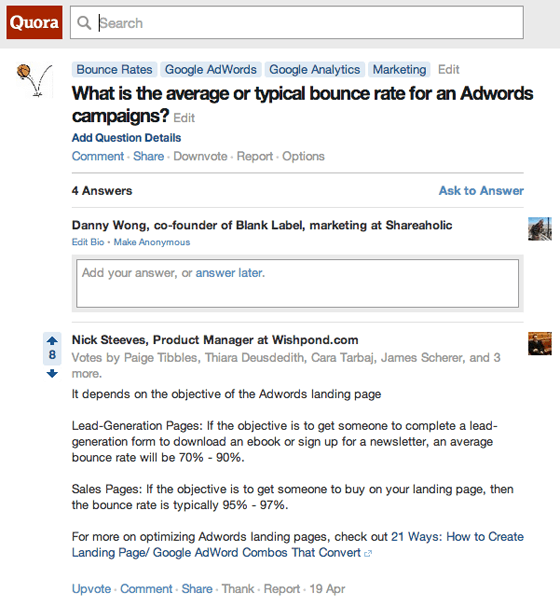 Instead, you need to find questions that relate to posts you've already published and answer them. The secret here is responding to a question with relevant highlights from your post and linking to your content so users could read the full article.
Self-Serve Publishing Platforms
#8 LinkedIn
LinkedIn's soon-to-be open publishing platform is a gold mine for businesses who want to reach a greater audience with their content. When users finally have access to publish, you'll see a pencil icon in your Status Update box which takes you to LinkedIn's native CMS.

With access to LinkedIn's CMS, you have free reign to republish any and all of your posts.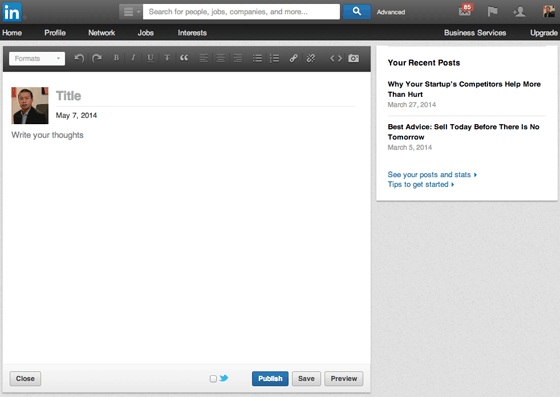 The advantages here are free distribution within the LinkedIn network since popular posts spread like wildfire when recommended to users via Pulse. In general though, your posts will be shared to at least your personal network of professional connections.
#9 Medium
In October 2013, Medium.com finally opened up its blogging platform to the general public. Now, anyone with a Twitter account can log in and publish anything and everything they want.
The self-publishing platform enables you to republish your content days, weeks or even months after the original story was published, thus granting you full control over your content. But what's special about publishing to Medium is the freedom you have in reformatting and editing the post – revitalizing it for another (hopefully) good run.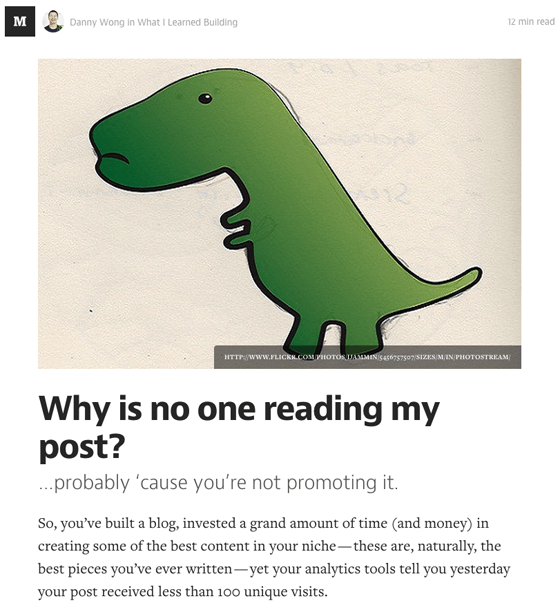 Note: Republished posts don't have to be exact replicas of the original. In fact, it's recommended you try a different headline, test different images, and lengthen or shorten the original post.
Medium lets you publish your story whenever you're ready.
The site features your story on the frontpage if your story is "trending" (in other words, your post has been "recommended" by a large number of people), and if it is particularly good, Medium features it in its weekly email blast to users.
Though it can prove difficult to have your story "trend" or be selected as an "editor's pick" for the week, you are able to input CTAs, email capture links, and anything else you care to add in your republished posts because you edit as you please.
#10 The Huffington Post
Back in 2010, I leveraged a referral from a HuffPo blogger to become a contributor and have been blogging on-and-off for HuffPo ever since.
More recently, I've identified posts I've published which I believed would be beneficial for the greater HuffPo audience and submitted them to my personal column. Since every article is read, vetted and edited by The Huffington Post's blog team, I am selective about what I submit to ensure it is useful for their readers and will get approved.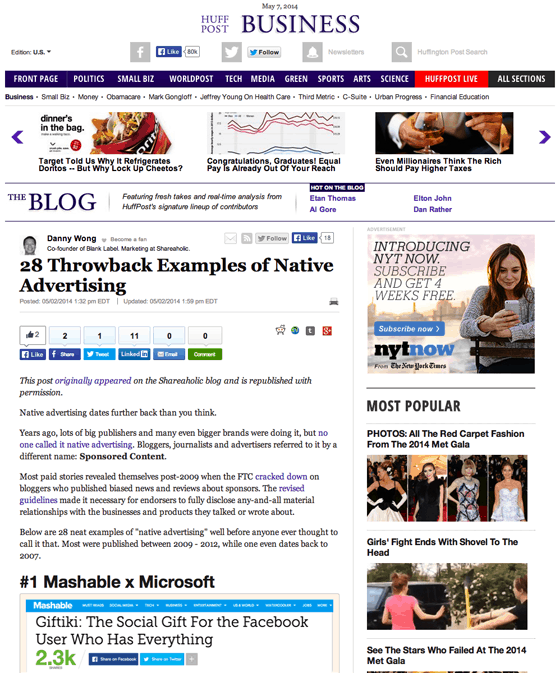 For other bloggers hoping to see their work published on The Huffington Post, the blog team offers a fairly straightforward application process for interested contributors. Send them a blog pitch and if it's compelling, hopefully you'll hear back!
Quick Wrap-Up
Setting up syndication to aggregators such as Business 2 Community requires a bit of manual labor, but once it is turned on, all you have to do is sit back and watch the traffic flow in.
Submitting to social bookmarking sites every time can be a tiring, but rewarding when real users give your post an upvote and leave an encouraging comment.
Finally, reposting your content to self-publishing platforms such as Medium is more labor intensive, but it's a creative and fun process that you control, allowing you to optimize what new readers get to see.
Conclusion
Indeed, the ROI on editing and reposting every piece of content you have may not always be worth the trouble. If you are strapped for time, it is recommended you be selective about what you distribute because you simply do not have the resources to republish all of your articles on other sites and platforms. To make the most out of your content distribution efforts, commit some time each week to promote only your best pieces of content — articles that have shared well and were well-received by readers.
Make sure to always measure and track your performance in order to know which tactics are driving the most pageviews to your content, so you can more effectively allocate your personal resources to doing things that are proven to work.
Try these content distribution and syndication strategies out and see which ones work best in helping you drive more traffic to your site, and then let us know how well they pan out for you!
What are your thoughts? Are these worthwhile tactics you'll add to your content marketing to-do list? What other distribution and syndication strategies can you share? Please write a comment (or two) below.
---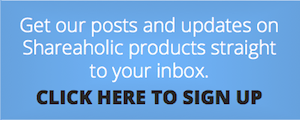 If you love what we do at Shareaholic, consider joining our team!