At Shareaholic, we like to make it as simple as possible for our users to discover the best website tools. That's why we've expanded our offerings beyond content sharing tools, offering also content measurement and discovery tools for users in and easy-to-access way –  right on our website and all within our Shareaholic WordPress plugin.
Today we're making that easier than ever by integrating our tools with one of the most popular premium WordPress themes available. I'm thrilled to announce that we've partnered with the smart minds at ColorLabs & Company to offer our tools right in one of their most popular theme frameworks, Backbone.

Backbone is a premium WordPress theme framework. It is mobile responsive, and built with both the sophisticated and beginner user in mind. There are infinite customization options, yet tailoring the fonts and widget layout in Backbone is particularly simple. Backbone has 9 child themes, including the magazine-style FoodMagz and photographer-friendly Sharpness. The framework bundle is $44 and the single pack starts at $59. See the Backbone theme page for more details.
Integrating Shareholic's related content tool, social sharing buttons and analytics are as simple as a quick activation in the Backbone theme panel.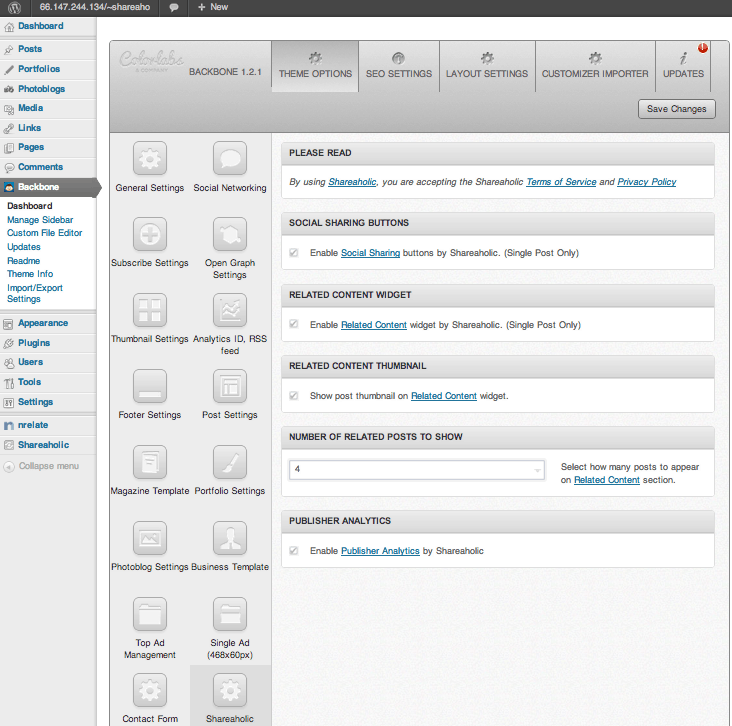 We're excited to make Shareaholic easier to discover and implement for users through partnerships like this with our friends at ColorLabs & Company and LabVidz.
Huge thanks to the whole ColorLabs & Company team for your work on this, especially Bina and Anang!
Where else would you like to see Shareaholic? Let us know in the comments!