Each week, the blogosphere is full of fantastic tips on how you can create shareable content. Here are the top tips we learned that will get your content creation started on the right foot this week.
1. Approach each social media platform individually.
To grow your brand's reach, you want your target audience to follow you on different social media platforms. But if you offer the same old content (or not content at all!) on every single platform, what's the point? You've got to offer a different value prop for each social network.
Read more: A Peek Under the Hood: How We Manage the SEOmoz Community
2. A content creation schedule must be a part of your overall marketing plan.
To grow an audience that shares your content, you have to create a sense of reliability with consistent content. Planning out daily, monthly and annual content is a great way to re-ignite your commitment to content marketing.
Read more: Creating Consistent Content – A Content Marketing Plan
3. Use Pinterest for content marketing.
The visual nature of Pinterest lends itself to the fashion brand's content strategy. Their Pinterest content strategy means curating content from other fashion sites and mixing it in with features of their own products.
Read more: Thematic Curation: A Look at Kate Spade's Content Strategy
4. Optimize your blog posts with a call to action.
If you optimize your blog posts for SEO, your post could be the first touchpoint for a potential customer searching on that keyword. Take a tip from Birchbox – keep that person involved in your content with a call-to-action to read a related blog post or check out a product relevant to your content.
Read more: 7 Startups Who Do Blogging Right
5. Make sure your blog posts are "anatomically correct."
Remember each area of your blog post that can be improved from an SEO perspective – your in-text links, page titles and more.
Read more: 26 Tips for Writing Great Blog Posts
6. Hey students: Blog even if you haven't graduated yet.
Blogging is a great way to demonstrate your interest in a topic, establish your online presence and collect your portfolio of accomplishments in one place online.
Read more: 8 Reasons Why Students Should Blog
7. Before you hit publish, think to yourself: Would I share this blog post?
Give your readers something to react to! Take a stand, share your findings or share your opinion. Give them a reason to share.
Read more: 6 Ways to Make Your Content More Shareable
8. Improve the click-through rate on your social shares with a great meta description.
Make your meta description a keyword-rich portrayal of what your blog post offers. When it's shared on Facebook or turns up in Google results, these few sentences show up to potential readers. Make it count.
Read more: Meta Description Magic: Think Less about SEO & More about Click-Throughs
9. Get readers to spend more time on your site by inter-linking to old blog posts.
Keep your audience engaged with your content by linking keywords to your previous content on a subject or keyword.
Read more: 7 Simple Ways to Get Your Readers to Spend More Time on Your Blog
10. Drive more blog traffic by targeting topics your readers want to share.
Measure what blog posts get the most shares to uncover what attracts your most engaged readers. You can do this for your blog by checking out your website profile with Shareaholic. Here's an example for popular cooking blog Smitten Kitchen.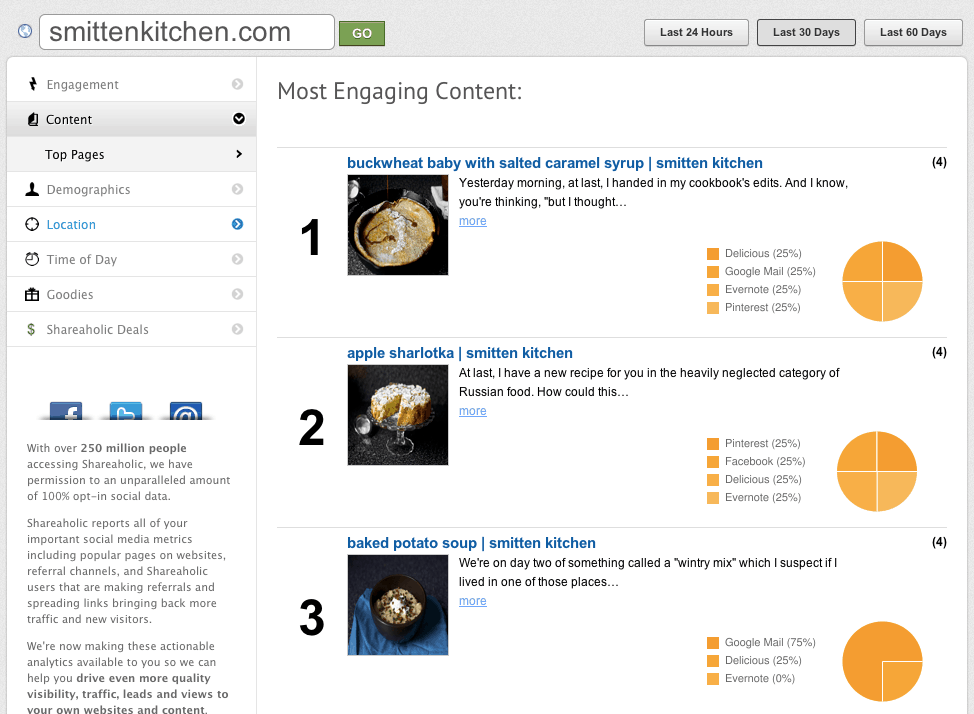 Apparently people loved the Buckwheat Baby with caramel recipe. And can you blame them?
Read more: 21 Tactics to Increase Blog Traffic
What were some of your favorite lessons from the blog posts you read this week? Let us know in the comments.
Want to get a free roundup of posts like these delivered straight to your inbox? Sign up for Shareaholic to get our community newsletter.