Learn what your most shareable content is. Check out Shareaholic Analytics.
Shareaholic had a fantastic time at WordCamp this past weekend! It was thrilling to meet even more of our users in person and get to know some potential new publishers. I really loved getting to tell people about Recommendations, our new related content widget for publishers. I also had a great time offering content marketing tips during my presentation.
You can see the slides below.
4 Tips for Creating Shareable Content
For those of you who couldn't be there, here are my top five tips for content marketing.
1. Use an Editorial Calendar
This is hardly the first time I've sang the praises of planning your content out before you write it in an editorial calendar. Not to beat a dead horse, but this seriously will get you committed to thinking about what you post strategically, as opposed to flippantly throwing some pictures of the company part up on the blog. For more tips, read our guide to creating editorial calendars.
2. Write Great Headlines
This really helps. It's your first impression, so you want to make your headline count so your content is more shareable. Plus, Google takes into account things like your CTR on places like Google News as well as social media platforms like Facebook and Twitter as a signal of relevancy for your content. Writing a great headline will pay off two-fold, increasing your social shares and referral traffic plus improving your organic rankings in the long term.
3. Measure Your Progress
You can't know where you're going with content unless you get a grasp of what's been working so far (or not working), plus if you track what new kinds of content you are testing. Using Shareaholic Analytics, you can see what your more popular content is. When you see what gets shared the most, you can get a sense of how you will want to replicate success.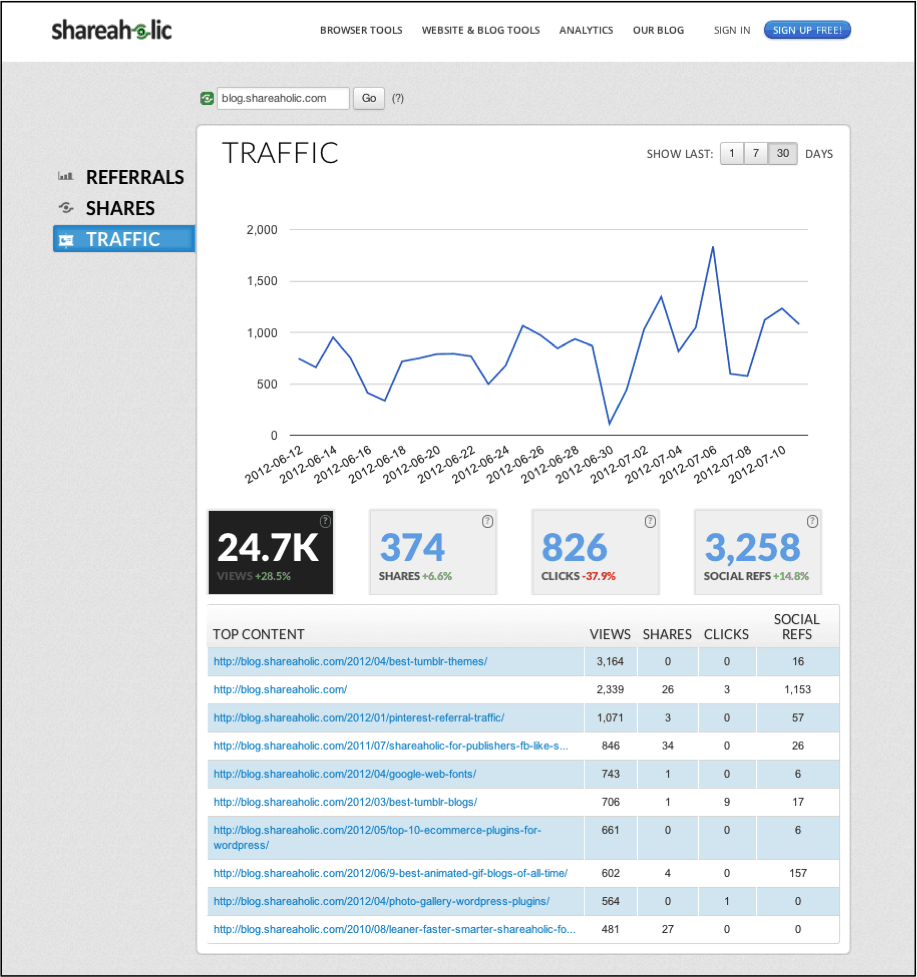 4. Think First as A Content Consumer
I ended my presentation by asking everyone to ask themselves why they share what they shared. What made KONY 2012 so viral? Did you share it? Why?
Skillshare's manifesto has more than 4,000 Facebook likes and nearly 300,000 views on Vimeo. The Next Web even covered it. The Holstee Manifesto has nearly 800,00 views.
The Atlantic's recent article Why Women Can't Have it All has nearly 200,000 Facebook likes. This (AMAZING) Buzzfeed story celebrating the "Best of Prom 2012" has nearly 1,000 Facebook likes.
We all know more than we think we know about what makes great content, because we share things we love every day. If we can identify the reasoning behind our own social sharing habits, we can  apply it to our own content. So ask yourself why do you share what you share and soak in all the inspiration that follows.
What shareable content tips do you have for the class? Let us know in the comments!