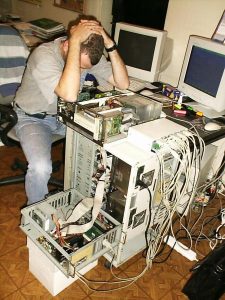 Hosting WordPress is one of those choices that most people make every couple of years.  Unless things go terribly wrong with their hosting provider and they have to migrate because of downtime or a hacking, most people are content to choose a host once and never think about it again. As long as their site is up and running, it's not a priority to move your site over to a new hosting company.
Ok, but let's say that you're looking for a new host for your business or your blog. You type "WordPress hosting" into Google, and holy moley, you're inundated with links and adds that have had SEO steroids injected into their biceps so that their web hosting solution looks the beefiest and the best value to host your precious website.
WordPress hosting is an incredibly competitive space for SEO and SEM, and it's a pain to sift through all the marketing and the technical jargon to know which hosting company is right for you. I'm going to cut through some of the marketing to lay out the various things to look for when the time comes to choose a hosting company.
Why should you listen to me? I work for a managed WordPress hosting company, WP Engine. So while I'm 100% biased in favor of my company's hosting solution, I also spend every single day talking about caching, and CDNs, and how to prevent hackers from getting into your site, and I can recite in my sleep how to design your site to scale under Huffington Post-sized traffic loads.
To start, there are 4 basic types of hosting accounts to choose from:
Shared Hosting
VPS (Virtual Private Server)
Dedicated Hosting
Managed Hosting
And that there are 6 major factors to consider when you're choosing a host:
Speed
Security
Scalability
Support
Tools
Price
Shared Hosting
Shared hosting is the most common hosting solution that you'll see when you Google. Its most compelling feature is price. Shared hosting is cheap. For less than $10/ month you share a single server's resources with a few hundred other small sites. If price is the most important factor, and your site doesn't need cutting edge speed or security, shared hosting is the way to go. It will take several seconds to load, and you'll be responsible for keeping your site secure and updated from hackers and malware. And if you get a spike in traffic because your blog goes viral, chances are good that the server will go down.
Shared hosts typically provide responsive support, but won't be able to do much beyond restarting your server.  I've still got sites for both my parents on Bluehost. Other good options are Dreamhost and HostGator.
Virtual Private Server
A VPS is the solution you go with when you want more control over your site for development, and want more server resources, since you're only sharing the server with a few other sites and not hundreds, that can handle higher loads of traffic than a shared hosting account.
You'll pay a bit more money every month, typically $30-$100 a month (depending on the storage) for the extra control and extra resources. And the server will be pretty beefy, so it can handle higher traffic loads. However, scalability is limited. Once the server runs out of processing power, either because of your traffic load, or maybe your neighbor suddenly got high traffic loads, your site's performance will drop drastically.
If you're running a VPS, please make sure you are performing your own security measures, because you're still on your own here. You'll receive pretty good support, but the folks you call or email won't be able to offer much help if you get hacked, or if your site goes down.
Dedicated Server
This is the solution you'll want if you need absolute control over all the technical aspects of hosting your sites. This includes knowing the difference between Apache and Nginx, and being familiar with object caching. Either you or your SysAdmin will need to be comfortable poking around inside a MySQL database, as well as maintaining your own security protocol and firewall.
Dedicated servers give you a whole server, or several, for you to work with. Your site will be extremely scalable under high traffic loads, and you'll be able to tune the performance and optimize it to serve your site super fast. This will also cost you a bit more than a VPS: right at $250-$300 to start.  It's a bit more expensive, but it's a good solution for websites that you want complete control over.
Managed WordPress Hosting
This breed of hosting assumes that your site is running on WordPress. That's a safe assumption, since about 20% of the Internet is built on WordPress. Managed WordPress Hosting means that a company like WP Engine takes care of all the technical details of the hosting and makes sure that your WordPress site is served quickly, usually under a second, and that speed scales with high traffic loads. So if you get featured on the New York Times, you'll be able to handle all the traffic.
Managed hosting companies will also manage the security for you, and automatically update WordPress when the latest version is released. Knowing that your site is being cared for by WordPress hosting specialist means that you don't have to worry about hackers or security.
But one of the biggest benefits is support. Managed hosts have support staff who know not only hosting, but they know WordPress as well, and can offer help in troubleshooting issues with plugins or themes. Many hosts add developer features, like the staging area and automatic nightly backups on WP Engine.
Based on how everything else is priced, managed WordPress hosts are a great value, and cost anywhere from $25-$30 a month for one site, and are more expensive from there depending on traffic and number of domains. If you're running a WordPress site, paying for a managed solution is a huge value, whether you go with WP Engine or ZippyKid, or WebSythesis, or Pagely.
Choosing the host for you
It depends on what you want in the long run. You cannot go wrong with a managed WordPress host. They will all take good care of you and provide good support. Again, I'm biased towards WP Engine, but I leave that to you to decide. For a dedicated solution, and to a lesser extent a VPS, you need someone to manage the systems full-time. A shared solution is the right option if price is the biggest factor, and you just need a place to put a domain and a small site.
Let me know how I can help you with your site in the comments. Remember, insight isn't worth much without action! Let's talk in the comments to see which solution works best for you!
This guest post is by Austin Gunter, the community manager for WP Engine's managed WordPress hosting platform.
Blogging for WordPress? Get social sharing, related content and content analytics tools all in one plugin. Try 
Shareaholic for WordPress
.