Love WordPress? We do too. Get Shareaholic for your WordPress site to drive traffic and track the effectiveness of your content.
Why do so many people LOVE WordPress?  Obviously it's easy to use and dependable, but I think its biggest selling point is the plethora of plugins that are available to extend the functionality of WordPress. like the iPhone, it seems like there's an "app" (or in WordPress terms, a Plugin) for just about anything.
Wit so many to choose from, hich plugins are the best though?  Which do you really need and which can be passed on?  Let's take look at 10 of the most popular WordPress plugins. Numbers don't lie: the plugins listed in this post are the most downloaded posts on WordPress for a reason.
Check out the ten most popular WordPress Plugins in the post below and let us know which ones you can't live without in the comments section. Which other plugins do you rely on every day?  
1. Shareaholic

Shareaholic is another one of my favorite WordPress plugins because it makes reading your blog more fun, its easy for readers to use and it helps you track the success of your content.  Add Shareaholic to your blog to see how many people are sharing your content and on what social networks.  Then sign into your Shareaholic account to check out the stats of how your site is doing.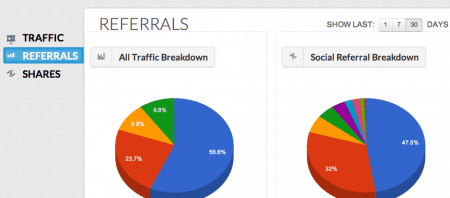 Shareaholic will tell you how many visits you got, and provide a break down of how many shares each post received so you can tailor your content to what your audience likes enough to share.  Want to demo Shareaholic?  Scroll to the bottom of this page and share this post by clicking one of the social media icons below.  With just one click your content can be shared with thousands.  Imagine how much more traffic this could bring in for YOUR website! An easy-peasy Plugin that really drives traffic!
Download the Shareaholic Plugin
2. WP Touch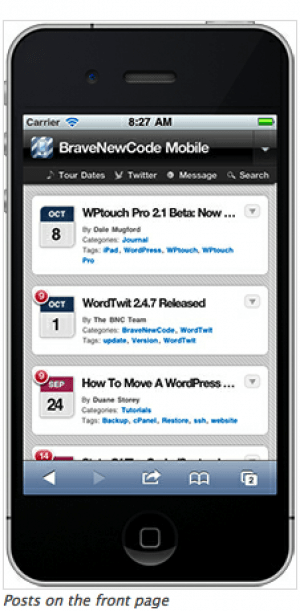 With mobile website traffic going through the roof the last few years, a mobile-friendly version of your WordPress website is crucial.  The WP Touch plugin allows you to turn your existing website into an application-like theme for an easy viewing and clicking experience.  WP Touch works well for those viewing your site from just about any popular mobile device including the iPhone, iPod touch, Android mobile devices, Palm Pre/Pixi and BlackBerry OS6 mobile devices.
Thanks to the user-friendly admin panel NO CODE MODIFICATION REQUIRED!  The theme also includes the ability for visitors to switch between WP Touch view and your site's regular theme.  This plugin has been downloaded more than 3.4 million times and I think you should download it next!
Download the WP Touch Mobile Plugin
3. Google XML Sitemaps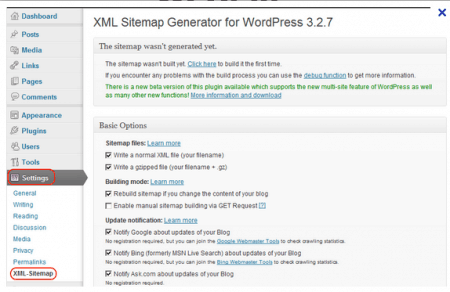 Any great web designer or webmaster knows that an XML sitemap is crucial if you ever want search engines to find you. This probably explains why the Google XML Sitemap plugin has been downloaded more than 7.6 MILLION times!
XML sitemaps tell the "spiders" how your site is structured and what your site is about.  Sitemaps also notify all major search engines every time you create a post about the new content. Although the title of this plugin is deceiving, the Google XML Sitemap plguin not only communicates with Google, but with Bing, Yahoo and Ask.com too.
Download the XML Sitemap Generator Plugin
4.  All-in-One SEO Pack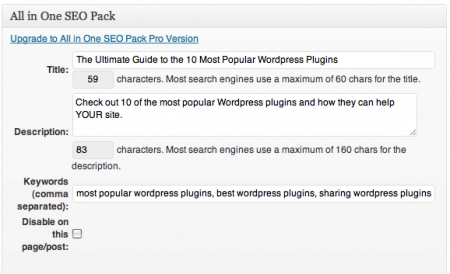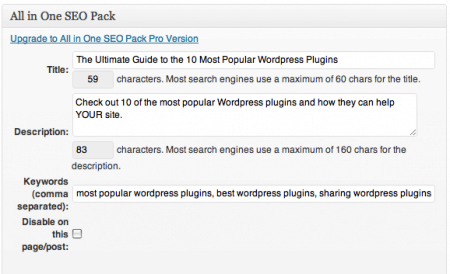 With almost 11 MILLION downloads to date, this plugin has a proven track record of success.  The All-in-One SEO pack simplifies SEO regardless of how tech savvy you are.  Beneath the body content of your page or post, this plugin allows publishers to add a meta title, description and keywords to their content with ease.  Not sure how long your meta tags and descriptions should be?  Don't fret: the All-in-One SEO pack will prompt you by showing how many characters are acceptable in each field.
This is one of the first plugins I started using with my own blog and I noticed a huge spike in traffic once I did.
Download the All-in-One SEO Pack
5. WP to Twitter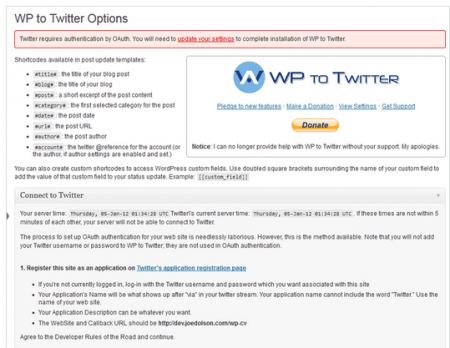 WP to Twitter posts a Twitter status update from your WordPress blog using your URL shortening service to provide a link back to your post from Twitter.
Use a Tweet template or create your own custom posts using shortcodes to generate your text.  Any status update you write which is longer than the available space will be truncated by the plugin
Additional features include:
Use tags as Twitter hashtags
Use alternate URLs in place of post permalinks
Support for Google Analytics
Support for XMLRPC remote clients
Translations in several languages also available!
Download WP to Twitter WordPress Plugin
6. Contact Form 7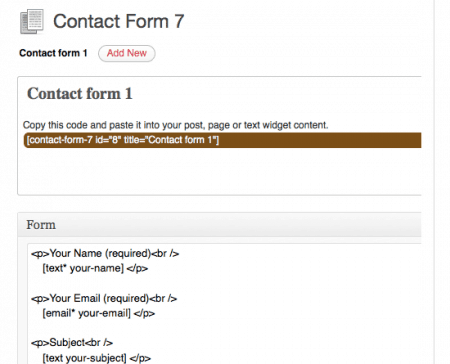 Contact Form 7 is ideal for the person who wants flexible yet easy to use forms.  Downloaded almost 7 million times, this plugin allows you to manage and mail several custom designed contact forms via your website.  In addition, it supports many features including AJAX submitting, CAPTCHA, Akismet spam filtering, file uploading, etc.
Want to add a contact form to your site with this plugin?  Be sure to check out
Contact Form 7's FAQ page
first for more detailed instructions on how to upload a form.  Or check out the quick instructions below:
Open the settings page for Contact Form 7, and then open the contact form you want to add.
Each contact form has its own tag (shortcode), such as [contact-form-7 id="1234" title="Contact form 1"]. To insert the contact form into your post, copy the shortcode and paste it into the post content.
Download the Contact Form 7 WordPress Plugin
7. Broken Link Checker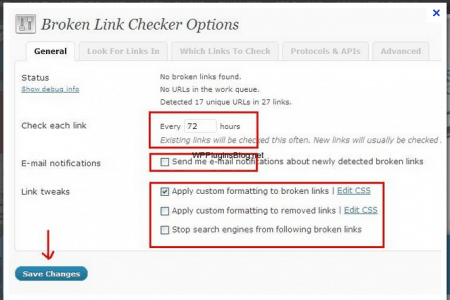 This plugin will check your blog for broken links and notify you if/when any are found.  The Broken Link WordPress Plugin will also:
Monitor links in your posts, pages, comments, the blogroll, and custom fields (optional).
Detect links that don't work, missing images and redirects.
Notify you of broken links either via the Dashboard or by email.
Makes broken links display differently in posts (optional).
Prevents search engines from following broken links (optional).
You can search and filter links by URL, anchor text and so on.
Links can be edited directly from the plugin's page, without manually updating each post.
Highly configurable.
You can also click on the contents of the "Status" or "Link Text" columns to get more info about the status of each link.
Download the Broken Link Checker WordPress Plugin
8. NextGen Gallery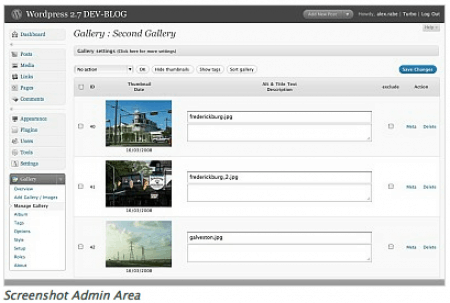 The NextGen Photo Gallery WordPress Plugin takes the best of the existing slideshows and does just a bit better.  While perfecting a WordPress photo gallery may seem a bit lame, think again!  Check out all the features that NextGen offers its users:
Templates: add custom templates for your theme.
Media RSS feed: Add the Cooliris Effect to your gallery
Assign each of your galleries an author
AJAX based thumbnail generator : No more server limitation during the batch process
Copy/Move: Copy or move images between galleries
Sort your Albums with ease
Upload or pictures via a zip-file (Not in Safe-mode)
Watermark function: You can add a watermark image or text
Multiple CSS Stylesheet: Use a nice shadow effect for your thumbnails with your own CSS file
Slideshow: Full integrated slideshow as jQuery or Flash solution
Sidebar Widget : Show a slideshow, random or recent picture in your sidebar
Gallery can be translated in more than 30 languages
Translation downloader : Download with one click the new translation file
Sort images feature
Support for XML Sitemaps : Add Images to your sitemaps with the WordPress SEO by Yoast plugin
9. Google Analytics for WordPress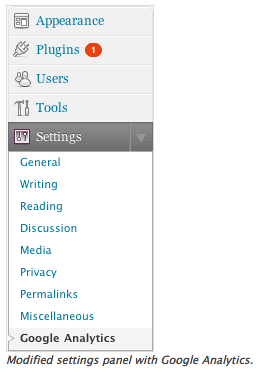 If you're still reading this post, it's safe to assume you're pretty familiar with Google Analytics.  I'm also going to venutre a guess that you are the kind of person who has way too many browser windows open at the same time and get irritated about flipping back and forth between Google Analytics and WordPress.
Meet the Google Analytics plugin for WordPress and flip windows no more!  Install the Google Analytics plugin with ease using the Google Analytics API: authenticate, select the site you want to track and you're done.  By activating this plugin you'll also get to track logins and registration forms, connect your AdSense account and use custom variables to track meta data too.
10. SEO Friendly Images

Search engines are pretty darn smart, but not quite smart enough to view your image and know what it is – yet.  SEO Friendly Images is a WordPress plugin that automatically adds proper Alt and Title attributes to your images for SEO purposes according to the directions you set.  Additionally this makes the post W3C/xHTML valid as well.
Still wondering why you need this plugin?  Remember that ALT tags describe what your image is so search engines can find them easily.  The Title tag plays a lesser role for search engines, but is important for visitors as the title will appear when they hover their mouse over an image.
Download SEO Friendly Images for WordPress
What WordPress plugins are your absolute "must haves?"  Help others in the WordPress community by sharing your favorite plugins with us in the comments section below.   We are all always looking to improve our WordPress sites!