After you have upgraded/installed the all new Shareaholic plugin, you may need to configure your settings. But do not worry – this is very quick and easy. And there are some awesome new features!
In your WordPress sidebar on the left, click on "Shareaholic" (near the bottom).
You will then see several placement options for our two apps along with "Edit" buttons.
Choose where you would like your apps to appear: Below Post Content, Above Page Content, etc. – mix and match. You can have them appear as often or as little as you like.  Note: Index corresponds to the standard blog feed homepage only–our apps will not auto-insert on custom homepages. You can use the app's special manual shortcode for placement in your homepage's corresponding template.
To change the look of your app, press the "Edit" button beside the designated placement. Note: Each placement is completely separate – meaning you can customize each one to look however you want! :D
For Share Buttons:
Change the theme, size, counters, and even the headline intro of your buttons!
Choose whichever services you want displayed! Select as many or as few as you like. Note: The share-bar conforms to the width of the container in which it loads. In other words, they are now 100% responsive (aka "mobile-ready") which means it will adapt to whatever screen size or device (iPhone, iPad, Android, laptop) your visitor has.
Do not want to display all those sharing sites but hesitant to limit social networks? No worries – the "View All Services" button is another, automatically included, cool feature that allows readers to share your site to ANY of the services provided by Shareaholic.

No more limitations and greater sharing activity!

:)
For Recommendations/Related content:
Change your Headline Text – now 100% customizable!
Adjust the look/theme of your recommendations, from outright snazzy to just a simple hyperlink list.
Recommendations are now responsive (aka "mobile-ready") as well! They will also adapt to whatever screen size or device (iPhone, iPad, Android, laptop) your visitor has.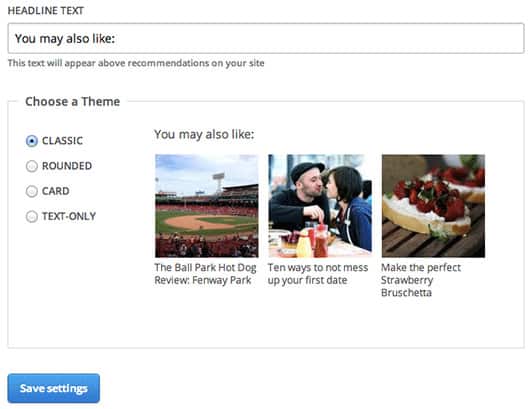 A few of the options under General Website Settings:
Customize your Tweet template along with your preferred URL shortening service.
Need to remove certain pages from being recommended in the Related Content app? Set up your own custom "Pages to exclude" list here.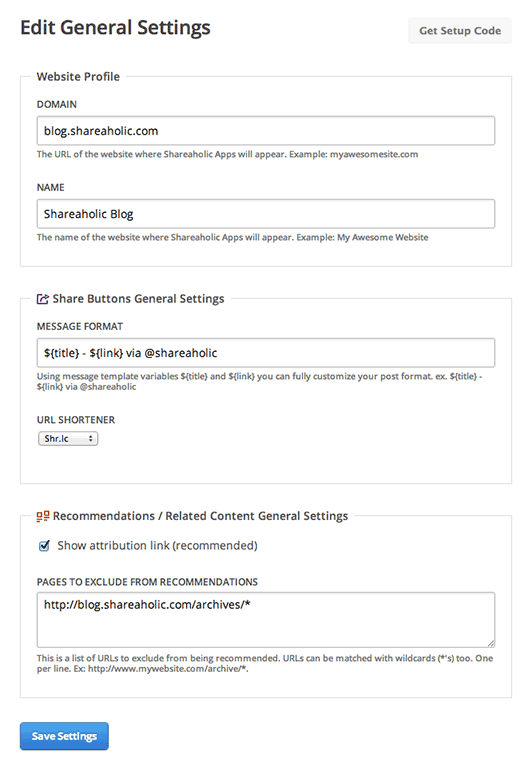 And with your FREE Shareaholic account, you'll have access to even more features!
Just as a reminder, in case you have any problems with installation, upgrade, or have more questions, please visit our helpdesk and we'll get back to you lickedy-split. We're standing by.