Want more traffic and engagement for your content? Get all the tools you need with the latest version of Shareaholic for WordPress.
We're back at it again, bringing you a bigger and better Shareaholic for WordPress that is sure to surprise and delight our publishers with fresh social media bookmarks and content recommendation tools.
What's particularly exciting about this WordPress update is that this is the first time we're really expanding our toolset beyond social share buttons.

Many of you know and love Shareaholic buttons, the iconic pocket-style social media buttons with a pop-up UX for your readers. Now we've got even more features that are sure to drive traffic and engagement on your content. We're more than just one set of social media buttons. Shareaholic will continue to develop more and more content sharing and discovery tools for publishers and you'll be able to get them all in one place, all at one website and in one WordPress plugin. So check out these 3 must-see features, and keep your eyes peeled for more!
1. Recommendations
Increase your pageviews and time on site with our recommended content widget, which you can see demonstrated on our blog right here. The recommended content widget rests right below your social media buttons, showing your readers more of the content they want to read. Tailor your settings and select how many posts you want to recommend, and which pages, posts or categories this widget shows up on.
Get the new Recommendations here.
2. Classic Bookmarks

These sleek, clean social media buttons have a professional style that may appeal to your sophisticated taste and brand. Plus, you'll still get Shareaholic's free content analytics when you enable them on your site, and they compliment the Recommendations widget nicely.
Get the new Classic Bookmarks here.
3. Shareaholic Analytics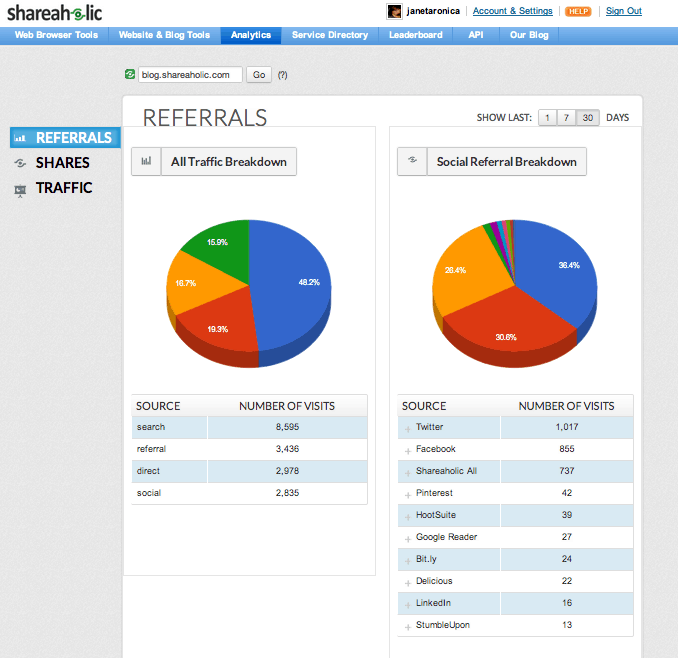 Don't forget – we're revamping Shareaholic's publisher analytics to be better than ever. In our fresh WordPress update, you can configure your settings to make sure you see your content's progress with Shareaholic's publisher analytics.
What is your favorite new feature in Shareaholic for WordPress? Have any questions for us? We'd love to help, so let us know in the comments! Can't wait to hear what you think.