Your webstore looks like it could use our apps to amplify your content and create conversations across the web. See what Shareaholic's free tools can do for you.
If you run an eCommerce business via WordPress or if you are considering selling products and services on your blog to monetize it, then you will love the list below. Which eCommerce plugin could your site benefit from? Let us know in the comments below!
1. WP e-Commerce
This easy-to-install free shopping cart plugin simplifies the shopping experience for your customers with new product widgets, free shipping options, and quantity discounts. To assist your site's marketing, the plugin also offers search engine friendly URLs and a product specific sale feature.
Download the WP e-Commerce Plugin | Price: FREE
2. PayPal Payment Terminal for WordPress
With PayPal being ubiquitous for online shopping, splurge a little on this plugin and enjoy features that allow you to view all of your  transactions, sort your transactions list, and also gives you and the purchaser automatic notifications throughout the purchasing process.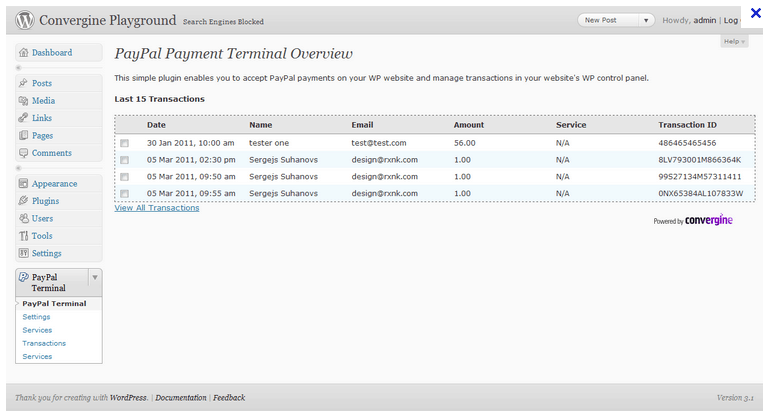 Download the PayPal Payment Terminal Plugin | Price: $12
3. Cart 66 Lite
Use this plugin if your site is dedicated to offering several products and services. The  plugin's features will make shipping both physical and digital products easy, and you can experience the Amazon S3 integration for all of your digital products. You can also manage orders effectively and use custom fields for products.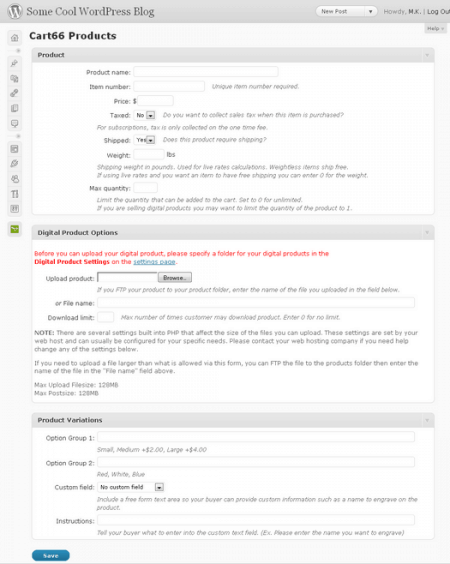 Download the Cart 66 Lite Plugin | Price: FREE
4. eShop
Utilize eShop if you want customers to create profiles to sign up on your site to purchase your products and services. It also allows you to view basic statistics and download your sales data for your convenience. Also enjoy multiple gateways like PayPal, WebtoPay, iDeal, and other popular portals.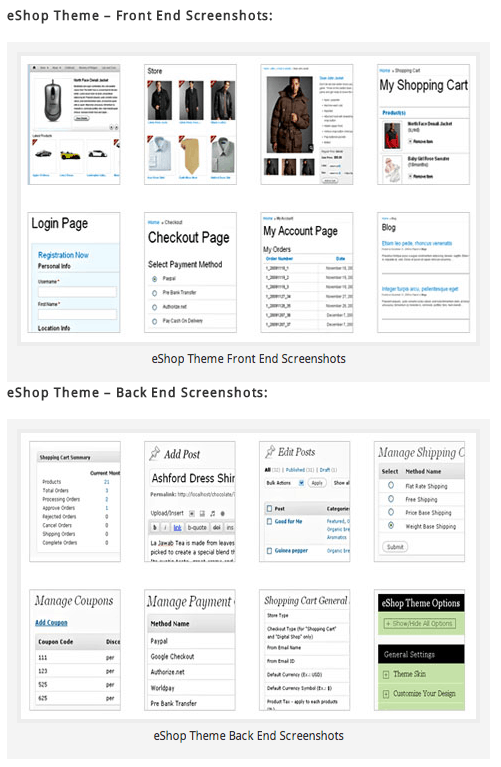 Download the eShop Plugin | Price: FREE
5. Yak for WordPress
YAK stands for "Yet Another Kart," but in my opinion, this shopping cart really stands out from the rest.  This free WordPress plugin is one of my favorite shopping cart solutions because it allows the user to create products from either posts or pages and also includes a basic XML feed. You will enjoy the configurable shipping address feature and your customers will love the plugin's order tracker.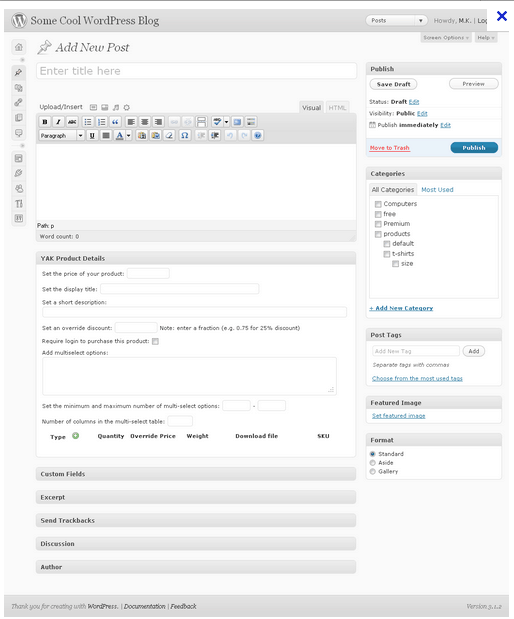 Download the Yak Plugin | Price: FREE
6. WPdeposit
I love Themeforest's WPdeposit for any site that needs a deposit system for advertisements, subscriptions and the like. Aside from offering PayPal, Authorize.net and iDeal as gateways, manual bank payment is also an option. The plugin also comes with a full developer guide that can be used to create and customize a module for your site.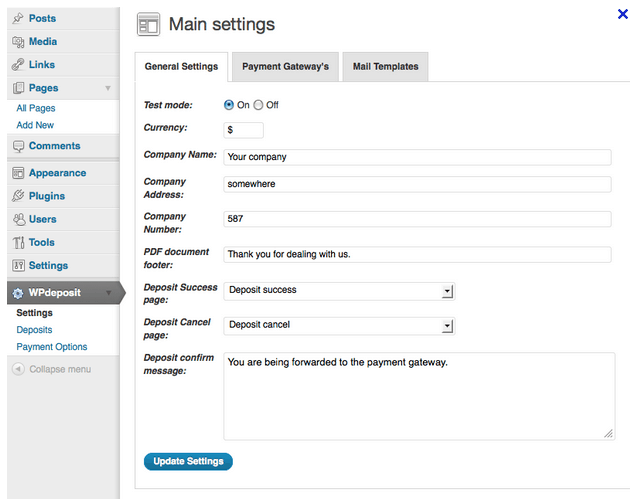 Download the WPdeposit Plugin | Price: $15
7. WooCommerce
WooCommerce is known as the plugin that allows you to sell anything on your site, "beautifully." This plugin is backed by the Woo brand which will give your site what I like to call "e-credibility." Some of the best features include local and international delivery as well as extensions for creating personalized products and Google Product Feed.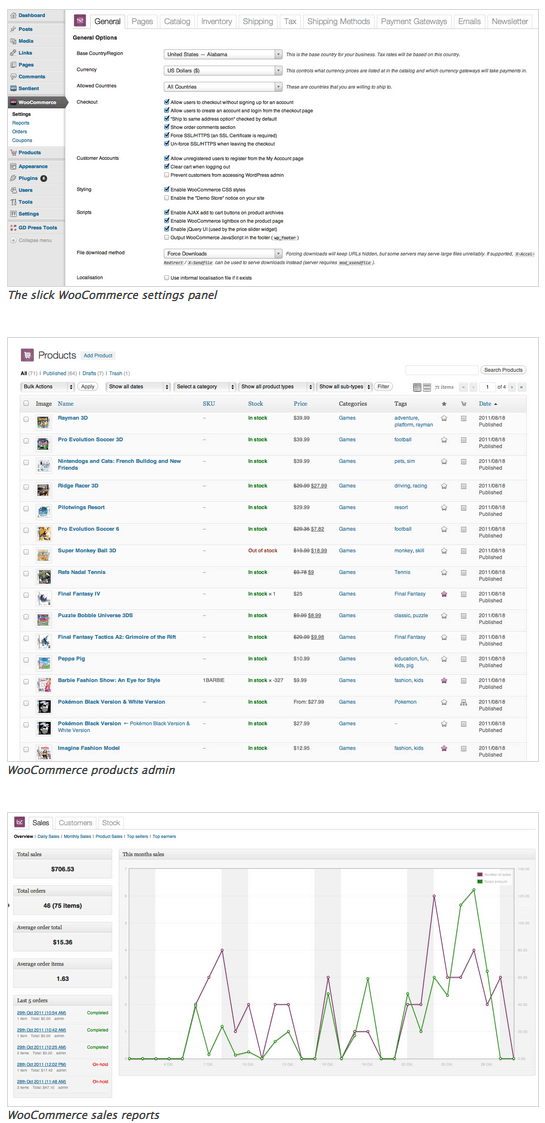 Download the WooCommerce Plugin | Price: FREE
8. WP Auctions
This plugin is acclaimed among many WordPress users as the best Auction plugin there is, so a little investment for auctioning items on your site via this plugin is probably worth it. Enjoy 3 bidding engines, registered only users and reserve price features as well as options for Pro and Pro Plus plugin.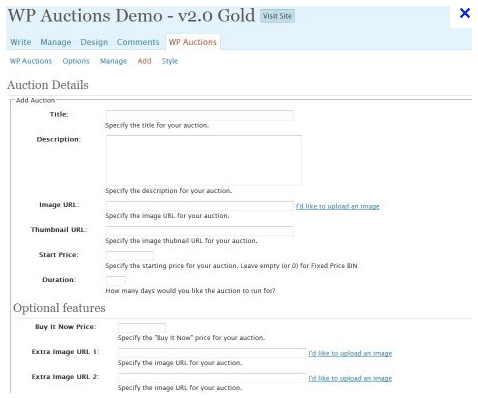 Download the WP Auctions Plugin | Price: $35-$279
9. WP Live-Shopping Widgets
This plugin is one every eCommerce site should use. Using this widget, you can showcase featured shopping offers in the sidebar of your website. Use the "live-shopping" widget to create custom badges, buttons and banners that pull in your products and draw attentions, clicks and hopefully new sales!
Download the WP Live-Shopping Plugin | Price: FREE
10. ArtPal
Originally intended for artists to be able to sell their materials online, the ArtPal plugin offers easy PayPal integration and professional support for business to business sales, as well as real-time sales updates so that you never have to worry about selling a product twice.  Whether you're selling your artwork or a hard product, you'll like ArtPal!
Download the ArtPal Plugin | Price: FREE
Which eCommerce plugin could YOUR site benefit from? Let us know in the comments below!
Featured image by Rob Baird.