Welcome to Shareaholic's monthly traffic sources report, where each month we take a look at the inbound traffic our 200,000 publishers who reach 250 million people each month receive in order to observe significant trends in how readers arrive to your sites.
Here is a breakdown of October's traffic: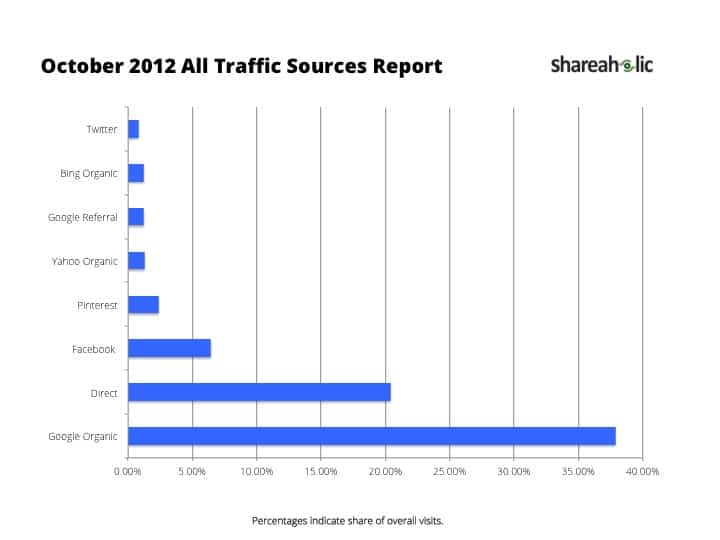 As we first noticed in August, Pinterest continues to outpace Yahoo! organic traffic and hold its spot as a significant traffic driver for publishers – the 4th largest in the world, in fact. But when it comes to how well those visitors convert to sales, subscribers or leads, however, depends who you ask. Ecommerce software company Shopify says that based on data for customer websites, customers coming from Pinterest are 10% more likely to make a purchase. Those findings mirror the data from Shareaholic publisher and homegoods e-tailer Wayfair, who also found that shoppers from Pinterest were 10% more likely to make a purchase.  On the contrary, Zappos found that although site visitors shared more to Pinterest, visitors coming from the site spend less than those coming from Facebook or Twitter.
Pinterest aside, as far as growth and decline goes this year, the trend that stands out the most this month is around StumbleUpon. StumbleUpon's share of traffic sent to publisher sites has steadily declined by 53% since July.  Additionally, Twitter now outpaces Stumbleupon's share of traffic by .22%. StumbleUpon recently unveiled a new site design and Pinterest-like "lists" feature which enables content consumers to curate collections of articles they enjoy – but publishers will still have to see if this results in click-throughs and traffic directly to their sites. If you're monetizing through ads and sponsorships, you know that pageviews matter. Any time you're considering traffic from StumbleUpon, though, you should remember that everything is wrapped in an iFrame, so people may be clicking through to read your articles, but they may not be clicking through directly to your site. Therefore those pageviews aren't recorded as referral traffic. As with all content creation, remember that the best-in-class, most compelling content truly wins. If you peak someone's interest at first stumble, they'll likely find a way to explore your site some more. For example, they may copy/paste your URL into the address bar so they can see more of your content, in which case they would be counted as direct traffic – not referral traffic from StumbleUpon.
You can see more month over month statistics in this breakdown: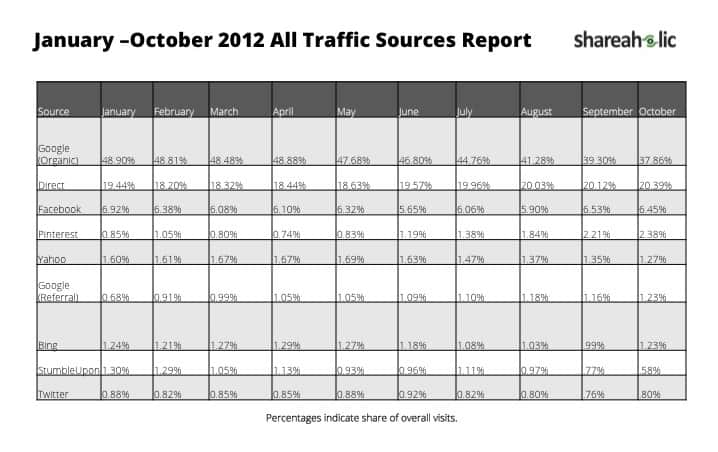 Another trend that is particularly noticeable in this chart is the decline in organic Google traffic's share of traffic – declining from 48.88% 6 months ago in April to now owning 37.86% of traffic. As you can see, however, Google organic traffic still is above and beyond the top source of traffic.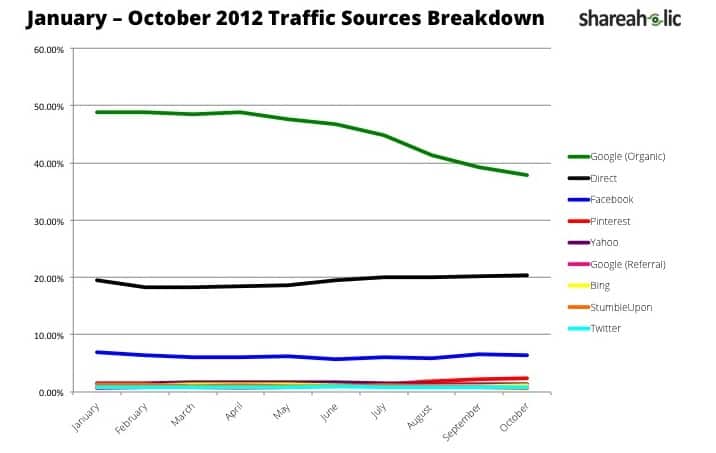 So what should you do with these insights? Consider your own metrics. Using your content analytics, see where your traffic is coming from. If you're a Shareaholic publisher you can find this information in your Shareaholic Analytics.
This information will give you a sense for where you should be investing time in promoting your content and engaging your readers. Don't try to boil the ocean. There's a new social network/traffic source love affair to be had every day. Do what makes sense for your readers.
What traffic trends have you noticed on your own blog this month? Let us know in the comments.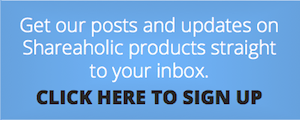 UPDATE: Our latest Traffic Reports are all available here. Itching to learn more? Email us: press@shareaholic.com