According to a new study from front-end optimization provider Strangeloops Networks and shared by Marketing Charts, retail websites load approximately 9% slower this year. What may be the culprit? More page elements – images and third-party scripts are the bulk of that.
We know this is something our publishers care about. This is how we are helping our publishers cut down on the clutter with clean code and features that work with each other, and how we hope we can help sites of all kinds fight this issue, retain visitors and increase profits.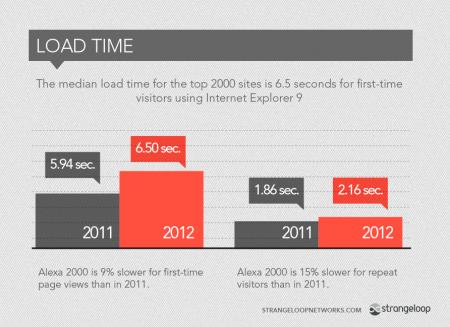 Slower Page Load Time: What You Need to Know
The report is based on performance data from Alexa.com's top 2,000 websites. The sites were tested using WebPagetest, an open-source project primarily supported by Google. A few takeaways:
Pages are 9% slower than last year. The report states that median load time to an Alexa Retail 2000 home page is 6.5 seconds, which is up from 5.94 seconds last year.
Page sizes have increased by 5%. The report states that the median page now requires 77 server round trips, up from 73 in 2011. Most round trips take 20 and 50 milliseconds, therefore reducing this number will also reduce page load time.
Page load for top sites even worse. While the median page load time on the Alexa Retail 2000 is 9% slower, the top 100 sites are loading 12% slower this year. The reason for this is that top-ranked sites are generally more content-rich, so they require more server round trips.
As indicated before, Strangeloops' report suggests that part of the reason for the slower speed is a greater amount of page elements. The report says that on average, the top 100 sites had 34% more resource requests than Alexa's top 2,000. Images and third-party scripts comprise the bulk of these requests. More features means more resource requests, which means a slower page load time. According to the report, each request can add 20 to 50 milliseconds for desktop browsers and up to a full second on a mobile browser.
And consumers, especially mobile shoppers, don't like that. According to Marketing Charts, 20% of shoppers say they will complete a purchase on a slow website, but avoid the website in the future because of a slow page load experience. Another 18% say they'll completely leave the site and head to a faster site.
With everyone trying to make their sites more social, SEO and mobile-optimized, it seems like we're throwing just about every widget we can against the wall to see what will engage visitors and make our pages "sticky." It turns out, we're working against ourselves by adding more and more features because it's slowing things down.
What Shareaholic is Doing to Help
We hope Shareaholic can help websites of all kinds navigate this issue by offering code that is as clean and unobtrusive as possible and built with the best practices in the industry to withstand the usage of 300 million people each month through 200,000 websites who already trust our tools. We're cutting down on the number of features you need to add through a suite of tools that work with each other for seamless performance.
Social Sharing  – Social sharing buttons increase social traffic to key pages and feed social intent data to our related content tool.
Related Content – Related content will engage those new visitors with relevant and personalized content suggestions. Because all of the data processing and computation to determine the most relevant content for your visitors is run on Shareaholic server infrastructure and not yours, it doesn't cause any additional load on your hosting account. Additionally, Shareaholic Javascript is hosted on Amazon's CDN to make fetching it as fast and reliable as possible. It's one of the fastest proven Recommendation systems, hosted or not hosted, that you can use.
Analytics – Your Shareaholic Analytics dashboard is hosted on our site, and comes automatically installed as part of the social sharing and related content features – no need for installing additional code.
I hope this helps show how we help you improve page load time, as it is something important to shoppers and website visitors of all kinds – so it's important to us.
What's on your mind for ways to improve page load time? Let us know in the comments.