Simplify your content marketing. Try our free tools today. 
---
Creating excellent content is hard.
Plenty of writers spend hours scouring the web for ideas and researching accurate and up-to-date information. Others obsess over small — but important — things such as the right copy.
And yet, when the story goes live, it often seems to have an incredibly limited shelf life. Although, some evergreen posts are excellent resources that readers will reference all throughout their careers, the rest of your content will lose its relevance. Of course, there are plenty of clever ways to take what's already out in the wild and publish it in new forms that'll have your audience coming back for more.
To uncover a short list of unusual, but awesome, tactics for doing so, we reached out to accomplished marketers and members of the Young Entrepreneur Council (YEC) to get their take on the following question:
What is one creative way I can repurpose my old blog content?
---
The YEC is an invite-only organization comprised of the world's most promising young entrepreneurs. In partnership with Citi, YEC launched StartupCollective, a free virtual mentorship program that helps millions of entrepreneurs start and grow businesses.
---

1. Podcast or Video? You Choose
"A great way to repurpose your content is to create audio podcasts or simple videos to earn another set of viewers and listeners in your audience," says Devesh Dwivedi of Idea2Inception, a business building boutique. A lot of people prefer watching videos or listening to podcasts over reading a blog."
New to vlogging and podcasting? Here are a few pro tips for building awesome podcasts and creating compelling videos.
2. Rewrite it
Interestingly enough, entrepreneur Danny Boice shares, "At Speek, we keep a Dropbox folder full of every blog post we've ever written."
"These can provide great fodder for follow-up pieces or variations. When we are hungry for new inspiration for posts, we often review old posts and look for ways we can heavily modify them to be new, unique articles, or we'll do follow-up pieces to them. These make for great third-party contributions, too."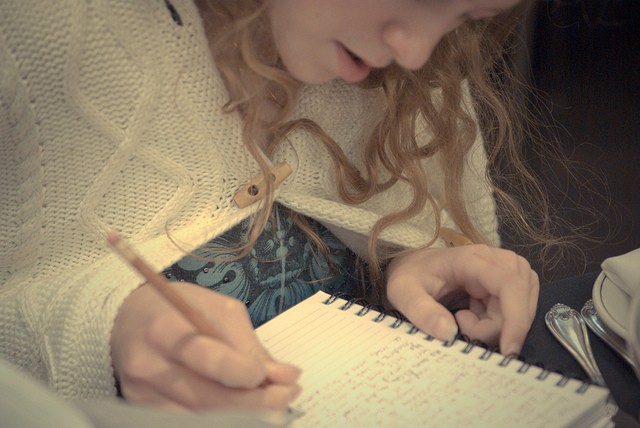 3. Tie Old Content into Current Events
An old blog post can quickly become the hottest story of the day when you work in trending topics. "For instance, a piece on healthcare can be creatively repurposed to tie into the implementation of the Affordable Care Act," illustrates Andrew Schrage, co-founder of Money Crashers.
4. Repost on Quora
David Ehrenberg of Early Growth Financial Services knows how malleable quality content is. "Quora isn't just for Q&As," Ehrenberg notes. "They have a blog feature, too. Create a blog on Quora, and repost your own original blog content. Tag it with relevant keywords, and you'll find yourself attracting a new set of readers who are interested in the content you're sharing — and may not have heard of you otherwise."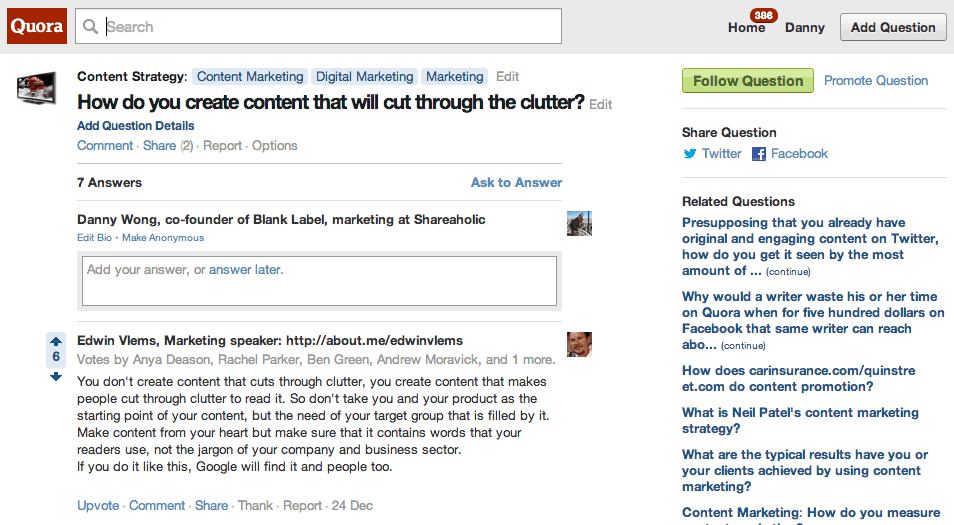 5. Share it Again
A surprisingly simple solution comes from Emerson Spartz of Spartz Media, one of the fastest-growing digital media publishers.
"We've actually found that there often is no need to repurpose old content, especially when that content is high quality. Simply sharing it again via social media or your blog can allow that content to reach an entirely new audience the second time around. Just be clear about what you're doing. Qualifiers such as "In Case You Missed It" or "Greatest Hits" tend to work well."
Dave Kerpen, New York Times best-selling author of Likeable Social Media and Likeable Business advises, "Don't be afraid to share it up to four times, as your friends and colleagues are logged in at different times through the day and week."
6. Challenge Your Readers
In case you wanted to really spice up things, publicist Melissa Cassera recommends you, "Mobilize your audience by turning a series of blog posts into an interactive challenge. Encourage them to get involved on social media with a challenge hashtag, create a private Facebook group for the challengers to connect and host a virtual challenge wrap party complete with prizes."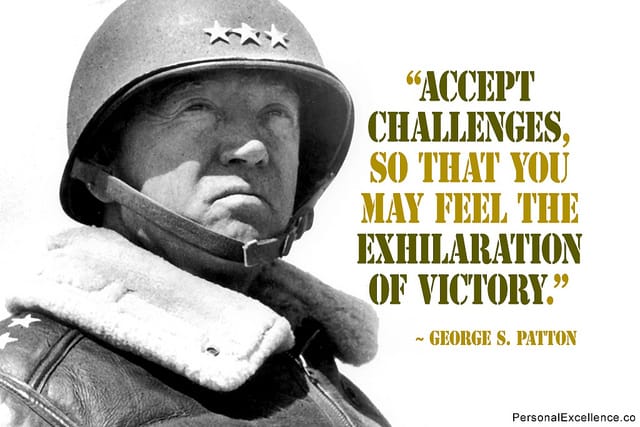 7. Craft a Course or Daily Email Series
Jenny Blake, author, speaker and business coach knows exactly how to package information into easy-to-follow materials that educate and enlighten.
Blake believes companies should, "Connect [their] existing content to a larger theme." First, ask yourself, "What outcomes will it help readers achieve? What are the primary pillars that you draw upon to facilitate that change?"
Ultimately, "You can repurpose that material into an online course platform like Ruzuku with interactive exercises or as a daily email series that helps them build skills in a few key areas over time."
8. Turn Posts into Infographics
Of course, we mustn't neglect the visual learners in our audiences. "We have a lot of metric-based blog posts, so we began repurposing them into infographics last year," said Liam Martin of Staff.com.
"The campaign was so successful that we've decided to keep it going. The backlinks and distribution we get from infographics is much larger than any of our text blog posts we've currently been doing."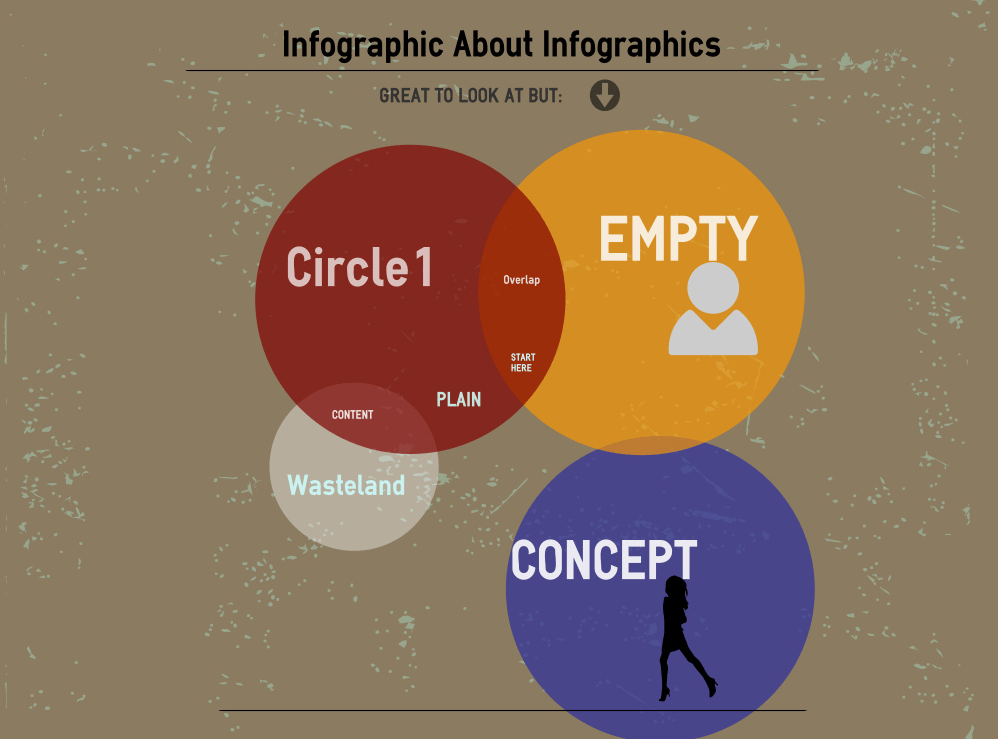 9. Make it a Free Book on Kindle
Natalie MacNeil, author of She Takes on the World, often takes short-form content and makes it long.
"Repurposing your blog content into a free e-book for Kindle readers can drive a lot of traffic to your website as well as build your list. Don't forget to put some time into choosing the right categories!"
These 9 things won't happen on their own. Go ahead and turn your old content into something that's fresh, relevant and exciting.
But before you leave, drop a comment sharing your best tactic for repurposing content. Oh, and don't forget to sign up for our email newsletter either.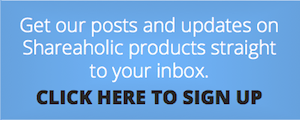 p.s. Shareaholic is hiring! Join us to change the way the world does social media and content.
---