At Shareaholic we are constantly working to improve our offerings and develop the partnerships and products that will benefit you, our publishers, the most.
Over the past year, we have expanded our offerings beyond our best-in-class Sharing apps to include Related Content and Monetization apps – including Promoted Content, Post Share Ads, and Automatic Affiliate Link capabilities – and all at the simple flip of a switch. All of these were developed to allow you to decide how to increase your site's overall earnings revenue.
A new feature to help you to earn additional revenue
We know your site's look and feel are of the upmost importance, and so compatibility, reliability and responsiveness were our top priorities.  It is with this in mind that we are very excited to announce the natural choice to compliment our Native Ad monetization offerings: Promoted Content Display Ads
The Promoted Content Display Ads are responsive banners which deliver the right sized ad for your site's layout, served up just beneath the pre-existing promoted content module that you are already running.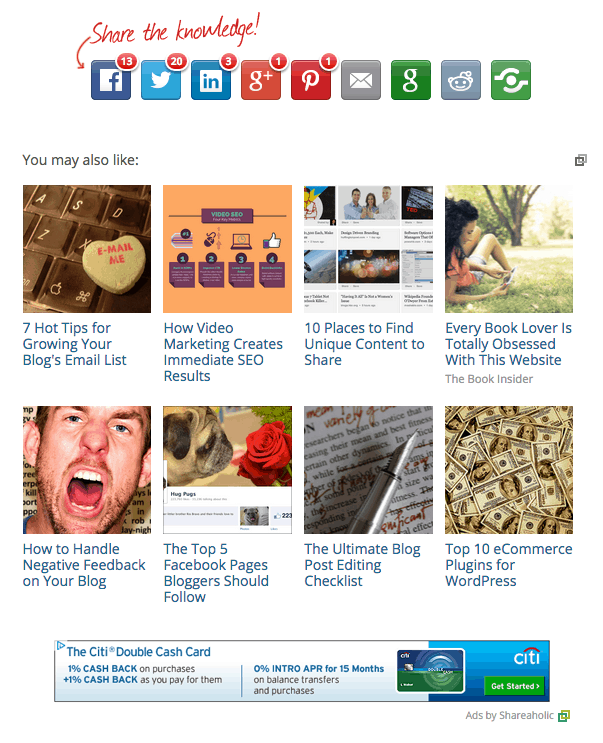 Seamlessly compatible across devices and beyond easy to enable, the Promoted Content Display Ads app saves you install time and hassle, and causes no interruption to your site's theme or function. On top of this, you automatically get to leverage Shareaholic's advertiser relationships with trusted global partners and experienced Ad Operations team, which is how we can deliver a high paying and time efficient option for site monetization directly to you.
Show me the money!
To simplify things, the section formally titled "Site Performance" is now simply called "Earnings". This is where you'll now be able to easily track your site revenue for both Shareaholic Display Ads and Promoted Content.
Within the Earnings Section, you'll notice that we've organized your Earnings Dashboards under two different tabs for Related Content, (which by now will look familiar to publishers already using our monetization tools) and our new Display Ads Earnings Dashboard: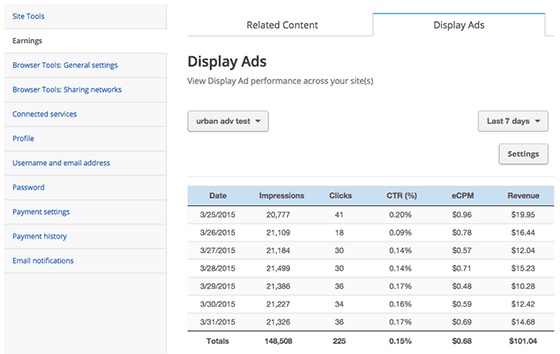 Thus, providing you a complete breakdown of your entire site's earnings, and where those earnings are coming from!
When can I expect to see and use this app?
Starting later this week, the Promoted Content Display Ads app will be automatically rolled out only to our publishers who have already opted-in to Promoted Content.  If you aren't already using the Promoted Content app, but you are using Related Content – you can still use the Display Ads app.  These controls are available under the 'Monetization' tab in your site settings and all it takes is a simple flip of a switch to start earning revenue.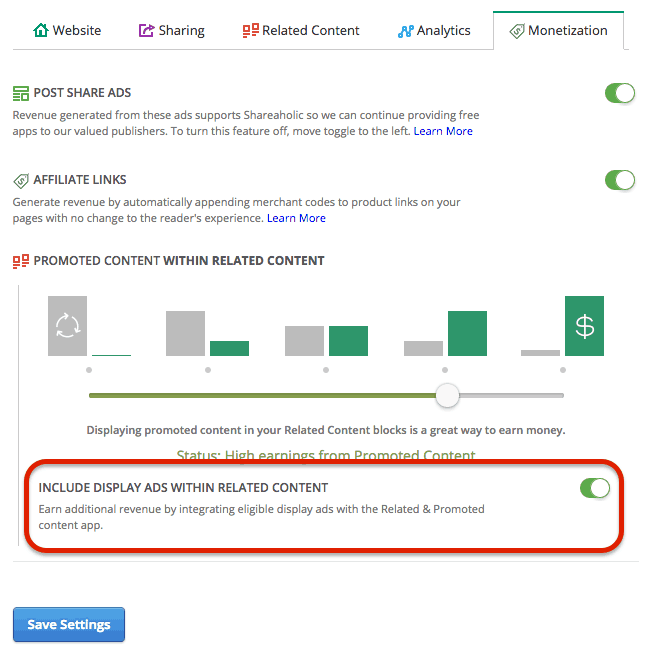 Once enabled, it may take a day or so for Display Ads to appear as we approve your site and optimize delivery, but once delivering they will immediately add to your publishers' earnings!
So what's next?
With Shareaholic Display Ads, you now have yet another tool in your toolkit to help your site generate more revenue. We wanted to put you in the proverbial drivers seat, with the dashboards to prove it.  No matter the feature, we want you, our valued publishers to have the control.
For additional information, including how to enable Display Ads, or guides on how to access your Display Ads settings, and answers to some FAQs, click here.
Also, remember that you can reach out at anytime to our Happiness Engineers who are here to support you, by emailing them at support@shareaholic.com or contacting us on Twitter @Shareaholic.