I noticed an intriguing Tweet from NYU journalism professor Jay Rosen that I thought was worth delving into:
Anyone who's seen the numbers knows that traffic to news sites doesn't come in through the home page anymore.bit.ly/OylQVj

— Jay Rosen(@jayrosen_nyu) August 23, 2012
His Tweet linked to a Nieman Journalism Lab article discussing the traffic flow for news sites. The piece describes that with the increasing amount of traffic arriving to news sites through search and social, more and more readers are entering through side pages, not the home page.
Or is it so? The Nieman Lab references the Pew Research Center's Project for Excellence in Journalism's 2012 State of the News Media Report, which reports that just 9 percent of Americans say they get news through Facebook or Twitter "very often."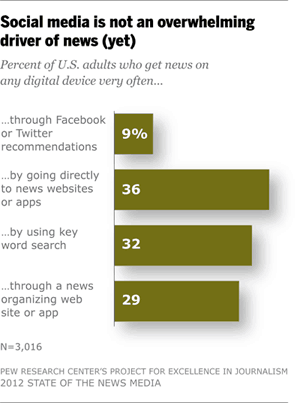 Our take: We're more in line with Nieman Lab – they say they get less than 7% of their traffic from their home page.  Based on our global publisher network of 200,000 websites that reach 300 million unique monthly readers each month, in August 2012, referral traffic sent 33% of traffic and search sent 45% of traffic. Perhaps people who participated in that particular study do get their news differently, but that study aside, I think people cruise social networks more than they are willing to admit.
So what are news sites to do? Clearly, optimizing each page of the site for content discovery is key. But too many widgets and plugins can work against you. We're hoping we can help publishers approach this issue strategically. We offer a suite of social sharing, related content and content analytics tools that work together, clean code that is optimized for the best page load time and performance, and technology that is built with the industry's best practices to handle the traffic and popularity of publishing's top news sites.
How are you optimizing each page of your news site? Does your home page actually drive traffic? Let me know what's on your mind in the comments.