Like sharing social media news? Share it the easy way with Shareaholic for your browser.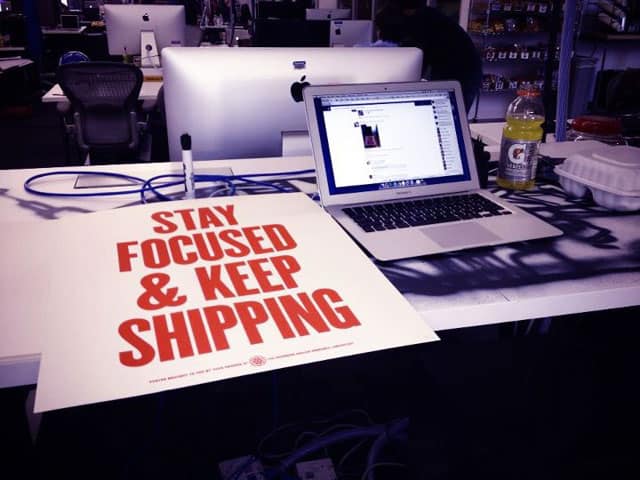 Mark Zuckerberg shared a photo on February 1st. Normally, this wouldn't be news, but this photo had a suspiciously large white rectangle that has captivated the hearts and minds of search engine fans the world over. The photo in question was of Zuckerberg's desk, which just so happened to have a laptop open to a version of Facebook with a much more prominent search bar at the top. You may have seen Facebook be mistaken for a search engine before, and you've probably asked friends questions via status updates — the question is: Will the social networking giant take this to the next level and start giving you answers directly?
Is Facebook declaring war on Google?
Facebook partnered up with Bing in 2010, roughly the same time they brought on former Google engineer Lars Rasmussen. Since then, Bing has introduced social search, augmented various bits of Facebook (like search and maps), and taken over a fair bit of the online search market. Reports suggest that Facebook's up-and-coming search upgrade won't be part of their alliance with Bing, which makes a potential war on Google's search empire highly unlikely. In fact, Facebook's search face lift might make things a little easier for Google on the anti-trust front because with a big competitor, it's clear that Google doesn't have a monopoly online. Despite the fact that Facebook is a major player, odds are incredibly low that they're going head-to-head with Google for your search traffic. No, they're much more likely to be going after ad revenue, where Facebook already has nearly double the market that Google does. Facebook is number one for ad revenue online, and when it comes down to it, it's your money, not your search queries, that the company is interested in — particularly because they're going public  soon.
What does the new Facebook search mean for you?
If you've ever tried to search for information on Facebook, chances are high you didn't find what you're looking for — and for good reason. Facebook is a social networking site, not a search engine. To prove this point, I just searched for "what degree is right for me", and if there weren't Bing results, I wouldn't have gotten any help whatsoever.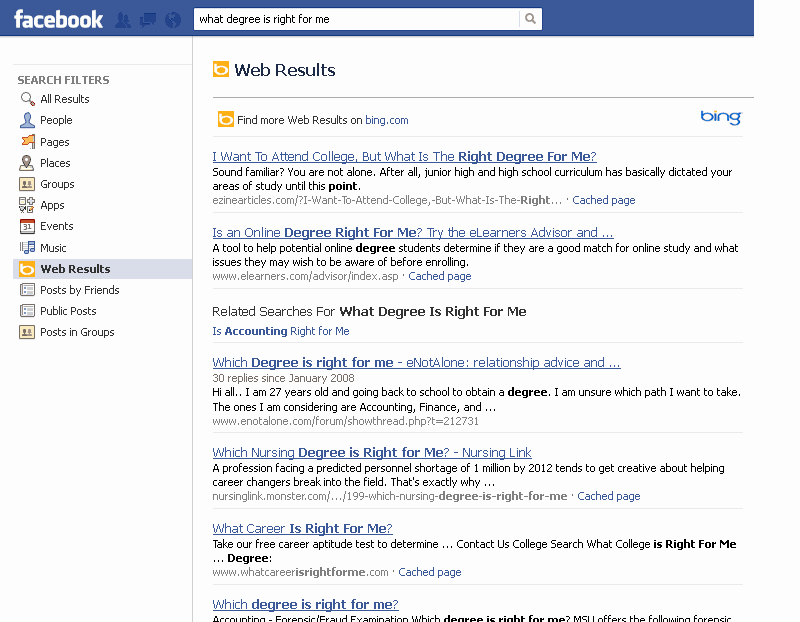 My friends, rather than Facebook itself, would be a much better degree finder, but I'd wager that if I listed something about wanting to go back to college under my interests, I'd have ads a thousand times more useful than my search results were. And that's just it: With 850 million members and growing, advertisers want Facebook's user data so badly they can taste it. The improved search functionality on Facebook will likely help you find things in your friends' status updates, granted, but the real angle here is that it will allow Facebook to sell you more stuff based on your user data. For Facebook to really become a search engine in this respect, users would have to grow their friends list by leaps and bounds. It's far more likely that this improvement isn't for you and your friends, but for advertisers and soon-to-be stockholders salivating over your user data — so if you don't want to be searched by every retailer online, it's time to take control of those privacy settings.
This guest post was contributed by Karl Fendelander, who cut his teeth on web writing in the late nineties and has been plugged in to the newest technology and tuned in to the latest trends ever since. Karl writes on topics ranging from hot new restaurants and home improvement to social media marketing and the future of computer schools. When he unplugs, Karl can be found biking about town and hiking and climbing throughout the West.
Do you have blogging tips to share with our audience? Email us and share what topic you'd be interested in writing about!