Getting people to share your content isn't easy. But at Shareaholic, we can help. Our tools get your content distributed, discovered and shared across the web. Unlock Shareaholic now.

Welcome to part two of October's Shareaholic Social Media Traffic Report. Earlier this month, we published findings that revealed Facebook referral traffic exploded over the last year. Among our 200,000 publishers who reach more than 250 million people each month, Facebook referrals grew 58.81%. Last month, Facebook referrals contributed more than 10% of the overall traffic our publishers received.
As the #1 social media site referring traffic to publishers (nearly 3x the number of referrals Pinterest, which held the #2 spot, sent), it's worth asking: How did Facebook referrals grow so much?
The short answer: Facebook mobile
Here's a chart that shows how much traffic Facebook sent to publishers (as a percentage of overall visits publishers received) in the last 13 months next to how much traffic Facebook mobile — alone — sent.

What do the numbers mean?
1) Publishers saw traffic from Facebook mobile users grow 253%. Earlier this year, Facebook also published interesting information that revealed three things. One, the number of active Facebook mobile users grew. Two, Facebook users are liking more links on their feed. Three, Facebook users are sharing more stories with their friends.
2) More than half of Facebook's referral traffic growth came from mobile. If we take a closer look at the numbers, we see Facebook's overall growth increased by 3.84 percentage points. Facebook mobile alone grew 1.98 percentage points. Who knew all these tiny devices were so powerful?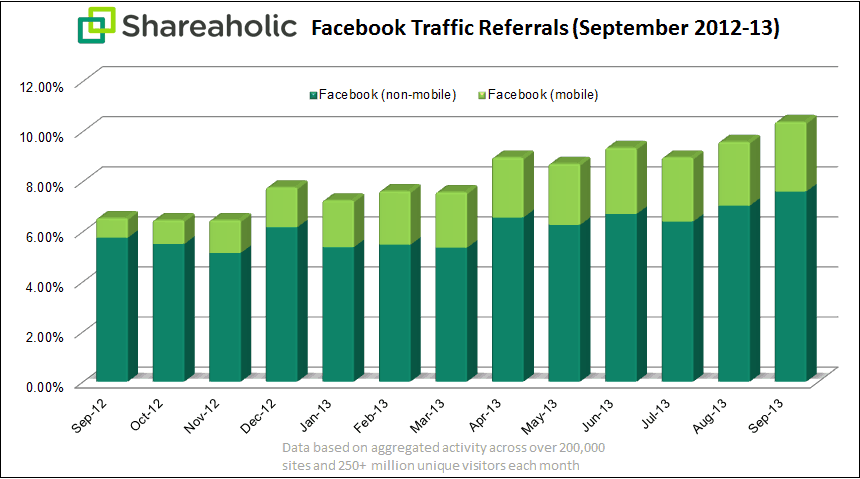 It is clear that Facebook mobile usage is growing and that smartphone adoption is on the rise. Therefore, you should make sure your sites are not just mobile compatible, but mobile optimized in order to provide a comfortable browsing experience for all visitors.
As a member of the "now" society, I am constantly plugged in (I blame my smartphone). I often catch myself reading articles on my mobile as I'm sitting at my desk with a dual-monitor setup. If I'm reading several stories back-to-back, I only ever switch to my PC if it takes more than a vertical scroll to consume all of the information I'm looking for.
The bottom line is: Make sure your site is fully optimized for mobile browsing. Let's face it. No one really enjoys pinching and zooming, or finger dragging, to read or see anything. Your visitors will thank you for it.
How much traffic has Facebook driven to your site in the last year? Let's discuss in the comments!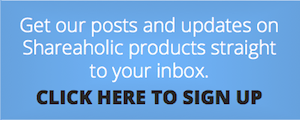 Want the latest scoop on FB mobile referrals? See our most recent Shareaholic Reports. Questions about this or other reports? Email us: press@shareaholic.com