Running a blog for your brand? Get the most shares and traffic for your content. Get Shareaholic for your blog.
Big and small brands alike are using social media to build relationships with users and advocates. Whether the strategy is to contain costs, enhance customer service, support lead development, or grow a tribe, social media programs can support overarching business objectives. Some companies are adding staff, vetting consultants and freelancers, or hiring agencies to define, employ, and amplify those programs.
With increased budgets and attention (and presumably, mounting expectations) why is so much of what's pushed out by brands on Twitter, Facebook, YouTube, Pinterest, Tumblr, Flickr, and other platforms simply a re-run of what was put into play on another platform?
Ctrl+V is easy. It takes only a second. And it gets the tweet quota met pretty efficiently. But I wonder when audience attention and interest will wan to the point that brands realize the re-run approach isn't effective.
Re-purpose Or Re-run?
Many have written about the virtues of re-purposing content for multiple platforms and into several products (blog posts, ebooks, video interview, etc.). There's value in this approach from an investment perspective – the personnel and financial costs to produce these assets.  There's also value when you consider different learning modalities and participation preferences. Simply put, people learn and absorb information in different ways. And their personal habits and friends' choices may influence which platforms they're active in. For these reasons, content re-purposing can be a strategic and economical way to improve the likelihood a brand will make contact with an online consumer.
Re-purposing shouldn't be confused with re-running, however. The first involves editorial techniques that expand or narrow the depth of a topic and introduce a variety of angles. It right-sizes a body of content work for the constraints of a platform or product format. The latter is simple re-broadcasting the same material and ideas. Like One Size Fits All. It's boring, self-indulgent, and doesn't take advantage of the full potential provided by each individual social platform.
Re-run Disease Doesn't Discriminate
The re-run disease can be seen on many brands (regardless of size and, you'd think, resources) each day. Just doing some quick research for this article, I found a surprising number of brands affected, including Loft, Coca-Cola, Pei-Wei, and Levis.
It's time to inoculate ourselves. Let's look at some brands doing the multi-channel content thing right.
4 Brands With Smart Multi-Platform Content Strategies
1. Lion Brand Yarn
Lion Brand Yarn is a family-owned business that's been around since 1878. The company manufactures top-quality yarn for people who crochet, knit, and make hand crafts. The brand's web site is rich with product information, patterns, instructional guides, customer galleries, a community forum, blog, and more.
Blog:  The prolific blog features posts from a variety of voices both internal to the brand and users themselves.
YouTube:  LBY channel has some really neat playlists including "how to" videos, interviews from the "yarniverse," knit-alongs, product information, and two-minute project inspirations.  (there's also a really neat podcast)
Facebook: Contests, video shares, user-contributed project photos, tips, project inspirations, and a recurring meme where fans share what they're currently reading and knitting/crocheting.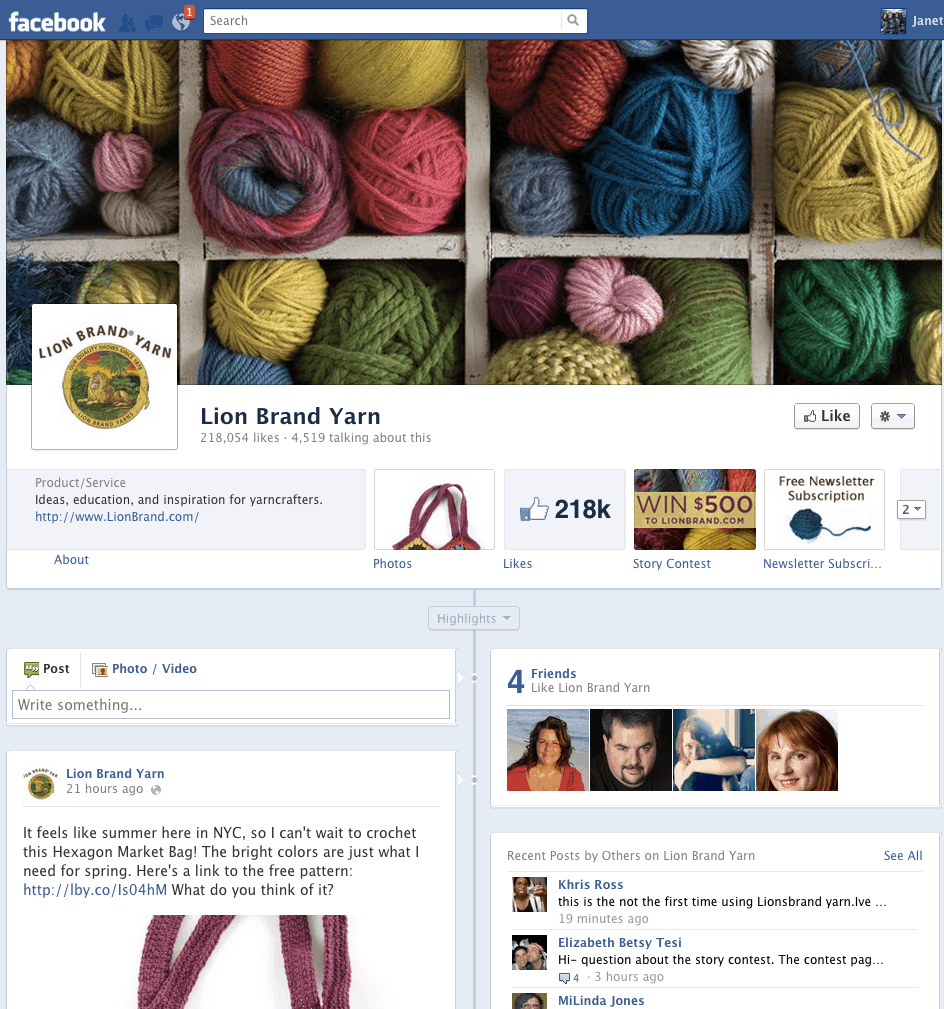 Pinterest:  Boards ranging from crafts, fiber art, Hollywood yarncraft, yarn funnies, and yarnbombing (a Seuss-like idea where yarn consumes everyday objects).
Twitter:  Lots of direct customer interaction about projects, patterns, and connecting yarn-lovers with one another.
Big Idea:  Lion Brand Yarn is a brand that's truly in touch with its users, involving them in every content medium. Users are also the litmus test for every piece of communication – whether a post, a photo, a video, a tweet, it all serves the yarncrafting community in ways that inform, inspire, and build connections amongst and between them.
2. SEOmoz
As a company whose business is the Internet, you might expect SEO Moz to use a multi-platform approach that's diverse and compelling. Well, they do.
Blog:  A tiered system (the YOUmoz blog and the Daily SEO blog) gives the Mozzers both flexibility and structure. YOUmoz is comprised completely of user-generated content which ensures a variety of voices and topic areas. Posts voted most valuable by readers may be promoted to the Daily SEO blog.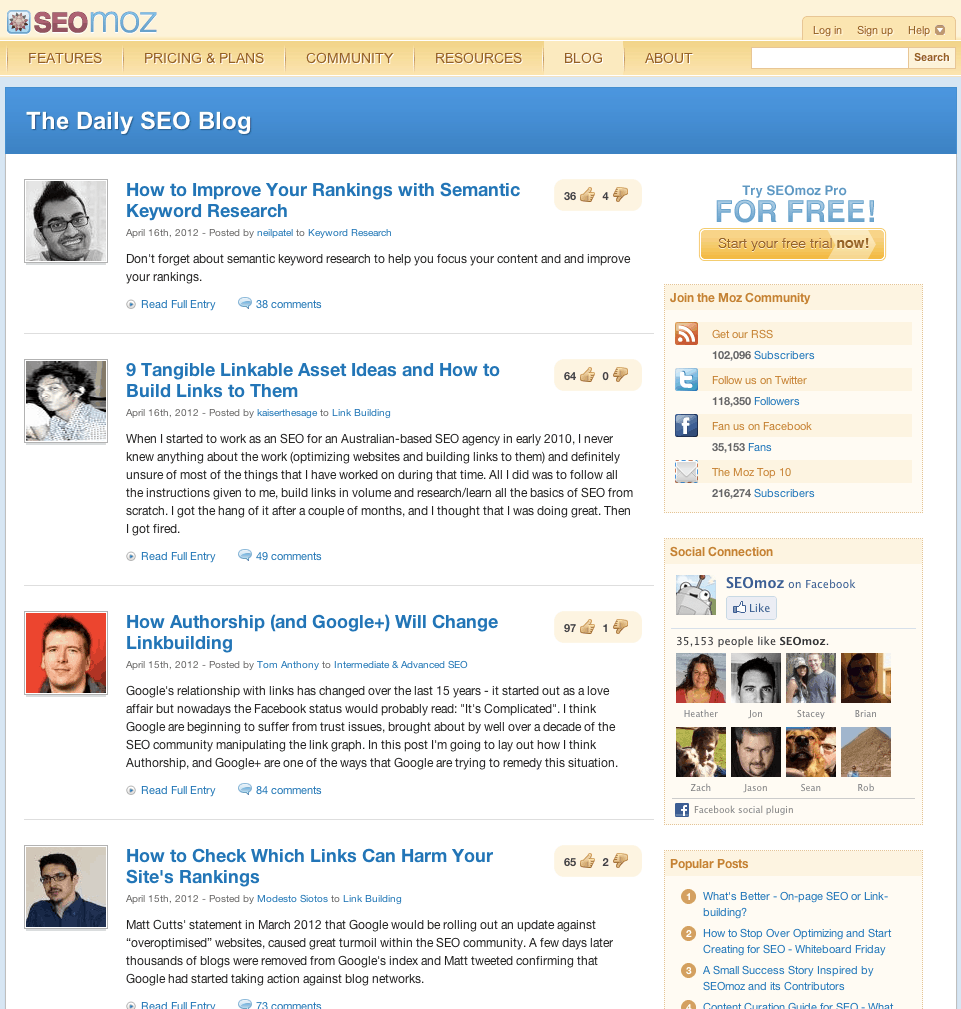 Twitter:  SEOmoz uses Twitter to respond to customer inquiries, live blog events, participate in conversations about SEO, linkbuilding, and inbound marketing. The account is managed by several folks including community manager Jen Lopez. With an eye on responsiveness, founder Rand Fishkin and any other member of the community team may react to a tweet deemed urgent.
Facebook:  SEOmozes' strategy for Facebook is to use it as a venue to give others an inside-out view of the company. While they do publish feeds from the blogs on FB, it's punctuated well with personal photos, event graphics and attendee pics (which get tagged), and anecdotal company stuff.
Google+:  This is the platform the company uses to share a blend of content from 'Moz and other publishers They also include a video segment that's exclusive to G+, a takeoff of their "Whiteboard Friday" theme called "Whiteboard+"
LinkedIn:  The group strategy is still nascent, but it sounds like the gang is planning on leveraging the Q&A feature as a way to capture, record, and collaboratively solve member issues, ranging from technical to tool-specific. It sounds like they may explore adding a book club where group members discuss and evaluate industry books.
Big Idea:  The worlds of inbound marketing and SEO are evolving, blending, and developing. SEOmoz knows that practitioners of all skill levels and web enthusiasts have a lot to contribute to the industry, technology, and online business. The company's approach is a nod to how collaboration and freely shared knowledge can build a strong community.
3. Wegmans
Wegmans is a regional grocery chain emphasizing local and sustainable foods.
Blog:  On the blog, contributors write about topics ranging from organic and vegan to holiday-themed posts. They use a mix of authors and perspectives including nutritionists and chefs.
Twitter:  The grocery retailer uses a single Twitter account to address customer service issues, share recipes, issue announcements, and generally engage with shoppers.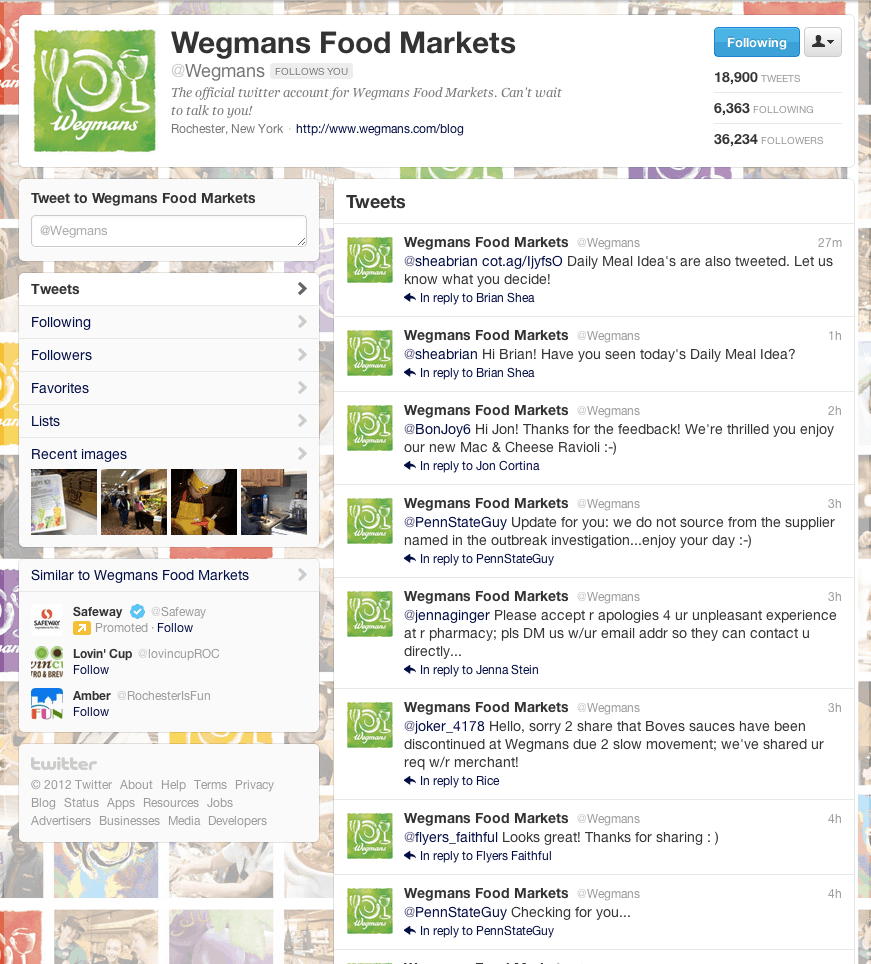 YouTube:  Here you'll find a big collection of recipe videos, nutritional and seasonal information, tips for caring for tools, utensils and equipment, and customer testimonials.  A separate playlist was created to feature videos embedded in Wegman blog posts.
Big Idea:  Eating can be one of those autonomic responses and an item on a growing To Do list. Wegman's make sure that you put a little more thought into what you put in your body so that sustenance and nutrition walk hand-in-hand down the aisle with fun and flavor.
4. ModCloth
ModCloth is a retro design and indie clothing online retailer has a good thing going on with their approach.
Blog:  The blog appeals to fashionistas and foodies, brides-to-be and gals who simply love the vintage look. Although the topics are diverse, the overall content direction still hangs together well, likely due to a consistent style and tone and decidedly feminine appeal.
Twitter:  ModCloth employs separate Twitter accounts to support several different business areas including customer service and personnel/careers.  News and marketing is directed to another handle while founder Susan G. Koger makes her personal voice heard through her own personal handle. Interestingly, product announcements and links are pushed through yet another account named ModCloth1st look. It's basically a feed used to broadcast announcements about new merchandise.
Pinterest: The ModCloth boards are an eclectic mix of all things craft-y, vintage, textile, beauty, food, travel and events. Pinterest proves to be another platform where ModCloth lays its brand stamp in a distinct, value-add way.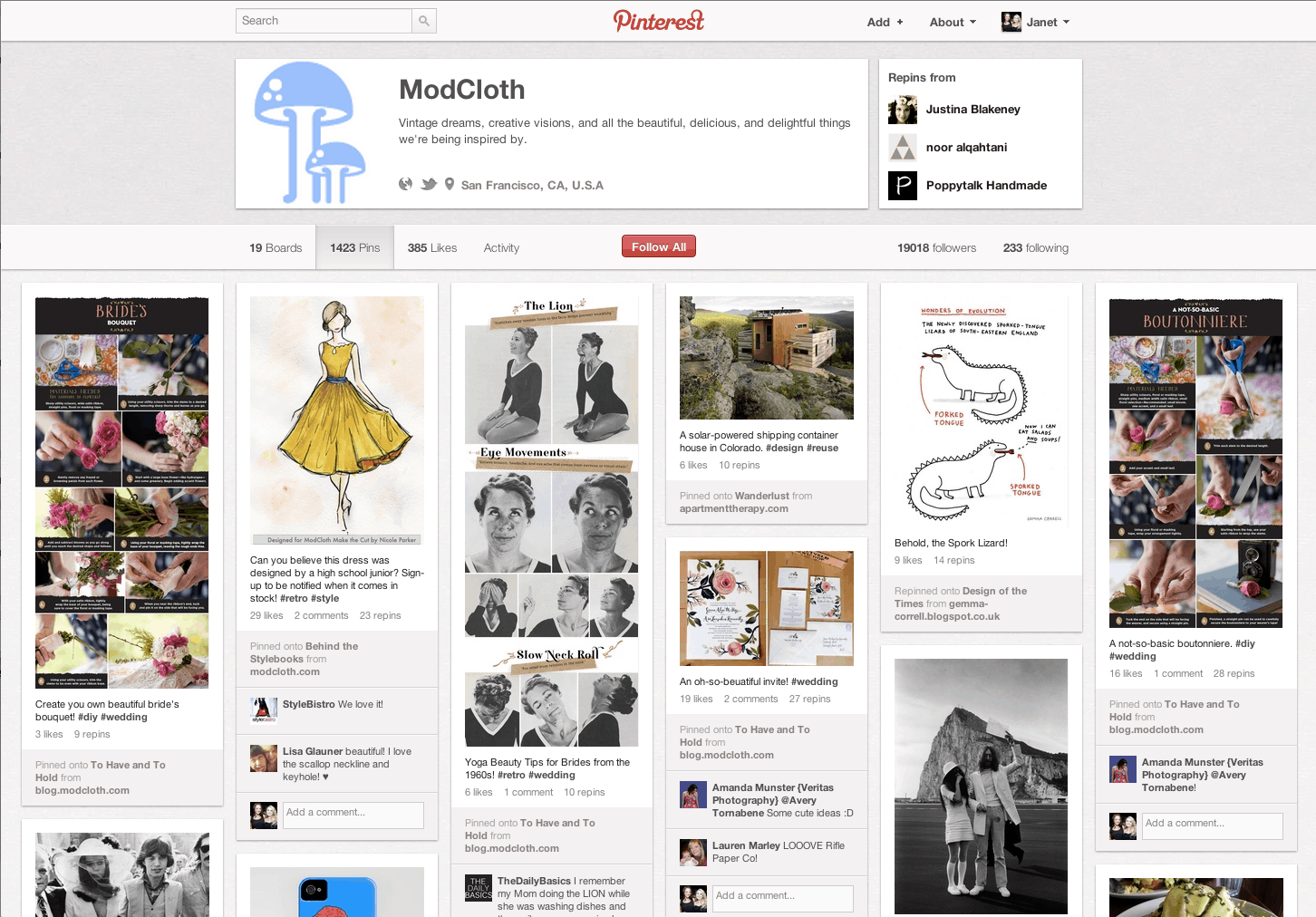 Flickr:  The ModCloth Style Exchange group allows customers and vintage-lovers to proudly display their purchases and personal handiworks as well as thrift finds. The channel seems like the perfect way to give the audience a stage.
Instagrid:  Like SEOmoz's approach to Facebook, Instagrid is where ModCloth lets us peek under the hemline of the company itself. Showcased Instagram photos bring us a little closer to employees, their pets, and their favorite little fashion items.
Tumblr:  This is where ModCloth scrapbooks all things vintage, kitschy, and aesthetically inspirational.
Big Idea:  ModCloth understands that to grow a sustainable brand, you have to strike emotional chords with consumers. Rather than focus exclusively on their own niche merchandise (which, by nature appeals to a very specific subset of shoppers), they've dug deeper to establish and perpetuate a lifestyle brand. Modcloth isn't about a dress, scarf, or shoe – it's about a point in time where the world was bigger and more fascinating, fun was flirty, and comfort had a style all its own. These values are evident in the way they use social platforms to further their movement.
Here you have it – four brands operating in the consumer and business technology spaces wringing the most out of multi-platform social experiences. No mass content re-runs shown here. Which other brands should join the list of brands getting it right, and why?
________________________________________
Heather Rast is Principal of Insights & Ingenuity, a brand-building Internet marketing firm. She helps clients earn brand preference through thoughtful positioning, useful content, and supportive online communities. Heather writes frequently for Social Media Explorer, MarketingProfs, and Content Marketing Institute. She's @heatherrast on Twitter.