Love sharing your favorite Idol chatter? Share it the easy way with Shareaholic for your browser.
Call me what you will, but I LOVE American Idol.  Today's a huge night for Season 11 Idol fans: the roster of finalists will be cut down from 7 singers to 6.  This season is full of strong candidates which makes it even more enticing to watch.  Everyone is mega talented, so who could possibly go home?!
I'll tell you my favorite Idol at the end of this post AND who I think will win the season.  But that means you have to tell me YOUR favorites and predictions too!
If you look carefully at the links, online presence and numbers below, you might be surprised about who American really loves.  The producers do a great job of masking the truth. I know I was surprised.  So without further delay, here are 5 ways to get more of your favorite American Idols online!
1. Twitter
This season's Idols are killing it on Twitter!  I've been monitoring the Season 11 Twitter accounts for a few weeks now, and it seems they grow by hundreds, and sometimes thousands, per day!  Check out the Idols on Twitter before watching the big show tonight- it will make your viewing way more fun!  I wonder if the contestants' Twitter followings will be a good indicator of who wins… #spoileralert?!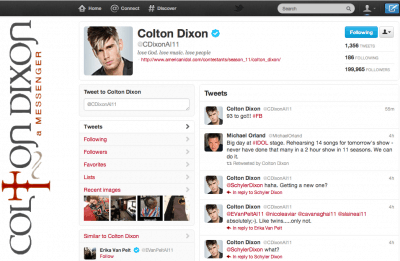 Follow Colton Dixon on Twitter @ACDixonAI11 | 201k Followers
Follow Jessica Sanchez on Twitter @JSanchezAI11 | 182k Followers
Follow Phillip Phillps on Twitter @PPhillipsAI11 | 174k Followers
Follow Skylar Laine on Twitter @SLaineAI11 | 76k
Follow Hollie Cavanagh on Twitter @CavanaghAI11 | 61k Followers
Follow Joshua Ledet on Twitter @JLedetAI11 | 55k Followers
Follow Elise Testone on Twitter @ETestoneAI11 | 53k Followers
2. Facebook
The contestants' Facbeook followings trail behind their Twitter following.  Oddly enough, the leader in Twitter followers is NOT the leader in Facebook likes. The controversy surrounding contestant Jessica Sanchez last week undoubtedly gave Jessica a lot of extra social media "oomph."  Her dramatic save from the judges last week explains why Jessica Sanchez moved into the #1 spot in terms of American Idol season 11 finalists with the most Facebook likes.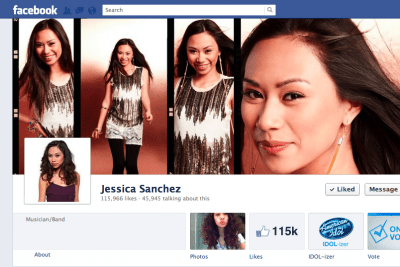 Follow Jessica Sanchez on Facebook | 116k Likes
Follow Colton Dixon on Facebook | 110k Likes
Follow Phillip Phillips on Facebook | 48k + 75k Likes 
Note: Phillip appears to have 2 Facebook fan pages.  His Official American Idol page is linked above and has only 48k folowers which makes me think he already had a fan page before he got onto idol which now has 75k likes. Whoa!
Follow Skylar Laine on Facebook | 34k Likes
Follow Joshua Ledet on Facebook | 31k Likes
Follow Hollie Cavanagh on Facebook | 28k Fans
Follow Elise Testone on Facebook | 26k Fans
3. iTunes
If the order listed here on this iTunes preview is correct, then Hollie Cavanagh leads the charts in iTunes downloads!  I wonder what gets weighted more heavily in the producers minds: Facebook Fans or iTunes downloads?  If it's downloads, then this throws me off as far as who might win this season!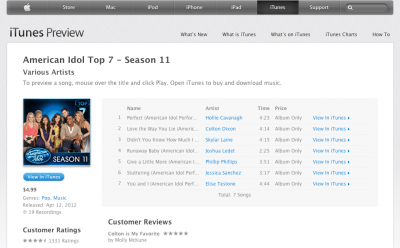 4. Hash Tags
American Idol has assigned each finalist a hash tag which can be used to show your loyalty before, during and after the show.  I find some of them to be quite cheesy, but nonetheless here's all the #hashtags you need to know about in one place!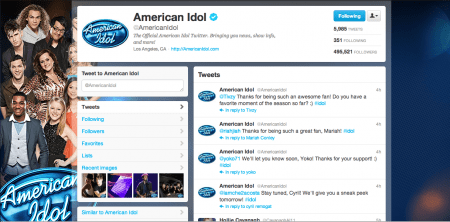 #TellJimmy your most honest reactions to the idols.
#HolliePops: Hollie Cavanagh
#jjewels: Joshua Ledet
#scoutlaws: Skylar Laine
#theEliTes: Elise Testone
#blujays: Jessica Sanchez
#messengers: Colton Dixon
#philatics: Phillip Phillips
Ok, now for my promise… who is MY favorite American Idol contestant??  You might be surprised but, hands down, for me it's all about Skylar Laine!  Although I don't think she will win the show, I think her record sales will soar for years to come.  It's interesting to me how the producers make it look like she's #1, but the #'s here don't say that… yet. ;)
Who do I think will win Season 11 of Idol?  I think Colton Dixon will be Season 11's Idol.  He fits the profile of winners perfectly (for one, the last 4 seasons' winners have all been white males) and he appeals to the young girls that are likely the mass of voters.  He is also dominating on social media and iTunes sales which says a lot about America's preference.
Who is YOUR favorite American Idol this season? Let us know in the comments!