Before we ring in the new year, we, at Shareaholic, wanted to reflect on key trends in content marketing in 2013.
Collaborating with entrepreneurs, professionals and influentials in digital marketing, publishing and social media, we were able to identify 25 of the best and the worst trends in content marketing this year.
1. The Great Hoax (and other outrageously incorrect information)
Check out these clickworthy headlines:
Chances are, you've already read these stories and discovered hours or days later that they were elaborate fakes. Clever folk took advantage of the current state of media which encourages journalists, bloggers and regular people to 'publish now', forgetting filters of the past which championed prudence.
Many credible publications jumped at the opportunity to write about the Thanksgiving 'Note War' contrived by Elan Gale, while others fell victim to softened hearts in the case of the letter to Santa, and the media loved the aggressive behavior demonstrated by a Googler-who-turned-out-not-to-be-a-Googler.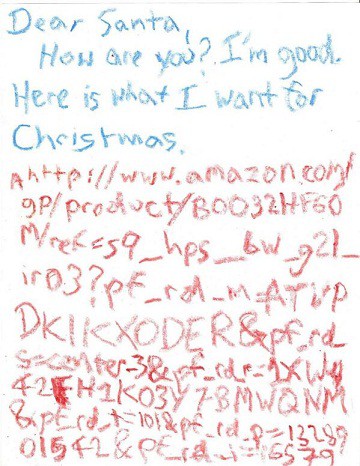 Image source: @Gequeoman
To the dismay of many old-school publishers, hoaxes have gone mainstream. "This type of activity along with the decline of many mainstream journalists, has led to incorrect and often times highly biased content to infiltrate news," says Rodger Roeser, CEO of the Eisen Agency, a PR and marketing consultancy.
Although a large majority of media outlets "covered" the stories without any real verifiable facts, they were swift in updating their original "coverage" of the events once it was revealed the stories were nothing more than a hoax. 
Old fashioned publishers (the new age cynics) call the current state of publishing abysmal — writers submit sloppy work that is littered with typos, grammatical errors or unverified information (this post may likely have all-of-the-above). Truth be told, we are all still trying to figure out how the internet works. The world wide web provides new levels of speed and transparency that, fortunately, forgives mistakes and enables timely corrections.
It is unlikely we will stop falling for the well-orchestrated hoax. Especially because deep down we kind of enjoy those stories and part of us wants to keep 'em coming.
2. The Irresistible Hook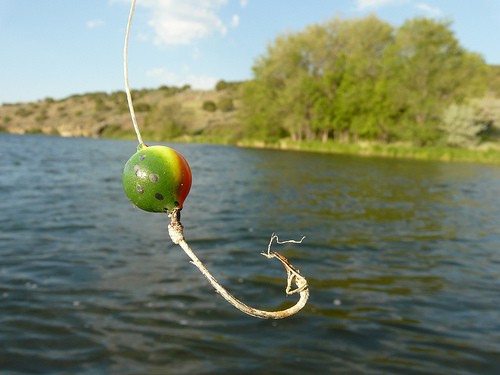 Image source: zetrules
Headlines are now manufactured for clicks.
Ken Hammond, Copywriter at Nebo Agency, calls 2013 "the year of the hook. Content producers, such as Gawker's Neetzan Zimmerman, got very creative with headlines, effusing the idea of 'dog bites man' for 'Dog bites man. And it will melt your heart when you find out why.'
"Upworthy wrote headlines with a heartwarming twist that reassured our belief in humanity, such as How Could A Group of College Kids Do This To An Incoming Freshman. Because They're Geniuses. Meanwhile other sites baited users with shocking headlines, such as Woman Fined $140 A Day Until She Circumcises Her Child, or ones that were politically or emotionally charged. These headlines evoked strong emotion and interest in users before they read the first sentence.
"[Indeed], as more and more media adopt this tactic, with varying levels of creativity, users will start to become blind to it. However, the best content producers will evolve their tactics to create more meaningful headlines that still have an emotional tether, while not feeling like cheap bait."
3. Branded Content Even the Crowd Can Get Down with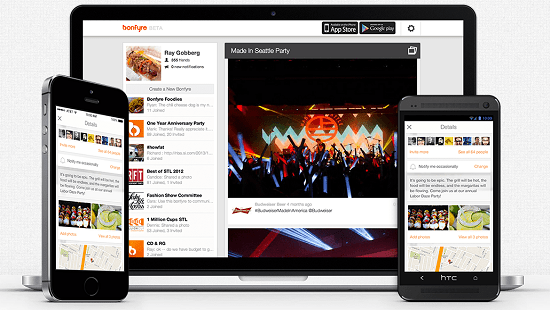 There's nothing that brings a bigger smile to a marketer's face than when he sees his company's logo prominently displayed before target audiences. This year, Budweiser partnered with Bonfyre, "an app that provides ad hoc social networks for brands to connect with their audiences around events," for its Made in America festival, shared Mark Sawyier, CEO and founder of Bonfyre.
Content shared by Budweiser at the event through the app was left with a Budweiser watermark. According to Sawyier, "The content is then distributed and mobilized by the event attendees on their social networks. In other words, the attendees become the content distributors."
"During the three [Made in America] concerts, content was shared from the bonfyres by consumers to their own social networks nearly 300 times to nearly 100,000 Facebook friends and Twitter follows," said Sawyier. "Over 35% of attendees joined the bonfyre and 35% of those people actually shared content. It was exciting to see how easily Bonfyre extended the engagement lifetime around these live events before and after the shows."
The engagement numbers suggest participants didn't mind sharing images branded by Budweiser. Since users have to be invited to join the 'bonfyre,' the sense of community and exclusivity compensate for the blatant logo slapped on the content.
4. Increased Content Volume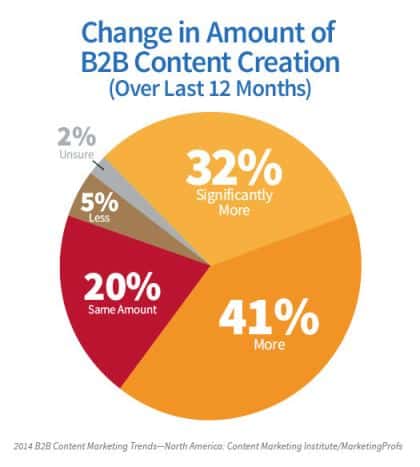 More is better.
A report by Content Marketing Institute and MarketingProfs, sponsored by Brightcove, published, "Seventy-three percent of B2B marketers said they are producing more content now compared to one year ago. While B2B content marketers continue to be challenged with producing enough content and producing the kind of content that engages — in addition to the ever-present challenge of "lack of time" — they are still making impressive strides."
Marketers took a gamble in upping their content output. Although they understand the value in content marketing, not all marketers fully understand ways to appropriately engage readers and, thus, increase their bottom line. But as marketers continue to experiment with content, they'll soon-enough figure out successful ways of leveraging content to affect growth and sales.
5. B2B Content Marketers Use On Average 13 Tactics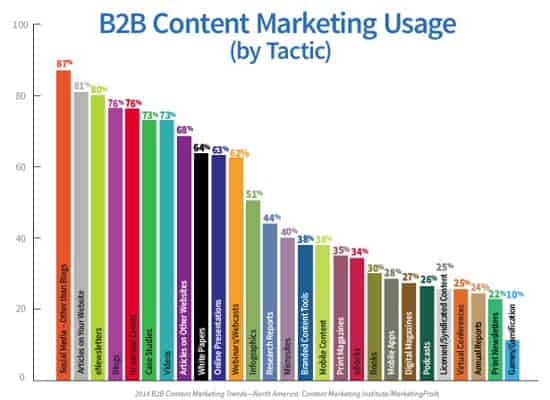 The report also tells us, "Compared to last year, the average number of tactics used has risen from 12 to 13. The use of all tactics has remained fairly consistent, with one standout: Infographics have seen a considerable increase, from 38 percent last year to 51 percent this year. B2B content marketers continue to rate in-person events as the most effective tactic."
6. Documented Strategy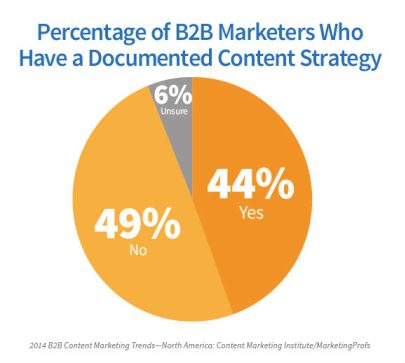 When marketers first learned of social media, it was a free-for-all frenzy. Most were blindly tweeting and posting to Facebook with unclear goals and strategy. Now that content marketing is all-the-rage, marketers would do well to formally document what they're doing in order to objectively analyze and optimize processes.
CMI's 2014 Content Marketing Report reveals, "Forty-four percent of B2B marketers have a documented content strategy. A documented strategy makes a difference, as 84 percent of marketers who say they are ineffective at content marketing said they have no documented strategy. B2B marketers who have a documented content strategy are far more likely to consider themselves effective (66 percent vs. 11 percent)."
7. The Unpopular but Necessary Resurgence of Email Marketing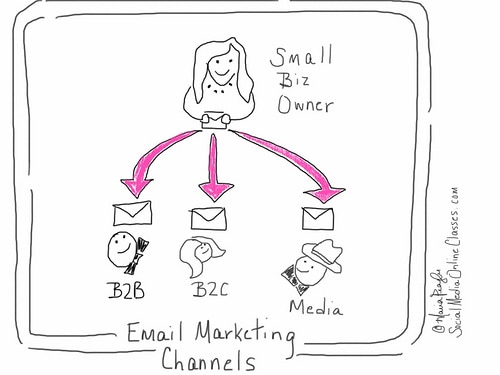 Image source: SocialMediaOnlineClasses
Email is easily one of the least glamorous ways to market a product. But it's undoubtedly one of the most effective.
It's also vital as part of your overall content marketing strategy — simple lead capture CTAs and forms around your blog posts or videos allow readers to say "yes" to future updates because they trust the value you have to offer.
"It's almost an anti-trend in that it's not something new and sexy. But email marketing is strategic and effective," said Barry Feldman, copywriter, creative director and content marketing strategist at Feldman Creative.
"The more focused you get on maximizing opportunities with content marketing, the more you come to realize the gold standard is engagement. You want prospects to read, see and share your content. To do this you need their loyalty and they give it to you, in a sense, when they say, 'You have my permission to market to me. Here's my email address.'
"Though there are immense opportunities to build relationships across the various social media and on your blog, email remains the medium of business. Amidst all the changes, email is the medium you can say with certainty your 'followers' will get. In social media, this is very much a mystery and there are endless distractions. Everyone has email and everyone checks it regularly. To be a successful content marketer, you need to capture email addresses and nurture relationships by using them. Treat the readers on your list special because they've granted you something special: an invitation."
8. Google Calls The Shots (and bullies marketers)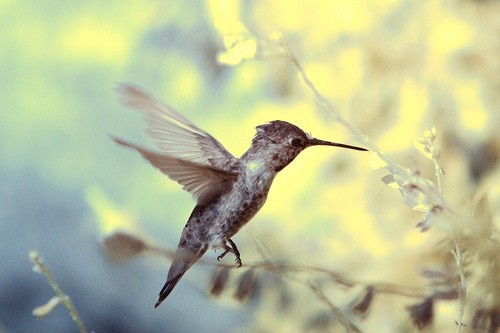 Image source: fortherock
It's no surprise the Demand Media content mill wasn't made to last. Users were better off asking an actual buffoon, "How to clean a bike chain" or any one of the countless phrases Demand Media's content network ranked #1 for on the major search engines.
Recent ranking algorithm updates from the search giant have — as Feldman has witnessed — challenged online marketers to toss aside formerly successful yet questionable tactics in favor of smart strategies that will keep them off of Google's blacklist.
"What's changing, at least for those who understand the dynamics in play in online marketing, is marketers are getting the message: popularity and quantity aren't as meaningful as they once were. Authority and influence is how you win the search engine wars," said Feldman.
"Your objective now is establish you are a leading expert in your niche. An endless stream of posts, or content of any kind, about the same old crap that's clogging the pipes has little value. When you get that, you turn your attention to creating outstanding, unforgettable and immensely helpful content. So you can—and probably should—create less content, with more focus on the needs of the customer, and amplify it through social and other channels.
"Do that and your stock goes up. Influencers notice. Google notices. Prospects notice. And then, your brand or name is the conversation."
9. Advanced Content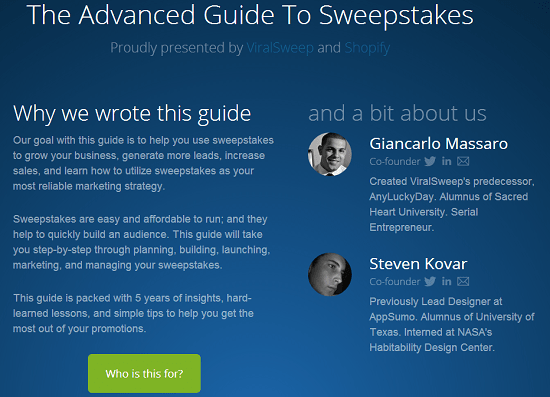 Giancarlo Massaro, Co-founder of ViralSweep.com, points out, "One trend we've definitely seen a lot this year has been people creating 'advanced guides.' Instead of just a normal blog post, these guides are packed full of tons of useful information on whatever topic they encompass."
ViralSweep took that idea to a new level and reaped the benefits. "Instead of making a 12,000+ word blog post, we created an interactive content guide to educate our customers. The result? It is one of the most trafficked pages to our site, and one of our most powerful tools for lead gen. It did about 10,000 page views when we first launched it in October, and it did just under 5,000 page views last month." Compare that to average posts on ViralSweep which receive only 400-700 pageviews per month. 
Last month, Neil Patel wrote a must-read piece that encourages you to write detailed content, titled, How I Increased My Search Engine Traffic by 13.15% in Just 30 Days Through Google's In-Depth Articles.
10. Granular Content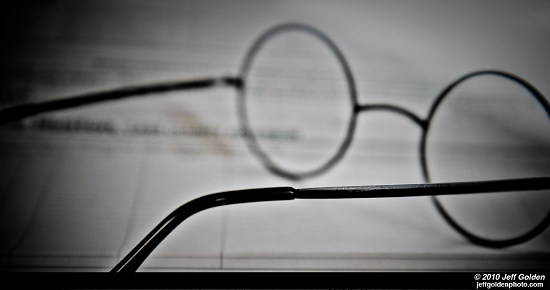 Image source: jeffanddayna
Sarah Skerik, Vice President of Content Marketing at PR Newswire, makes it a point to note, "20% of the search queries each day are unique, never before seen by Google. That's about 500 million queries a day. Simply put, people are searching for granular, specific information. They're using the search engine to navigate their lives (and increasingly, from mobile devices.) Herein is a great opportunity for communicators who are able to deliver potent niche messaging."
Although there is an overabundance of generic information on the web, there is still plenty of opportunity to create incredibly granular content that can effectively serve a niche market.
Amanda Maksymiw, Content Marketing Manager at Lattice Engines, agrees it's all about producing the right content. "Over the past 12 months, there has been a greater emphasis on quality over quantity and I think that will continue to remain the case for 2014. When many companies began to ramp their content marketing strategies, they initially focused on releasing a specific amount of blog posts, videos or ebooks. Now the shift isn't producing enough content; it's producing the right content."
Although the CMI report suggested marketers produced more content this year than in the last, all publishers are advised to create content that speaks directly to their readers. And if, by consequence, marketers produce greater quantity of niche content, then that's a win for everyone.
11. Content Marketing = SEO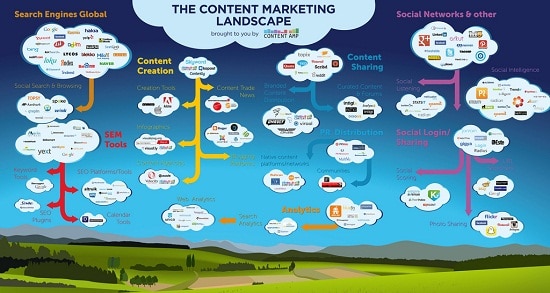 Image source: ocd007
Pamela Parker, Executive Features Editor at Marketing Land and Search Engine Land, thinks content marketing is quickly replacing traditional SEO.
"The most important trend I've seen is that people are beginning to realize that search engine optimization is no longer solely a keyword-based discipline, so, more and more, creating great useful content for prospective customers — content marketing —  is gaining ground as an essential for marketers," Parker says.
12. Big-Time Commitment and Professionalism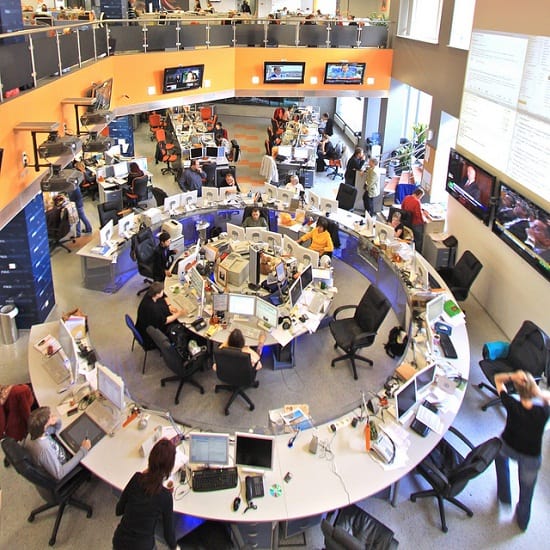 Image source: Russland und Ukraine
As an editor of one of the most authoritative sites on the web, Parker knows it takes a lot of work to produce exceptional content.
"This year brought an increased realization of the commitment level (in staffing, time, etc.) required to put together a really successful content marketing program. You need to have an editorial calendar, talented writers/editors and you need to be creative enough to stand out from the crowd. It's not enough to get your intern to write a couple of blog posts any more," shared Parker.
Many agencies, including Edelman and Weber Shandwick, have made significant commitments to further their content strategies.
13. For Authority, Awareness and Thought Leadership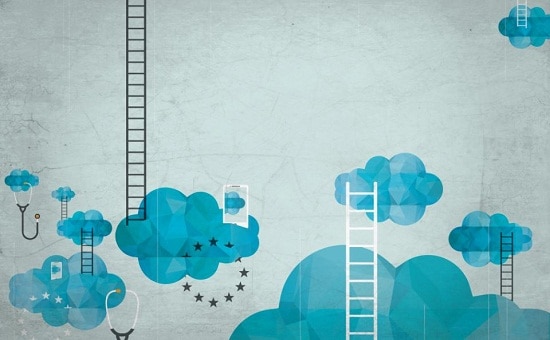 Image source: Atos International
Now that Google provides its authorship feature, people have turned to content marketing to build authority, awareness and thought leadership.
Melih Oztalay, CEO of SmartFinds Internet Marketing, suggests the following in order to do this effectively: "It's about having your content available to customers when they want it and to do so in a non-interruptive way. The impact of this will be companies will need to [distribute content] through multiple marketing channels to be relevant when customers decide to find a solution to their needs."
14. Diversified Distribution Channels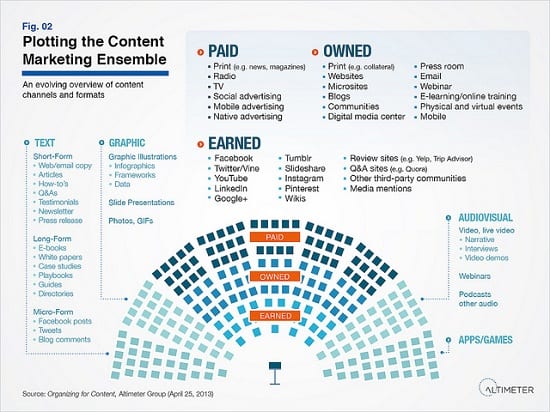 Image source: AltimeterGroup 
It's not enough to create content these days. Marketers have to effectively distribute and promote it as well.
"Jay Baer posed the challenge to the audience in his keynote at Content Marketing World to "Market your marketing," and he's right. The most brilliant strategy, the richest editorial calendar and the most well-crafted content mean nothing if the audience doesn't see the content. Developing a multitude of distribution channels that reach current audiences and expose the brand's message to new ones will be central to content marketing success," shared PR Newswire's Skerik.
Skerik wrote a recap of Baer's keynote and other content distribution themes from CMW here.
15. Education vs Sales

Image source: Sean MacEntee
Ritika Puri, accidental entrepreneur, content strategist and business and tech blogger, says "More and more, brands are prioritizing education and value above aggressive sales pitches. Content marketing is about influencing culture, which in turn yields results in the form of connection karma. In other words, when your company produces something awesome and gives it away for free, you'll see a direct funnel back into your ROI."
This education-first, sales-later philosophy has been adopted by many brands — big and small — including Xerox, who understand content marketing is not a direct sales game and know educating their consumer is a long-term investment that will surely pay off.
16. Content for Biz Dev and Relationships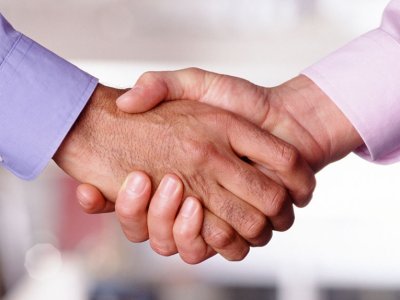 Image source: buddawiggi
Puri also noted "I think companies are beginning to realize that content is a business development asset and relationship building tool. A single piece of content can help companies (and people) spark conversations, find out about potential partnerships, and collaborate. These aren't just fleeting conversations, either – they're for the long term. I am building a content marketing company, and I don't even have a real website yet. But, my business is growing rapidly – all through amazing peers, clients, and partners that I have met through blogging. Especially in this next year, I would like to see larger businesses replicate this approach to drive collaboration – where content meets revenue – at scale."
Recalling a funny coincidence, Puri shared, "As an example — the author of this blog post and I first connected four years ago. He was looking for channels to review his company's product, and I was managing a high-traffic fashion blog. Over the years, we have kept crossing paths — all through blogging. We have even overlapped on some of the same projects. I can't wait to see what the next four years will bring."
17. Daring Stories in Multiple Media

This year, Shane Snow, Chief Creative Officer at Contently, has seen storytelling as a professional trade explode.
"I've been pleased to see more and more brands trying to tell more daring stories this year, and in multiple media. Over the last couple of years, content marketing for many companies, has been traditional SEO or linkbait marketing-as-usual—in other words, gimmicky crap. But this year we've seen more companies putting real ad budgets toward telling stories rather than simply "creating content." That means better experiences for consumers, better compensation for creative talent, and more memorable content for brands. I'm very optimistic about the good this trend can do in the ecosystem."
18. Visual Content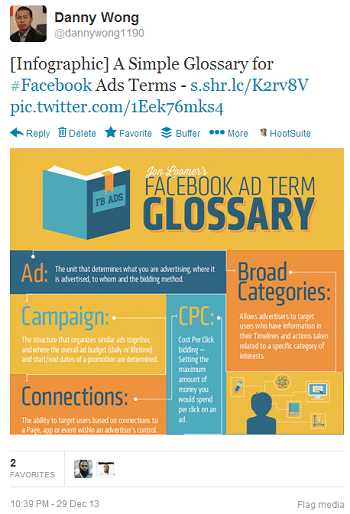 It's a fact that visuals are engaging.
Why? Because a visual catches our eye and is far easier and more interesting to process than plain text. That's why Twitter now automatically previews visuals in your feed.
"In 2013, I've seen a shift toward the inclusion of visual content in digital communication, primarily social media," notes Jen Dorman, Organizer of BlogAndTweetBoston. "Stats show that tweets including a visual have increased engagement [and] Instagram's success, Snapchat's valuation and Pinterest's popularity [are] all signs underlying the importance of visuals."
Static images aside, Jared Carrizales, CEO of Heroic Search, has seen the use of online video explode. "Not until this past year did video really penetrate businesses. With services like GoAnimate and WeVideo, companies are no longer confined to hiring costly agencies or contractors." Lisa Barone, VP of Strategy at Overit, believes video is the way to go "because video allows you to deliver a much more compelling and powerful message than text alone. Major brands like Oreo are experimenting with quick-form video and are seeing huge results."
As social grows and closes in on search in the amount of traffic it sends to sites, marketers have realized the importance of standing out in people's social feeds.
"Bigstock hit it big recently with a viral post that accomplished just that," tells Danny Groner, Manager of Blogger Partnerships and Outreach at Shutterstock. "We used to squeeze information into an infographic; now, with even less time to allow the data be digested, we're making the visual accompaniments into the content itself."
19. From PDFs to Blog Posts

Image source: asboluv
Many consumers now let out a frustrated groan when they reach gated content. Naturally, with flooded inboxes, overwhelming social media feeds, and general information overload, people are less inclined to jump through the proverbial hoops to read your content if they have to enter their email address (some won't even bother to enter a fake one) or download a document if they can freely access someone else's information elsewhere.
Dimitri Horaites, Marketing Director of FoundHere.com, has seen content marketers shift "away from PDF white papers and towards company blogs. Blogs allow better shareability via social features and are more likely to lead to a link back to your site."
Of course, you wouldn't want to publish a 32-page ebook as a long-form blog post (because no one will read it), but if you're thinking about publishing a short white paper, copy-and-paste it into your CMS and publish it as a blog post. Readers will thank you for it.
20. A Non-Ironic Thumbs Up to Competitors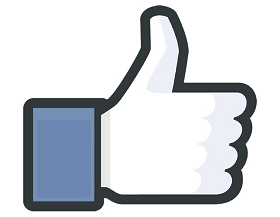 Transparency is something consumers (and journalists) value more than ever. As a marketer, it may be second-nature to try and BS your way through a conversation or blog post. But acknowledgement of competitors and their strongest competencies demonstrates the integrity of your brand.
"I've recently seen more articles include positive references to a company's direct competitors as examples of firms who are doing something right. Usually this is something the company also does well, but this flies in the face of the previous common wisdom. Content writers are clearly deciding that its better to provide useful examples than to never mention a competitor," says Horaites.
Businesses often feel exposed when there is mention of competitors. But openly discussing the competitive landscape within your industry and directly mentioning competitors and abstaining from negative comments gives off a virtuous impression which consumers like. And people are more inclined to do business with companies they like.
21. Interactive Content and Immersive Experiences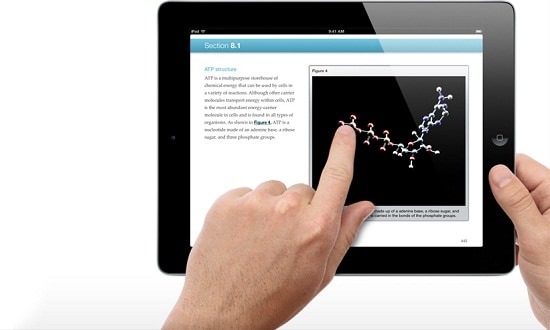 Image source: e-Learning Stuff
This year, Matthew Gratt, who does growth at BuzzStream, has witnessed marketers taking "advantage of the abilities of HTML5, CSS3, JQuery, D3.JS and other modern front-end technologies to build rich, interactive experiences that are almost cinematic. These create much deeper experiences than static pictures and images – after all, if a picture is worth a thousand words, an interactive infographic must be worth ten thousand." He points to Rehabs.com as an eerily impressive example of interactive content.
Some publishers have even gone out of their way to bring readers more immersive experiences.
Don't believe me? Just take a look at what the NY Times has done with its High Rise project. Another exciting example is Jaunt, a new publication co-founded by former Inc. reporter Eric Markowitz, which recently released its first issue and describes its Volume 1 as "the beginning of tactile journalism."
22. Real-Time Content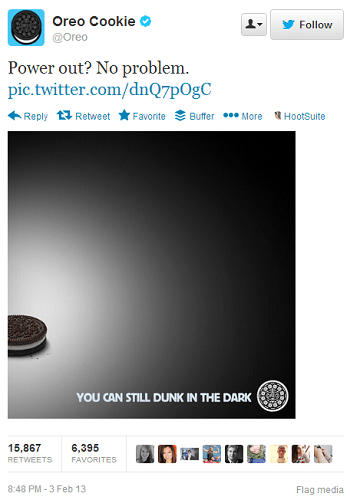 Image source: Oreo Cookie
The best brands are those that are ready at any given moment.
"Spurred by Oreo's now infamous, 'You can still dunk in the dark,' tweet during the Super Bowl back in February, brands are really striving to prepare themselves for that perfect real-time moment," says Tim McCord, VP, Digital Strategy at GMR Marketing. "I work with brands on their Nascar sponsorships and know from experience and research that brands who produce real-time race-day content see social engagement that's exponentially higher than those who don't."
When the time comes, will you be able to act fast and create memorable, lasting content for consumers?
23. The Long Year For Short Form Content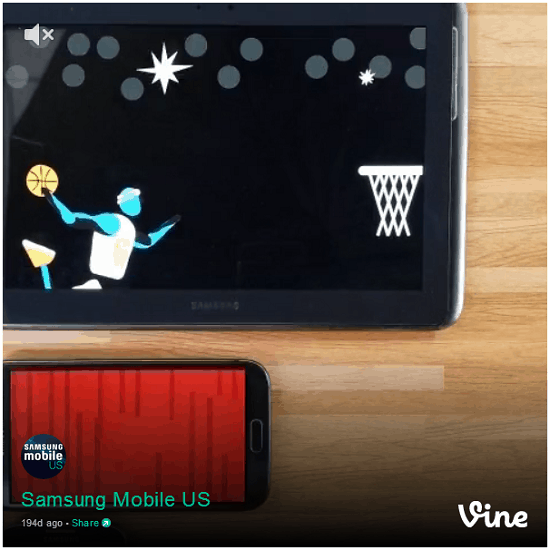 Image source: Samsung Mobile
Theresa Braun Of Likeable Media calls 2013 The Year of Short-Form Content, acknowledging Vine, Twitter, Snapchat, and Instagram as the preferred mediums for both brands and users to create "short-and-sweet storytelling."
Andrew Chen wrote an excellent essay titled, Constrained media: How disappearing photos, 6 second videos, and 140 characters are conquering the world. Read it. You'll understand why short form is winning.
Additionally, "2013 was also the year of bite-sized content. Websites, such as the Huffington Post, adopted Buzzfeed's popular "listicle" format to produce their own top 10, 13, or whatever number they wanted. Vanity Fair even parodied the trend in their own listicle," shared Ken Hammond. "At the same time, other sites would use gifs or short videos with only a few lines of copy to gain the interest of the user."
24. Collaborations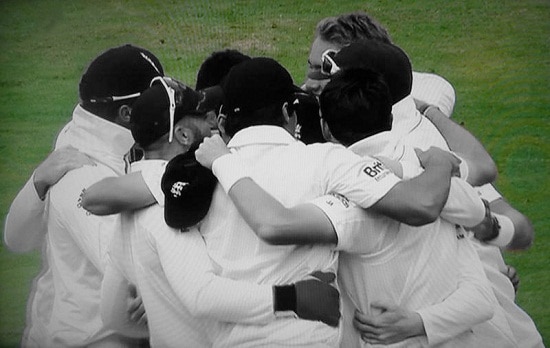 Image source: Gavin Llewellyn
Stephen Knuth, Founder & CEO of REMIX Design+Media, knows content marketing is better when you're not going at it alone. He is connected to over 200 bloggers in two different invite-only groups, where members collaborate to create interesting content.
He says, "Other bloggers who produce content similar to yours aren't your competition, they are collaborators and will help you grow your content and they'll encourage their network to visit your blog and comment." The emotional buy-in other bloggers develop when they help out turns them into evangelists for your content.
Knuth also has seen a rise in blogs accepting guest contributions and marketers offering guest posts. He points to Social Media Fuze as one of his favorite fellow collaborators.
Groups like the ones Knuth is a part of share strategy, tactics and tips to help fellow participants be better at blogging and content marketing.
This year, more people are reaching out to fellow writers on Facebook, Twitter and LinkedIn to learn from the best and oftentimes offer quality guest posts. Ann Smarty's MyBlogGuest, a growing community of guest bloggers, makes it easy to connect with likeminded folk too.
25. An Argument Against Traffic and Pageviews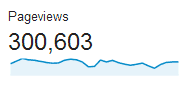 High traffic is overrated.
Jim VandeHei, President of Capital New York, in an interview with Digiday said, "High traffic is way overrated. It works if you are truly a traffic hose, like BuzzFeed. But, for speciality sites, it is all about the right readers. The advertisers we want are the knowing ones seeking to influence a very attractive and hard-to-reach set of readers. If we deliver those readers, the traffic numbers will mean little."
Plenty of content creators recognize the fleeting value in viral content, understanding that sustainable publishing models — for most — are based off of the right readership. What is, in fact, an important metric to track is the time readers, on average, spend on your site (rather than visits, uniques and pageviews). This is a useful metric brand marketers use to measure engagement, while publications use it as a selling point for advertisers.
At Shareaholic, we've been impressed by the pace at which content marketing has grown and evolved. As the new year approaches, we look forward to how the content marketing landscape will change in 2014. If you liked the post, do share it with your friends. Also, be sure to share with us your thoughts on which of these trends will last and which ones may change or flame out in 2014.