Share your content the easiest way possible. Get Shareaholic for Chrome.
Cranking out content isn't always easy – it takes organization, brainstorming and focus on the task at hand. Luckily, there are a few tools that will help you do all of these things more effectively. Check out our favorite Chrome extensions to help you blog.
1. StayFocused
Let's start out with what every blogger needs more of: time.  Use the StayFocused Chrome extension to stay disciplined by setting up active days, hours and blocking yourself from sites like Facebook and FunnyOrDie.  Not only is this extension awesome for bloggers, it's probably a great tool for parents who want a better handle on their kids Internet time too.  While researching for this post, I definitely added this extension to my own browser!  Who doesn't need more time and discipline!?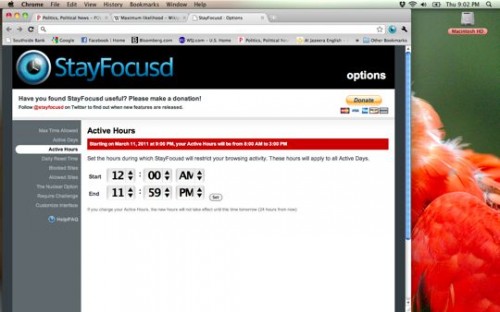 2. Send to Google Docs
Whether you're doing research for a big paper, saving a recipe or reading up on a new topic, you'll love the "Send to Google Docs" Chrome extension.  This extension allows you to save the whole web page you're on as a PDF stored in your Google Docs.  This extension is great for people like me who are constantly bookmarking page after page to read later. I also like this extension because it's very printer and share-friendly.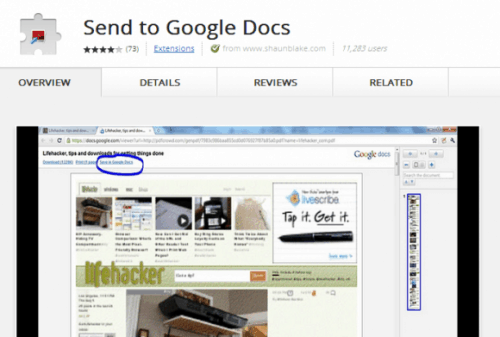 Download the Send to Google Docs Chrome Extension
3. Awesome Screenshot
This extension is by far my absolute FAVORITE and one that every blogger should use! Blog publishers and blog readers both know that pictures are worth a thousand words.  Yet uploading pictures, cropping them and adding annotations can take what seems like forever.  Don't let sharing screen shots slow you down because of lackluster external editors.  Use the Awesome Screenshot Chrome extension to crop pictures, add circles, lines, arrows, blur out parts of your screenshot, and add text to your image in a flash!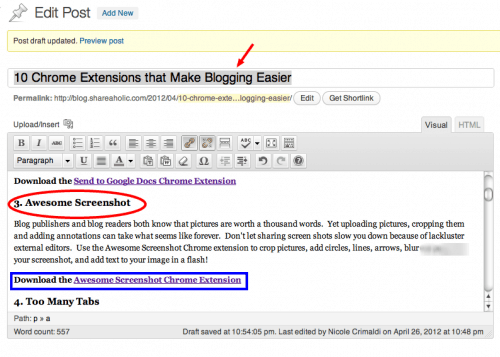 Download the Awesome Screenshot Chrome Extension
4. Too Many Tabs
When I'm writing blog posts I typically have at least 10 windows open. My screen gets cluttered and I get annoyed trying to guess what's where.  Between sites you're doing research on, your WordPress window, Gmail, Twitter, Google Docs, Basecamp, Google Reader and everything else, it's a great time for bloggers to download the well-named "Too Many Tabs" Chrome Extension.  Organize your tabs a bit better, flip to new tabs quickly and don't waste any time guessing.
Download the Too Many Tabs Chrome Extension
5. Quick Notes
Are you the kind of blogger who's always looking for something new and interesting to write about? Do you get inspired at weird times?  Do you subscribe to so many interesting newsletters that you can barely keep up with everything you want to share? Then ditch the notebook and get the Quick Notes Chrome extension instead!  Your notes will be in the form of a "digital legal pad" on the side of your browser screen.  You can even higlight parts of web pages you find interesting and add them to your "Quick Notes" pad. LOVE it!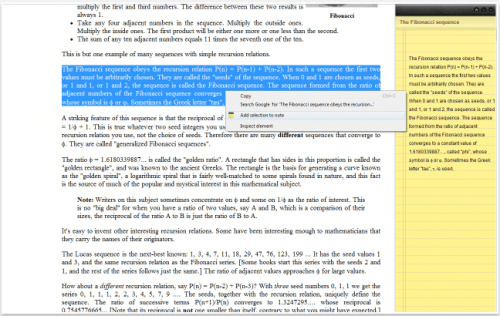 Download the Quick Notes Chrome Extension
6.  News Squares
This feed reader organizes your favorite RSS feeds visually in your web browser. It's the most attractive reader around and very functional too.  Here's a screen shot of mine below.  The upper right hand corner of each square shows how many unread items there are.  There are also squares for starred items and favorites.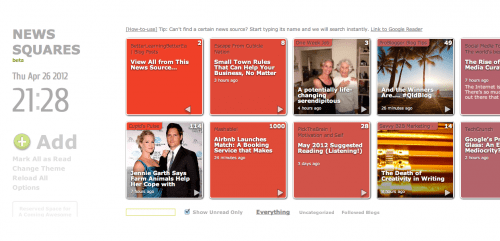 Download News Squares Chrome Extension  
7. Wise Stamp
Bloggers who want to establish a brand should have a professional email signature that connects people to their social media profiles.  I've been using Wise Stamp for my professional email signature for the last few years and I highly recommend it.  This easy-to-use Chrome extension serves two purposes: it builds credibility and it drives traffic to your blog in every email!  Simply click on the little "stamp" icon in the upper right hand corner of your Chrome browser to setup your signature.  You have the choice of inserting your signature manually or having it auto populate in each email.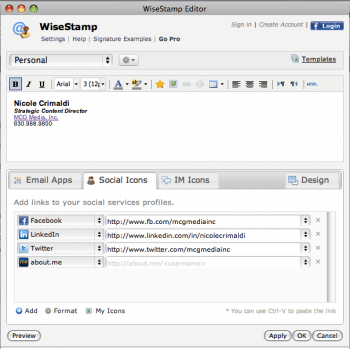 Download the Wisestamp Chrome Extension
8. Shareaholic
Last but certainly not least is the Shareaholic Chrome extension.  Before you click away because you think this seems like self-promotion, let me explain why Shareaholic really is one of my all-time favorite Chrome extensions.
I believe that what sets a good blogger apart from an excellent one is the quality content that she or he not only creates, but SHARES.  Sharing great content will undoubtedly lead you to more followers, likes and website traffic.  The Shareaholic Chrome extension makes sharing SO darn easy.  It stores your social media info in the browser and all you have to do is click, select the network(s) you want to share with and DONE.  It even has one-click access to URL shortners!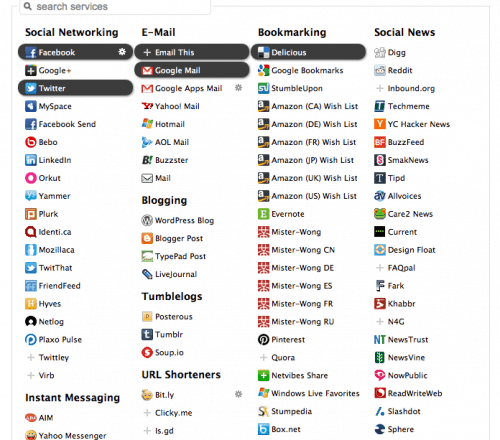 What other Chrome extensions do YOU love?  Which extensions make you more productive as a blogger?