Want more traffic and shares for your content? Use Shareaholic's social share buttons.
In just a little over a month, Shareaholic is headed to Blogworld & New Media Expo in New York. to network and learn from other bloggers! We couldn't be more excited, and we'd thrilled to be able to exclusively offer the Shareaholic community a sneak peak at some of the learnings to be had at the big event, plus a 10% discount on registration with the registration code SHARE10.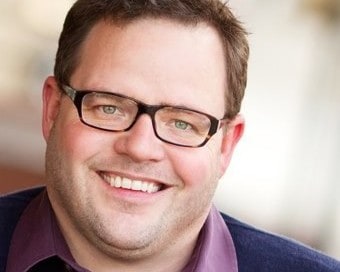 First up is Jay Baer, a straight-shooting social media consultant and highly-sought after speaker. He writes the awesome social media blog Convince and Convert, where I always learn something new. Seriously. He's the co-author of The Now Revolution, which he wrote with the illustrious Amber Naslund. Jay Baer's session is 12 Imperative Must-Do's for The Serious Blogger, and it's sure to offer some substantial teachings for those who want their blogging to play a strong role in the success of their business the way it has for Jay. Without further ado, let's hear from the man himself:
1. How did you get started blogging?
I wrote a magazine column about digital marketing for many years, and when I started Convince & Convert in 2008, I decided to write more regularly via a blog. Like all bloggers, I started with zero readers. Then, I convinced my Mom to read it. She convinced my wife. And now, it's pretty popular within the incredibly narrow niche of social media and content marketing professionals.
2. You say that one of the things you want to cover in your session is how to move from using the blog as a creative outlet to using it for business. Is using a blog for a creative outlet a common mistake you see? How so?
I wouldn't say it's a mistake, but blogging for business and blogging for personal have different methods, best practices, metrics, and more.  I see a lot of smart business bloggers that have personal blogs on the side as that creative outlet. Tom Webster (who is doing a track keynote at Blogworld about metrics and data) has his regular blog, and then a hilarious side project called "Tom Reads His Spam" where he literally posts audio recordings of dramatic reading of spam emails and Twitter direct messages. I used to have a blog called Why So Complicated (on Tumblr) where I would post a picture of the showerhead of every hotel where I stayed. Sort of a bizarre travelogue.
3. How do you use your blog for business?
For my business, the blog is the home base of all our social media and content marketing. What I do on Twitter, Facebook, Linkedin, G+ and beyond is designed to get people to the blog. The blog generates speaking engagements (like BlogWorld), and speaking engagements generate consulting opportunities. That's the virtuous circle for me.
4. What do you know about building a blog community now that you wish you knew at the beginning?
That's a complex question, best answered in my session at Blogworld! A couple of tidbits: successful bloggers spend a lot of time on other people's blogs; successful bloggers cross-pollinate their content; successful bloggers go out of their way to interact; successful bloggers realize that community is great, but not the end goal (usually).
5. How do you feel you were able to create a name for yourself in the blogosphere without losing yourself and keeping your eye on your goals?
I'm a very consistent blogger, I give more than I get, I try to put a different spin on the news of the day, and I want everything I write to make (at least some) people think "damn, that was good." There aren't any secrets, just lessons.
Awesome lessons from a guy who's very involved in this space! What did you learn? What else are you hoping to learn from Jay? Let us know in the comments!