From managing the brands you work with to responding to tweets from your blog, there are tons of "honey do's" to take care of as a professional blogger–not to mention simply creating your blog content in the first place! When taking care of the day-to-day tasks of blogging, it is tough to remember to take care of some larger housekeeping items that will keep your blog in top shape.
The key to productivity is ensuring that each task you take on is a building block toward the ultimate goal you have for your blog. Depending on the type of content that you create or the focus of your blog, you may think of some different things that will make the biggest impact for your site. That being said, there are some general housekeeping items that every blogger should try to check off their to-do list. Let's take a look at them!
1. Update Your Media Kit
Like we discussed in our previous post on media kits, it is crucial that you have a media kit if you plan to work with brands. Your media kit shows vital stats about what you can offer a brand such as your pageviews, a description of your audience, your Twitter followers and more.
If you're working hard (and we know you are) those numbers are likely to change over time. Don't undersell yourself to brands by reporting old numbers in your media kits! Strut your stuff and always be sure to keep your media kit updated with the latest numbers that show how far your reach has grown.
2. Refresh Your Bio
Like a well-kept media kit, your online bio should constantly be updated. If you're hustling to make a name for yourself in the blogosphere, you don't want to miss out on opportunities because you haven't communicated your successes. Be sure to keep a detailed bio on your "about" page and across all of your social media profiles–that's the first thing that brands look at when figuring out if they might want to work with you.
3. Update Your Plugins
As creators of a WordPress plugin, you can take it from us: Outdated plugins just aren't doing you any favors. First, an outdated plugin may not be compatibile with the latest version of WordPress, and that could mean a significant loss of functionality. Second, outdated plugins can pose as a security risk. Some plugins interface with databases in your WordPress website that contain sensitive customer contact and financial information, and an outdated plugin could give a hacker access to any of this information. Third, you may be missing out on some fantastic new features offered in the latest version of a plugin!
When updates for your plugins are available, you'll see a number appear next to the "Plugins" label in  your WordPress dashboard's sidebar. To update your plugins, click on the "Plugins" label, then click the link under each plugin that you want to update. That's it!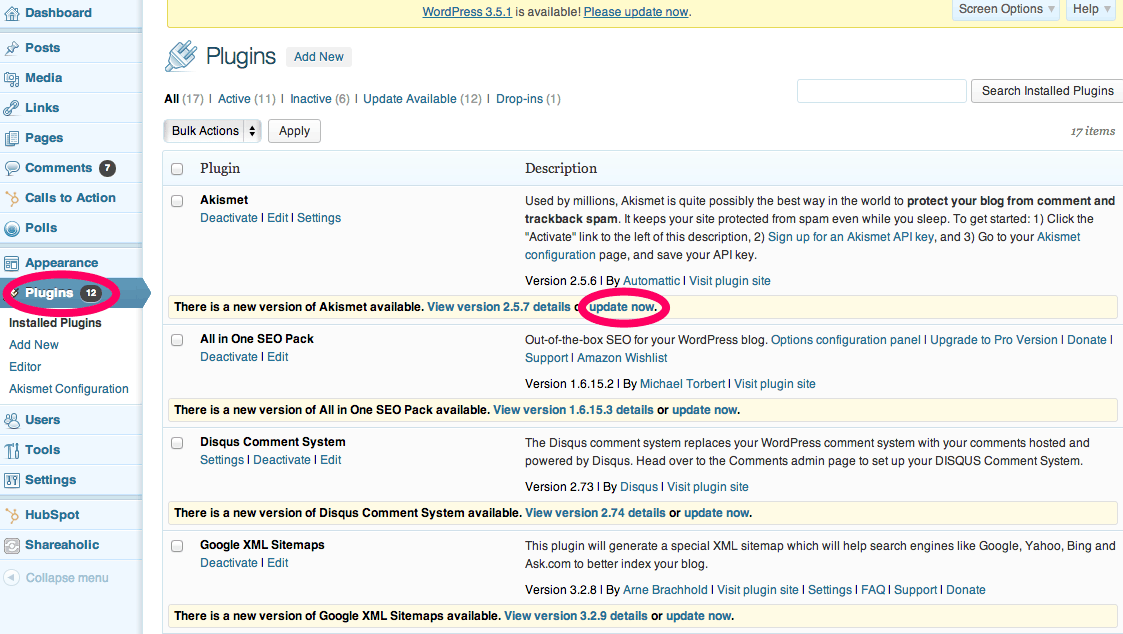 4. Freshen Up Old Posts
You likely have some great evergreen content that is continuing to send you traffic over and over again. A post you wrote six months ago could still be a top traffic driver for your blog. But is the content on that post expressing current facts and up-to-date information on the topic? Make sure it is.
First, use Shareaholic Analytics and refer to your top content report to identify a few evergreen posts that sent you traffic in the past month or so. Give them a double-check to ensure that they include the latest information available on the topic. It may even be a topic worth re-visiting with a follow up post that you can link to from the original one if a major update has happened.
5. Fix Broken Links
Though evergreen content can be a great way to grow your blog, maintaining it takes a ton of work. Broken links may slip under the radar because they aren't appearing in your top posts. Even though the content might be old, think like your readers: there's nothing more frustrating than going to an old post hoping for a timeless resource, only to find out that the links don't lead anywhere.
To make sure your links are still working, you can try manually double checking old posts (maybe 5 per day) or if you're on WordPress, using the Broken Link Checker plugin. Either way, you should always make sure your links are up-to-date so your evergreen posts can be used to grow your blog.
6. Edit Your RSS Reader
(Or whatever else you use to keep track of the blogs you follow.)
The reality is that you need to consume awesome content in order to create awesome content. Oftentimes, content-hungry bloggers with the best intentions fill up their RSS readers with subscriptions to dozens and dozens of blogs – only to find themselves so overwhelmed by the feeds that they don't keep up with any of the blogs at all.
Edit the number of blogs you subscribe to so that you can focus on the ones that truly teach you something on a regular basis.
Think of it this way: Just because you're unsubscribing right now doesn't mean you'll never read that blog again. If someone publishes a post that is truly awesome, it'll come across your Twitter feed because your network will share it. You won't miss it.
7. Clean Out Your Idea Bank
Whether you keep a leather moleskin or a note in Evernote for your idea bank, you should regularly organize your blog post ideas. Keeping your thoughts organized will help you when you're strapped for content–you know that the ideas in your post bank are vetted and ready to go before you sit down to write.
First, go through and delete old post ideas that you've already written about–no use keeping them in there if you don't intend to work on them later. Second, update or delete ideas that you haven't written yet but need some work before becoming a solid blog post topic. If you are a packrat (like me) and hate to delete anything, just move those idea to another section of your notebook.
8.
 Tweak Your Sidebar
Your blog's sidebar is prime real estate–be sure you're making the most of it. Every month or so, take a look at your sidebar and see how you can improve it. Are you social networks all up-to-date? Are you really getting click throughs on your Twitter stream? Is your blogroll up to date with your newest blogging buddies' sites? How are the click-through rates of your sidebar ads performing well? Take a look at your analytics to see what's working and what isn't in the sidebar. Since the sidebar is always visible to your readers, you want to make sure you're making the most of it!
Got any other housekeeping must-dos for your blog? Share your thoughts with us below in the comments!