Love sharing your favorite news? Share your news the easy way with Shareaholic for your browser.
If you're a huge hockey fan, then make sure you're getting the most out of the Stanley Cup playoff coverage!  Here are 20 places you can follow the action online!
1. NHL.com

Naturally, this has to come first – all the professional news and views you need to know are available in what I would term the "home of hockey" online.  Check out NHL.com here.
2. ESPN.com
Thanks to ESPN's Gamecast, you can keep up with the game with real time updates. Perfect for anyone who HAS to know what's going on in the game but may be stuck behind a computer screen! Check out NHL on ESPN here.
3. @TSNBobMcKenzie on Twitter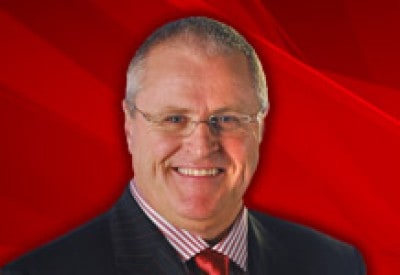 If getting the inside scoop is more your forté, then you definitely want to keep up with Bob McKenzie's tweets – as his twitter profile reads, he is "The Hockey Insider." With nearly 350,000 followers, there must be something he knows that other Hockey pundits don't. Check out TSNBobMcKenzie on Twitter.
4. Where's The Cup App
I have to admit it, I would never have thought there would be a "Wheres The Cup" app but alas, there is. So, now you can follow online on any of your wireless devices.  Check out the "Where's the Cup" app here.
5. Stanley Cup of Chowder
The founder of this site deserves extra credit, just for the name. Other than that, if you are a Bruins fan, you will especially enjoy the short and sweet news and views fro the writers. They keep it light yet passionate so that even the most passive Bruins fans can enjoy.  Check out the Stanley Cup of Chowder here.
6. Stanley Cup Playoffs Tumblr
This has to be one of my favorites and it's not only because I typically LOVE brands that promote on Tumblr. On this platform, you'll find a collection of fans rants and raves posted  for your enjoyment. Check out the Stanley Cup Playoff Tumblr here.
What's a sports competition without input from Pittsburgh? We'll never know. By Penguins fans, for Penguins fans, follow the inside scoop. Even if you're a die-hard rival, you definitely want to know what the other team is thinking, don't you?  Check out @PenInsideScoop on Twitter.
8. Slapshot blog

For anyone who wants the gist of what happened or what to look forward to in the Playoffs so they can be able to contribute to hockey conversations, I highly recommend the New York Times' associated blog, Slap Shot. Think of it like your "cheat" sheet or study guide and the next time the Playoffs come up in conversation, you can hold your own.  Check out the Slap Shot blog here.
9. Onfrozen Blog

As the blog reads, this is a "haven for the hockey malnourished." Who knew there was such a thing? Well, there is and after reading a couple  of the posts, I would recommend this for all you deep-thinkers out there who look for meaning in everything.  Check out Onfrozen here.
10. Second City Hockey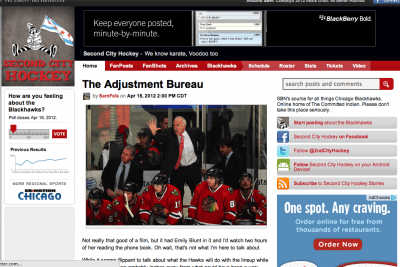 As a Chicago native, I couldn't help but include Second City Hockey on my list of ways to follow the Stanley Cup Playoffs.  I like this site because the writing style digs a little deeper into analyzing events and outcome while adding a bit of humor too.  Check out Second City Hockey here.
11. Dead Spin
Love watching videos instead of reading?  Then you'll love Dead Spin's way of delivering the latest news and hockey highlights!  Check out Dead Spin here.
12. Twitter  Hashtags
For digital media nerds like me, check out this article by Radian 6 about the Stanley Cup hashtags people are following and what they mean.  Check out the Twitter's main Stanley Cup hastags at #becauseitsthecup and #stanleycup.
13. Google Alerts "Stanley Cup playoffs"
Want up-to-the minute alerts on anything Stanley Cup related?  Then consider signing up for free Google Alerts at Google.com/alerts.  No need to even do a search or spend time surfing the web, your updates will land right in your inbox.
14. Cbc – Hockey Night in Canada
CBC Sports' Hockey Night in Canada page features high quality videos of the latest plays and commentary.  Check out CBC's Hockey Night in Canada blog here.
15. NHL's Facebook Page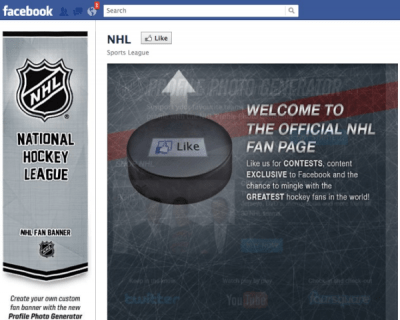 Perhaps the most conventional way to follow the Stanley Cup playofss is to follow their Facebook fan page.  The page has over 2.2 MILLION likes and features everything from videos, hilarious graphics, stats, links to other hockey pages and of course a bit of engagement to.  Follow the NHL on Facebook here.
16. Hockey in HD YouTube Channel
YouTube's hockey channel covers not only the NHL, but other leagues as well.  With over 22 million video views and over 14,000 subscribers this organized site will definitely be a You Tube favorite among hockey fans!  Check out the Hockey in HD YouTube channel here.
17. The Bleacher Report
The Bleacher Report covers just about every sport you can imagine and then some.  This blog has TONS of fresh content and great pictures which make it easy and fun to read.  Check out the Bleacher Report here.
18. The Stanley Cup Beard Battle (Facebook App)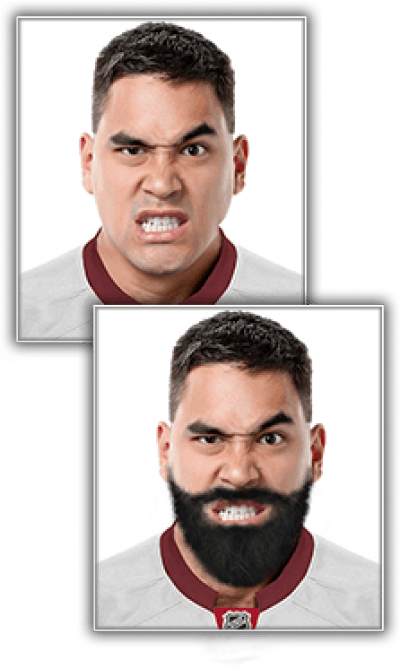 As the Stanley Cup tradition has it, beards are all the rage.  Therefore, I'm not surprised to see that this tradition has now gone digital via Facebook's Stanley Cup Beard Battle App.  Just upload your photo, add a customized beard, and show your support for the Stanley Cup.  Download the Beard Battle app here.
19. Follow the Stanley Cup on Foursquare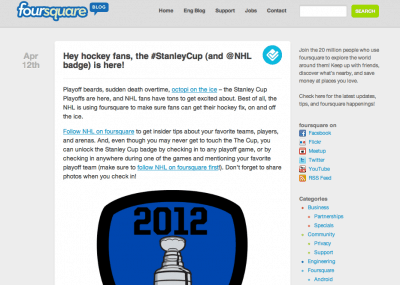 A new trend among sports fanatics and TV viewers is to check in to what you're watching on social sites like Foursquare, and the Stanley Cup is no different!  Earn the new Stab   Check into the Stanley Cup on Foursquare here.
20. NHL Twitter
And last but not least, Follow the NHL on Twitter here!
How are you following the Stanley Cup online? Let us know in the comments!