We pushed out Shareaholic v1.7 this afternoon! You can get the latest version of Shareaholic from here, or you if you already have Shareaholic installed, just wait for Firefox to automatically notify you of the update.
If you use the NoScript Firefox Add-on, make sure you read this.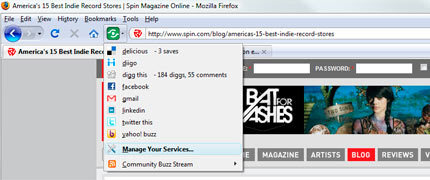 If you have any suggestions whatsoever, please do let us know. We'd love your feedback.
What's new:
You asked for it, you got it :) v1.7 adds support for:
We're big fans of this: We've added the option to turn on the Shareaholic button in the URL bar right next to the orange RSS icon. We feel that this is a very natural place for the icon to live within the browser. It is turned off by default, one can turn it on from Shareaholic's option menu.
We can now toggle the main nav menu button on/off from the option menu. You have complete control.
All services in the services drop down have keyboard shortcuts associated with them now.
Cleaned up Options menu – services are now categorized to make them easier to go through
Fixed edge case issues with Gmail, Google Bookmarks
Updates to Twine, Soup.io, Twitter code
Misc. performance tweaks