This blog post was originally posted on the SexyBookmarks' blog. Shareaholic has since taken over the responsibility for the continued development and improvement of SexyBookmark publisher plugins!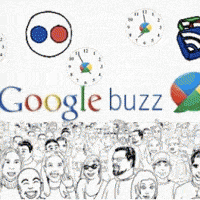 It seems that I've been completely inundated with requests for the addition of a "Google Buzz" icon to the list of supported networks in the plugin. So before I get another few thousand emails asking for the same thing, I thought I'd just get the word out that it's already included in the next release (kinda sorta).
Kinda Sorta?
Yep, that's a real word (or words), at least in my dictionary it is! Anyway, the next version of the plugin (v3.1) includes Google Reader, which many of you probably already know is hooked to Google Buzz. So, by simply submitting articles to Google Reader, you'll also been submitting them directly to Google Buzz as well!
So once the next version is released (which is long overdue by the way) you'll be able to kill two birds with one stone by submitting to Google Reader AND Google Buzz with just one click. Hope that's satisfactory to you!
Completely Unrelated Note:
Just in case any of you were wondering… I've been out of state for a couple of weeks now. Came back a few days ago only to realize my computer had been fried by lightning! So I had to order a bunch of new parts from Newegg, and after 2 bad sticks of RAM and a bogus copy of Windows 7… I've finally got everything up and running! w00t!
Please be patient as I try to get to the over 2,120 emails that are still lurking in my inbox!