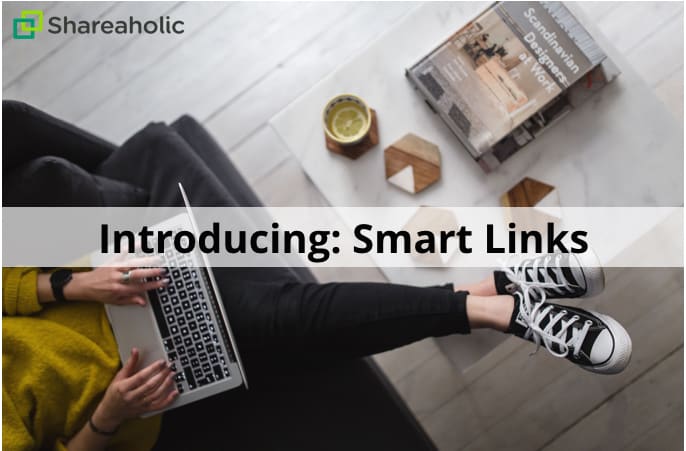 Does this scenario sound familiar?
You do an influencer content campaign that gets tons of views, shares, and raves. A week later, the excitement settles. All the new users who were exposed to your campaign move on to something new, and you have no way of re-engaging that audience.
Or, take this example:
Say you're selling a product on Amazon. How do you re-engage those shoppers who view your product page, but never convert, if you can't cookie them from your website?
Shareaholic's Smart Links solves this problem.
Smart Links is a URL shortener and retargeting tool that enables you to capture audiences from any website, making them available for re-targeting on any platform.
How it Works
With Shareaholic Smart Links, you can start re-engaging your audience in as little as four steps.
Shorten – Login to your Shareaholic Dashboard and navigate to the "Link Manager" tab. There, create your short link in the Smart Links Dashboard. It can be any link — product page, press hit, influencer campaign…the sky is the limit!
Share – Share your link on your marketing channels, like email or social media.
Capture – When people click on the link, Smart Links captures those users with a cookie.
Re-target – Re-target and analyze your engaged audience on your chosen ad platform.
Watch the screencast to see how it's done.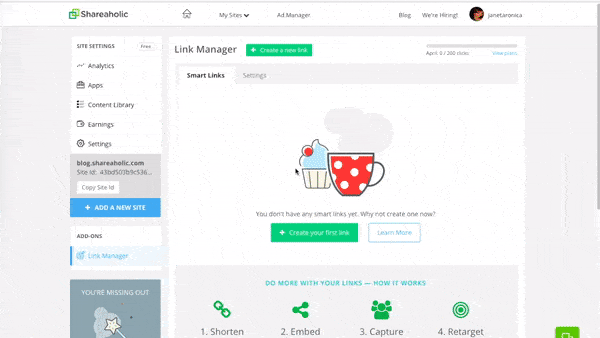 Smart Links Benefits
As the content world becomes more fragmented, marketers face the challenge of closing the loop between activities on third-party sites and conversions on their own. Smart Links solves this by allowing you to track and target anyone who clicks your links anywhere on the web.
Another reason to consider using Smart Links: Retargeting ads have a 10x higher click-through rate and are 70% more likely to convert than other formats. Retargeting works. Really well.
With Smart Links, you can expand your retargeting audience pool and drive deeper engagement with qualified audiences who have already shown an interest in you by clicking your links.
Finally, Smart Links URLs are automatically customized so that no extra work is needed to begin building your custom audience. In other words, in just a few simple steps, you can start retargeting with Smart Links today.
Getting Started
Ready to get started? Login or sign up to start using Smart Links for free. Let us know if you have any questions.