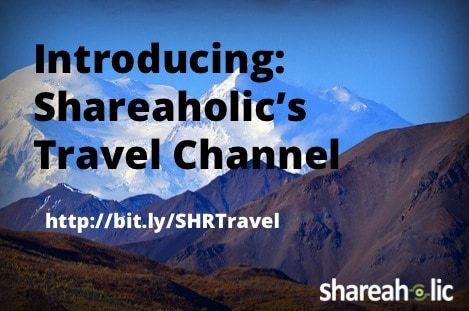 Where do you dream of traveling to one day? Looking for budget-friendly ways to take a trip with your family? Want the best tips on how to make your holiday travel as stress-free as possible?
Shareaholic's new Travel Channel has all this information and more from the best of our Travel bloggers in our publisher network. A huge congratulations to the publishers we featured!
You'll discover some amazing content on Shareaholic's Travel Channel. Learn how to find the best kid-friendly hotels from Jodi Grundig at Family Travel Magazine. Learn the ins-and-outs of safe and savvy solo travel for ladies from The Gypsy Girls. And you won't want to miss one post from Alexandra Pucharelli's exciting travels around the world on her blog Fluent in Frolicking.
So don't miss out: Be sure to check out check out the Shareaholic Travel Channel today and let us know what you think using the hashtag #SHRChannels.