There's certainly no shortage of numbers for websites to track: pageviews, visits, search engine rank – even everything from Twitter followers to Facebook "likes" all work as indicators of the potential reach and success of your content. The problem isn't a lack of metrics, but a lack of focus on the right ones and oftentimes an understanding of what to do with those numbers.
Shareaholic's new publisher analytics helps solve both of these common problems with a simple-to-understand yet action-packed single-page dashboard. See it for yourself right here. Here are 4 features you don't want to miss while you're checking this out.
1. Single-Page, Easy-to-Navigate Dashboard
No more searching and clicking around – your top content report, traffic sources, new inbound links and social traffic breakdown, plus your list of your most influential readers are all here for you in one single page. It's condensed, it's simplified, it's easy to understand.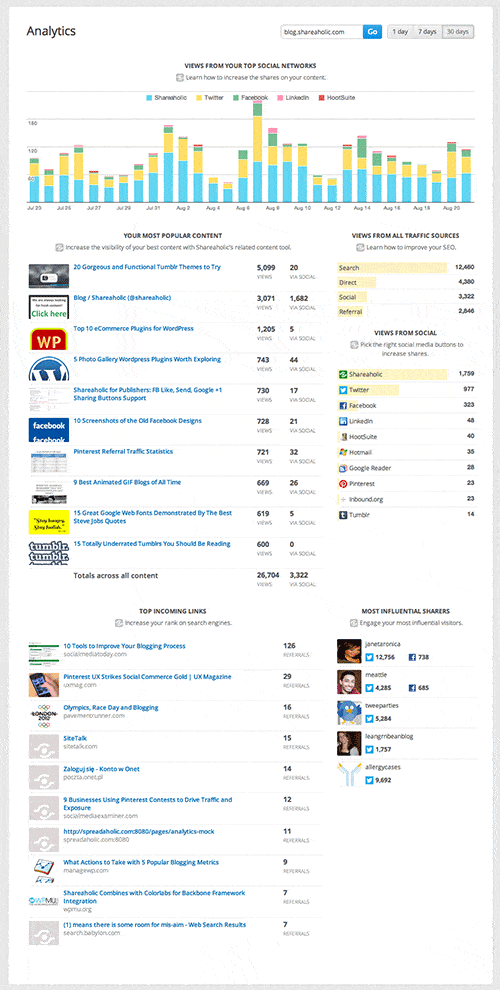 2. More Actionable Reports Than Ever
Now, next to each of metric on the dashboard, you'll see recommendations about what to do with the report.  So we're not just leaving you high and dry with nothing but numbers – we're guiding you on how to make them better with a link to a helpful blog post or recommending a tool that will help you improve your website.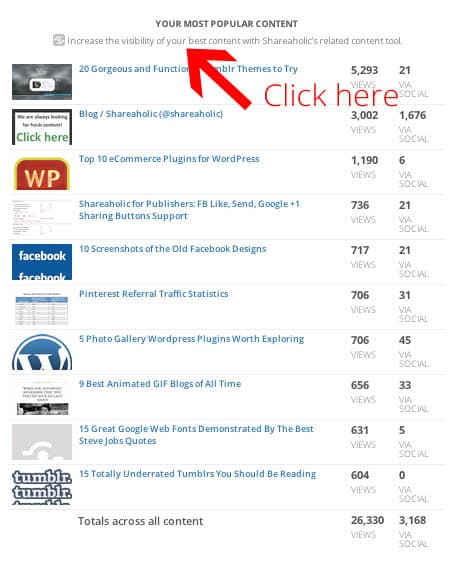 3. Social Media Links to Connect With Influencers
The improved Influential Sharers report still highlights your readers who share your content and have the most social reach. Now, it's easier than ever to take action on this information with links to their Twitter and (if publicly available) Facebook profiles. Follow them, thank them for sharing your posts or maybe even ask them to guest post for you. However you choose to connect with your community, having a way to contact them will help you do that much more effectively.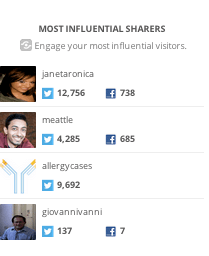 4. Cleaner, Easier-to-Follow Design
There's less clutter, so it's much easier to find what you are looking for. Building your blog's audience or generating traffic to your product pages is complicated enough – getting your analytics shouldn't be.
Any website who uses our social sharing or related content tools will automatically get upgraded to the new Shareaholic Analytics. If you aren't using our products yet, check out our social sharing or related content tools – you'll get Shareaholic analytics when you install one of those. Or, if you'd just like to use Analytics on its own, you can grab the code for Shareaholic analytics here.
What do you think of the new Shareaholic Analytics? Let us know in the comments!
Check out the newly-designed and better-than-ever
Shareaholic Analytics
.