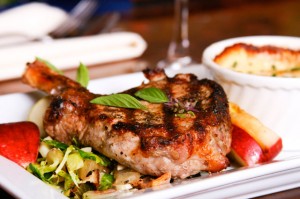 Between meetings and vacations, there were but five of us at lunch this week, which took us to Garden at the Cellar. The restaurant bills itself as a gastropub, which seems accurate enough.
As a concept, the "gastropub" has never resonated with me. (Bear in mind I would prefer a nice Bordeaux to an excellent IPA and keep a bottle of Champagne in my refrigerator for emergencies.) The typical example serves conventional pub fare — pizza, hamburgers, meat-laden sandwiches, etc. — with a touch of extra refinement and higher-quality ingredients.
In the case of Garden, that means drizzling their fries with rosemary truffle oil or serving pizza with roasted mushrooms, thyme and ricotta. While certainly not a bad idea — the menu is far more coherent than that of, say, a Korean restaurant serving sushi — it has always seemed to me that a more focused concept would yield a more interesting result.
As happened last week, it took an exasperatingly long time for the restaurant to acknowledge our presence. At least two groups behind us decided to dine elsewhere as we twiddled our thumbs. Fortunately, we lunched later than usual this week: by the time the wait staff noticed us crammed into the vestibule, nearly spilling out the door, it was not long before we were seated.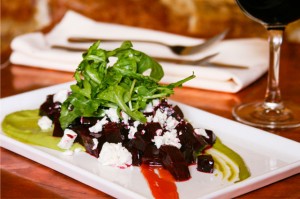 My grilled cheese and tomato soup were well-executed. In many ways, the meal validated my feelings toward the "pub with upscale menu" format. Neither item sent me over the moon, but neither item was anything to sneeze at either.
Our resident bland food enthusiast, Zach Broderick, decided on the hamburger sliders. The aïoli and Vermont cheddar passed muster, though he took the arugula off without the slightest hesitation (much to my dismay). The arugula aside, he seemed otherwise satisfied with his salad-free sliders. At the other end of the spectrum, salad aficionado Janet Aronica tried the vaguely-named "local greens" with chicken.
Aside from the initial blip, service was at least prompt. The staff deserve credit too for accommodating our jack of all trades, Robby Grossman — who was a bit under the weather on Friday — with a plate of bread and olive oil.
Some service-related kinks aside, Garden at the Cellar delivers on what it promises: pub fare with a bit more refinement. Fans of straight-shooting American food will be at home. Those who swoon over osso buco or just want a great sandwich will not be disappointed, but might be better served elsewhere.
Shareaholic's resident foodie, Joseph Kibe, spends his days wrestling with nonlinear optimization problems. He has yet to find a bakery in Boston that produces outstanding French bread. Check out his weekly reviews of our team lunches and follow him on Twitter.
We are always is always looking for great talent. Learn more about
career opportunities with Shareaholic
.