When it comes to blogging, getting to your first 1,000 daily pageviews is no small feat. It's a lot of hard work when you're starting from scratch, but most of all, it's about consistency. You have to make blogging a habit to establish that regular audience of readers. Reaching the next 1,000 daily pageviews? Now that's where the real work begins.
When There's No More Low-Hanging Fruit Left
You're already blogging every day. You're already optimizing your blog posts for SEO, writing shareable headlines and promoting your content on social media. What else can you do? The answer is plenty – but you've got to dig in to your content analytics to find out.
Here are some ways you can use the intelligence you glean from your blogging data to take your blog to the next level.
1. Recognize the Content That is Working
Your metrics can tell you clear as day what your readers enjoy the most. With the Top Content Report, you can see what posts are most successful.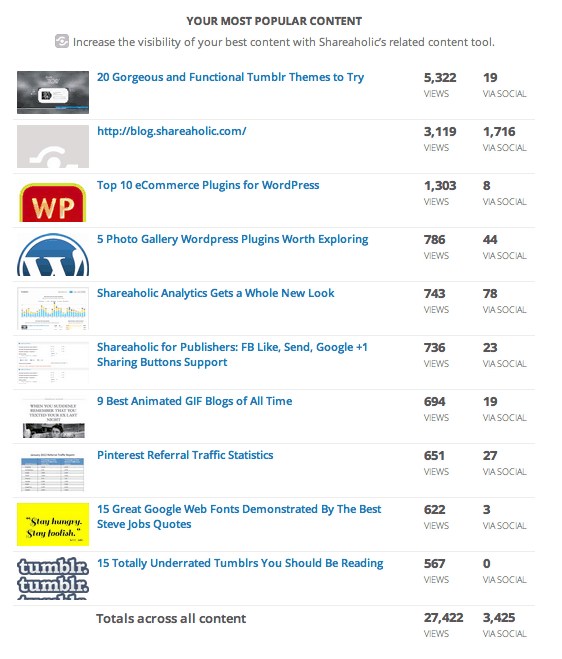 Your reaction to this report is all about replicating success. Identify the topics that are most successful for you, the keywords that are really delivering traffic and even the formats of blog posts that are working. Think: Are image-heavy posts sending me traffic? Or was it the video content that really seemed to work? What about giveaways? Think about what made these posts successful, and plan to repeat those elements in future posts when you fill out your editorial calendar.
Another tip: Link to your best content in all of the new blog posts you publish to keep new readers engaged. You can do this by linking keyword phrases throughout your post, using a call to action or with a related content plugin, which will ensure that your most successful blog posts get surfaced again and again at the bottom of each article you publish. Our related content plugin, Recommendations, will do this for you.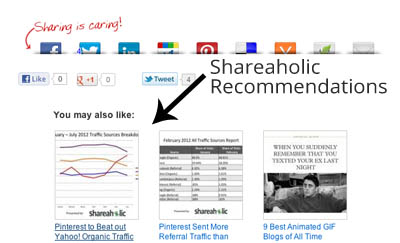 2. Inbound Links Report
Knowing your inbound links can tell you two things.
First, having other sites link to you gives Google a head's up about your blog. It tells search engines that your content is relevant, so Google rewards you with a higher page rank. It'll give you bonus points if that link is anchored to keywords related to your content.
Second, bloggers love to read other blogs. Chances are, some of your most engaged readers are creating content themselves, and they could be linking to you when they do so.
See what the conversations around your content look like, and engage in them. Trust me, blogger to blogger, a nice comment on a post is kind of like candy to a baby, and you'll definitely leave a positive impression if you take the time to leave them.
3. Influential Sharers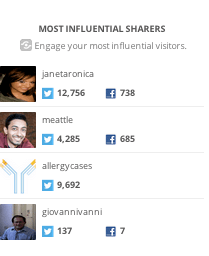 We all have that one savvy friend who knows where the best restaurant is, where today's best sale is happening and probably has the perfect music playlist for just about every occasion. They're the tastemakers, and a small group of them is driving most of your shares because others pay attention when they share.
Your Influential Sharers report shows you who your readers are that drive the most pageviews through the content that they share, and gives you links to their social media profiles so you can engage with them personally. Identify who they are, make friends, rinse, lather, repeat.
Recap
When you've reached your first 1,000 pageviews (congrats!) you need to know who those readers are and what they want if you want to scale your blogging efforts into a well-oiled machine. Knowing what content is working, knowing who is linking to you and establishing personal relationships with those influential readers are just three ways you can take your blog up yet another notch.
This is part of a 3-part series on how to use content analytics to make your blog better. See the other posts:
Check out the newly-designed and better-than-ever
Shareaholic Analytics
.