Managing a community is no small feat. You're consistently blogging and engaging with readers in the comments while juggling conversations on Facebook, Twitter, LinkedIn, Pinterest, YouTube or any combination of the above. But there's one way of managing a community that intertwines some of the best aspects of social networking–using Vsnap.
A fellow Boston startup that is a MassChallenge finalist and nominee for the MassTLC Award as Startup to Watch, Vsnap is doing big things in the social media world through their product and community management. I got a chance to catch up with Trish Fontanilla, the community manager at Vsnap, to chat about how they engage with their community.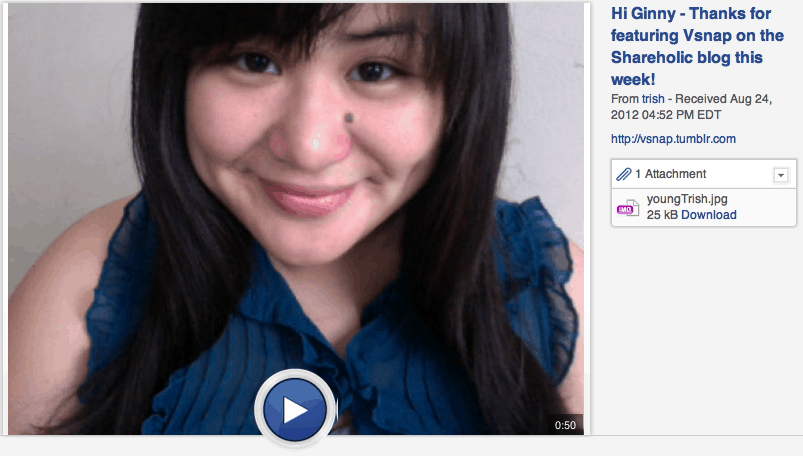 1. Tell us a little about Vsnap. What makes it different from posting a video on YouTube?
With Vsnap, we want to help businesses connect with their customers and prospects in a way that feels more human. On vsnap.com or on any of our iOS/Android apps, you can record and send video messages up to 60 seconds in length. (Click the screenshot above to see how it works.) Our unique feature is the ability to attach things to that video. So a recruiter can send a vsnap to a prospective candidate and attach a job opportunity, a retailer can send a thank you vsnap and attach a coupon, or a customer service rep can send a demo video with a FAQ.
Vsnaps are inherently private, so if I vsnap you, it's a lot like email where no one else will see it unless you forward it. We're currently integrated with Twitter (LinkedIn soon), so if you tweet out a vsnap or post it anywhere public for that matter, it'll get indexed by Google. Unlike YouTube, we really focus on people sending vsnaps one to one recipient or to a segmented group,  and a lot of our site reflects that. For example, instead of getting a total view count like other broadcast video platforms, we show you whether or not a specific recipient has viewed your vsnap or downloaded any of the attachments, not how many times it's been watched. When it comes down to it, what makes us different is the intent of a vsnap and the feeling that people get when they receive one. Our CEO Dave McLaughlin always says we're like the video version of a handwritten note.
2. What are some of your favorite tools for interacting with your community?
My mainstays for interacting with the community are really Twitter and Vsnap. Because we're integrated with Twitter, that's where I see most of our activity. I'm also a big fan of picking up the phone (or Skyping) if someone's having an issue or even meeting up with someone one on one. Man, I suddenly feel very uncool that I can't name any sexy tools for interacting with the community, but I like to stick with what our vsnappers respond to and what makes them comfortable.
I am starting to experiment with Springpad to get our team out there a little more and have folks in the community get to know them better, to share common interests, and insights with blogs, tools we use, etc.
3. What's an average day like interacting with your community?
I handle pretty much every email, tweet, Facebook message, and support question that comes in right now. We don't have a marketing team or a customer service team or a company phone for that matter, so the idea of an "average day" is a little foreign to me. I do spend a lot of time vsnapping our community, but also live within email as well. As a side note, I don't think Vsnap will ever replace email, and that's not at all our intention. They're both awesome for different reasons.
I do, however, consistently vsnap everyone that follows us on Twitter. I think it's a great way to thank them for their support and to let them know if they need anything, I'm pretty much the Vsnap concierge. I like to check out where they're from, what they do, and what they've tweeted to see if I can help them out. The practice all started when I checked out a new follower's profile and she mentioned she was new to Boston. I sent her a vsnap welcome and attached a doc of newsletters I love and live by. We think it's especially important for web-based companies, where the customer has never walked into your shop and chatted with you over the counter, to find a way to create that personal connection and feeling that this is a company with real human beings working at it.
4. What are some tips for creating video messages people love watching?
I feel like my biggest tip, and this might sound cheesy, is really speaking from the heart. There are just some moments that can't be text if you really want them to be understood. Or if you really want to rise above the noise and show you care about a customer or a client. If you make the message genuine, it really outweighs what you're wearing, where you are, etc.
Otherwise it's:
Background – Make sure it's not too busy. When I'm vsnapping at home, I actually just sit against one of the walls in my room so that people don't see anything distracting (piles of laundry, bad DVD covers, you know).
Light – Try to film near a window so the light hits your face. Don't film with your back to the window because it creates a shadow and people want to be delighted, not scared/creeped out.
Sound – Make sure you're using your regular speaking voice, don't feel the need to shout. Think phone call not middle school play.
Smile – My mom loves vsnaps, even though she's only recorded one, because she gets to see my face.
5. What are you most excited about as Vsnap goes forward?
I can't wait to see where our community will take us. They're our collaborators and they help drive us in so many ways. But I guess what I'm really excited about as we go forward, is that I actually get to be a part of this movement towards helping people build better relationships in their work and consumer lives. My face hurts from smiling every day. Partly because of all the vsnaps I record, but seriously, who gets to say that?
What are your favorite tips for managing a community online? Let us know in the comments!
Download Shareaholic for your blog or website
 for an all-in-one content sharing and discovery tool.