In the blogosphere, comments are one of the best ways to connect with others in your community and measure the engagement of your content. That being said, writing a 500-1,500 word blog post doesn't necessarily make you a pro at handling comments on your posts (and elsewhere on the internet). Commenting is tricky.
As you grow your audience, you have to learn to properly cultivate discussion on your own posts and contribute to conversations on other people's blogs. Navigating the comments section is not always black and white—it can be difficult on your own to figure out what's acceptable and what isn't.
To start you off on the right path, here are 11 do's and don'ts you should follow when writing and managing comments.
On Other People's Blogs
1. Do: Add something relevant to the conversation
Like all other content you are producing, each comment you submit shouldn't just add noise. Always think about whether your comment is adding to the discussion or not. That being said, you don't have to be a guru with every comment you submit—you can comment with a funny joke or story relating to the article or even just to thank the blogger.
Even if your blogging goals are about increasing traffic to your site and you want to use blog comments to expand your network, the substance of your content shouldn't be overly self-promotional. You'll gain more pageviews by being helpful and relevant in the content of your comments of another blog post than by only talking about your latest blogging project. Unless that project directly relates to the topic at hand, leave it out of your comment.
2. Don't: Leave links in other people's comments unless it's relevant
Though this point piggybacks off the previous point, I thought it deserved its own point because it's that important. Do NOT leave random links in your comments to your blog. Other bloggers recognize when commenters are just trying to get a link back to their own site.
On the other hand, I have seen people leave comments with a link to a blog post they've written and it wasn't spam. Check out this comment by Richard Smith on our post, "Top 5 Tools to Create Images for Pinterest" to see how to do this right: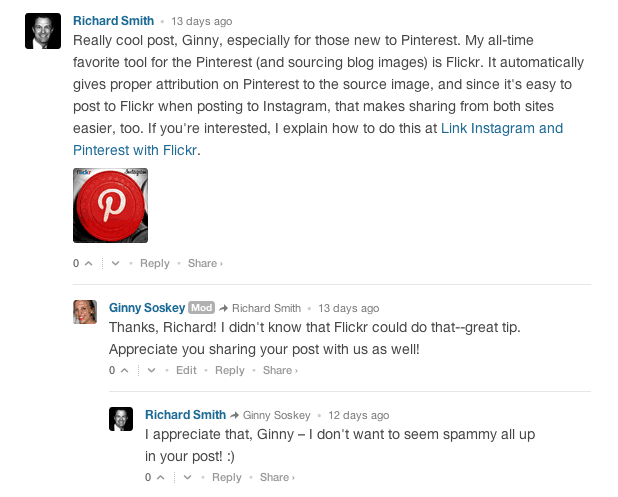 Yes, he linked to his own content, but the blog post was relevant and added to the discussion at hand.
3. Do: Share your comment on social media
If, and only if, your comment is something you would share on social media anyway, go ahead and push it to your favorite networks. Used correctly, pushing comments to social media is a great way to simultaneously give a shout out to the author of the blog while sparking a discussion with your comment.
4. Don't: Write a blog post of your own in the comments
While you do want to bring value to the post whenever you write a comment, make sure you aren't piggybacking off the original blog post and publishing a blog post of your own. It's okay—and encouraged—to add your thoughts, but you don't want to dominate the post with your comment. It's fine to have a comment on the longer side, but cut yourself off before you hit the 500 word mark, please.
5. Don't: Comment and leave forever
Once you hit submit, make sure you're coming back to see if people have responded to you. Many commenting systems have subscription options so you'll be notified if someone responds to your comment, but if not, set reminders for yourself to check back during the day. Comments are a dialogue—don't leave the other person hanging!
On Your Own Blog
6. Do: Block off time to respond to comments
This is one of my very bad habits. As soon as I get a notification in my email that someone commented on the Shareaholic blog, I tend to drop whatever I'm doing to answer or respond to it.
For most bloggers (including myself), this is unrealistic—you're trying to juggle a billion other projects throughout the day, so you don't have time to jump in and out of comments all day. Block out 10 minutes every few hours to check in on the comments—jumping in and out really cuts down on your productivity. You need all the energy you can muster to keep cranking out awesome content!
7. Do: Respond to almost everyone
You know how amazing it feels when another blogger (especially one you admire) takes the time to respond to your post, so pay it forward on your own blog. You should be responding to almost everyone to strengthen your relationships with existing readers and fostering new ones.
There are a number of situations in which you might not respond to every single comment. It's okay to not respond when the comment is:
As you grow your blog, you may not have the time to respond to each and every one of your 3,000,000 comments, but it's still a great practice to respond to people when they comment. They took time out of their day to read your post and leave their thoughts—the least you could do is thank them for stopping by the blog.
8. Don't: Respond to criticism with anger
It's really easy to get attached to your writing. After slaving over brainstorming ideas, writing your post and then heavily editing it, there is nothing more frustrating than to get negative feedback.
…but you should never show your frustration. It's okay to respond to the comments and be firm with your opinion, but it's important to remember that comments aren't always about stroking your ego. You may even learn a thing or two from a negative comment to make your blog even better!
9. Don't: Overmoderate comments
People often blast big brands for moderating and deleting negative posts on blogs and social media, but bloggers can be just as guilty of interfering on their own blogs.
Save the delete buttons for spam and trolling comments—don't delete people who disagree with you. If you've spent some time building a community around your blog, your readers may even respond to the haters before you can!
10. Do: Keep track of who is commenting and repay the favor
Try keeping mental notes of who comments on your blog so you repay the favor down the road. This is a great way to form relationships with your readers and other bloggers you admire who stop by to say hey on your corner of the internet. Similar to point #8, you don't have to comment on everyone's blogs who leaves a comment on your blog, but it's a general best practice that will serve you well.
11. Don't: Make it hard to post
If your readers are coming all the way to your site, reading your posts and then thinking of commenting, DON'T make it difficult for them to do so. Get rid of your capchas, trick questions and excessive authentication forms and use a commenting system like Disqus or Livefyre. Besides being incredibly easy to use, both of those commenting platforms integrate with social media, which can help expand your blog post's reach.
Ultimately, comments are a way to form relationships with other bloggers. They are crucial to growing your following, so be sure that you're not missing out on any of these crucial etiquette tips.
Do you have any personal commenting policies? Agree (or disagree) with any mentioned here? I'd love to hear your thoughts in our own comment section.