Blog much? Want to make it awesome? Get Shareaholic's free tools now. 
Love the look of Tumblr but the functionality of WordPress?  Then consider a WordPress Theme that looks like Tumblr!  Check out my top 10 WordPress Themes that look Like Tumblr below!
1. Fast Blog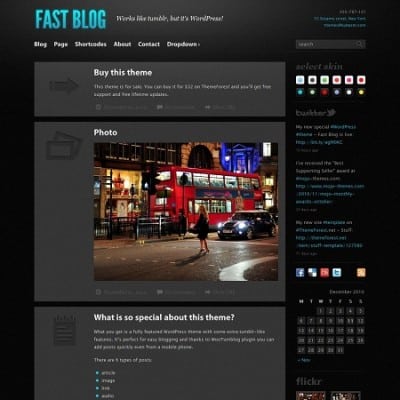 It's called Fast Blog for a reason – you can quickly post anything from an article to a video "at the speed of Tumblr." Or, if you've got the WooTumblog plugin, then say hello to smart phone blogging!
Get the Fast Blog theme here | Price: $35
2. Old Post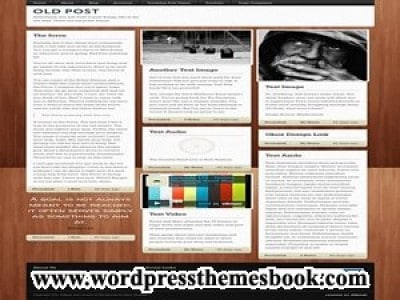 This Tumblr-inspired theme was created to give an "old feel," thus the name Old Post. Like most Tumblr themes, it was designed for quick and and easy posting but the creator included a typography manager so for all you "attention to detail" bloggers, you have found THE ONE.
Get the Old Post theme here | Price: $30
3. Multimedia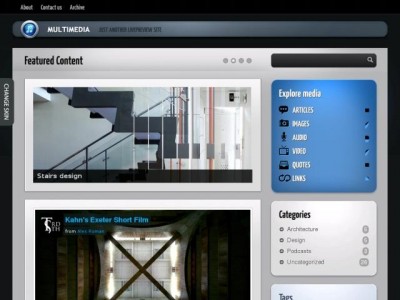 This theme is one for the social media junkie/innovator who gets bored with having the same skin. Multimedia allows you to choose from eighteen different skins and gives you the option to customize your archives. Additionally, one of the features include Post "likes." Where has this been all my life?
Get the Multimedia theme here | Price: $35
4. Salju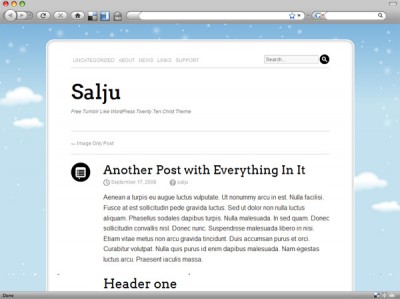 Salju means "snow" and you can see why. For anyone who likes websites with a "softer" feel, this is perfect! Be sure to use WordPress 3.o or above though and enjoy the especial effects of the falling snow (a.k.a  DHTML Snowtorm Effect).
Get the Salju theme here | Price: FREE
5. Notebook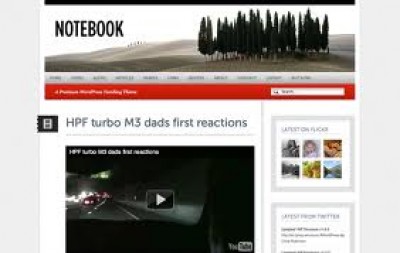 Ironically, I picked this theme because it reminded me of one of my favorite romantic movies, "The Notebook." What can I say, I'm sentimental. You have unlimited skins to choose from, multiple widgetized-areas and you get free updates for life. Worth every penny if you ask me.
Get the Notebook theme here | Price: $30
6. Gridler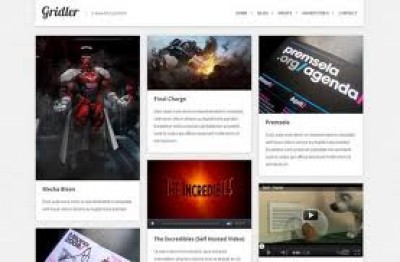 I love this grid-based portfolio theme because of its SEO optimized features.  Using this theme should make driving traffic to your blog easier-  a BIG plus! Another great feature of the Gridler is the built-in contact form builder.  If audience engagement is a top priority, this would be your theme.
Get the Gridler theme here | Price: $30
7. Tumble Ten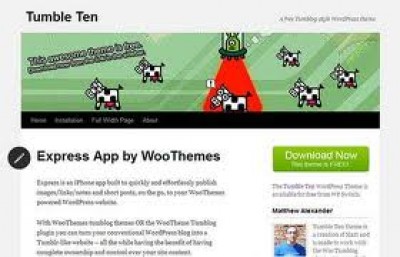 This theme comes with three great widgets including Flickr for your photos, a Twitter feed and and Author Bio. My favorite thing about the Tumble Ten, however, is the Dashboard Widget which allows you to add any post without actually having to leave the dashboard. Talk about efficiency.
Get the Tumble Ten theme here | Price: FREE
8. Crisp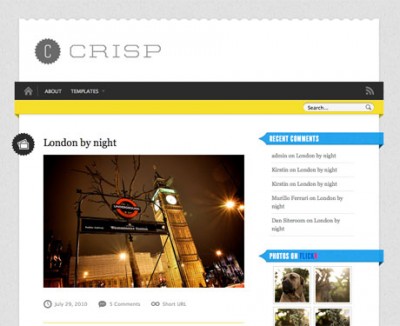 This Tumblr-inspired theme could not be better for what many would call the "lazy blogger." Although, if you ask me, there is no such thing as a lazy blogger: just bloggers of "few words" who want to get the most out of their blog in the shortest amount of time. Not to mention, all of you bloggers of  "few words" with iPhones can enjoy using the Express App for the iPhone to blog on the go. Easy peasy.
Get the Notebook theme here | Price: $70
9. Notes of Life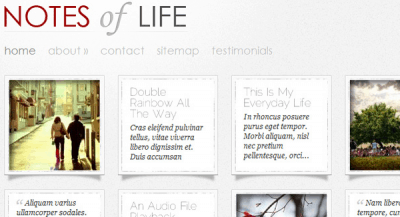 My personal favorite comes in at number nine and maybe the name has a little to do with it. This theme strikes me as the ideal blog for photographers and "artsy-fartsy" bloggers who maybe want to tell a little story about their creations. Enjoy full control over your blog and theme settings with the advanced ePanel.
Get the Notebook theme here | Price: $39
10. Waves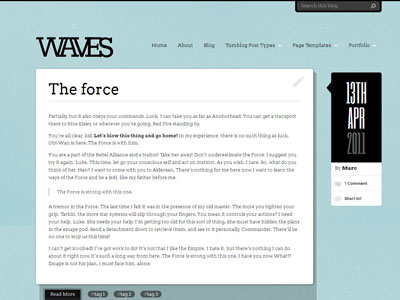 Finally, we have the Waves theme and it's the simple, yet classy, yet stylish theme that you can show off your personality. It comes with a typography and advertising manager, as well as with a background and link color selector so you can find your inner graphic designer. So now, you're not just a blogger, you're a graphic designer too all thanks to Tumblr-inspired themes.
Get the Waves here | Price: $30
What's your favorite Tumblr-esque WordPress theme? Let us know in the comments!